Marble Counter Tops:
Classic Luxury Modern Style
Ahhhh marble counter tops... Perhaps more than any other stone, marble evokes images of sophisticated elegance. Once found only in the homes of the wealthy, marble countertops are now a much more accessible luxury due to improved technology and availability.
Marble Colors
The rich tones of the marble color palette are plentiful.
Delight in many creamy whites and neutrals, dreamy yellows, soft oranges, ocean greens, amazing blacks and even pink marble.

The dramatic veining looks spectacular on marble countertops and will easily complement most other design elements and themes.
Choose a similar or complementary pattern/material and color shade on your floors, walls and backsplash to avoid a chaotic look.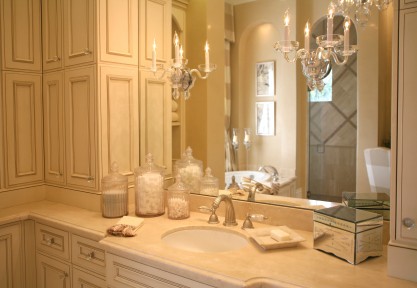 Installation Considerations for Marble Counter Tops
Marble countertops are available in 2 cm and 3 cm slabs as well as the full range of tile sizes from 1-inch mosaic tile up to large 24-inch floor tile.
Marble is a crystalized limestone and therefore big machines (and skilled pros) can polish marble to a mirror-finish, which really brings out the depth of it's color and looks gorgeous.
However, marble polishing is only recommended for counter tops that are lightly used such as a powder bath, tabletop, pass bar or furniture piece, but NOT for kitchen countertops or the wet bar.
Why? . . .
Marble is made of calcium carbonate, which is reactive with acids (fruit juice, soda, coffee, alcoholic drinks, salad dressing, etc.) and will "etch" upon contact with these acids.
Etching destroys the polish by corroding the stone leaving a dull, light-colored spot. You'll get these dull spots all over with marble countertops in the kitchen. It's simply impossible to prevent.

Often a "honed" (matte) finish is recommended for kitchen countertops since etching is less noticeable, but etching still occurs on a honed surface so it doesn't really solve the issue.
Also, marble is softer and more prone to scratching than granite.
Polished marble is very stain resistant though and even honed marble can be sealed to essentially prevent stains. However, sealing doesn't prevent etching, so marble kitchen countertops are high-maintenance and not recommended.
If you had your heart set on marble kitchen countertops, then I'd suggest instead considering other countertop materials that look like marble for far easier care and cleaning in the kitchen. 
Or for a budget option check out our cultured marble vs marble page. 
Etching and maintenance is typically not a problem in bathrooms on marble vanity tops though, since exposure to acidic substances is minimal.

Love to bake? One exception to the "rule" stated above is if you are a serious baker.
A marble slab is "the" countertop of choice for making dough--that is pies and bread, not money! Although it may feel like you're making money on such a luxurious countertop.
Natural Beauty. If you just love the look of marble and insist on installing marble counter tops in your kitchen, a honed finish will hide etch marks better, but etching is easier to repair on a polished finish. And always use coasters, cutting boards and trivets to protect against spills and scratches.
Marble Care. You'll find more information about marble care and how to avoid expensive marble restoration at the cleaning marble page. Also, it's worth noting that traditionally marble is left to age naturally letting friends and family rub "life" into the stone--stains and all.
Natural Aging. Over the years marble stains and etching may occur gradually changing the color and tone to reflect the essential character of your home.
Of course, you can prevent stains and etching by following the recommended marble cleaning Do's & Don'ts and some DIY marble repair is possible.
It's hard to resist the quintessential beauty and the feelings of warm opulence that marble conveys to any room. Marble counter tops will add immeasurable value and years of pleasure to your home.

Read Other Marble Counter Top Questions & Answers
Learn even more! Click on the links below to see questions submitted by other visitors with complete answers and great info.