Corian Countertops Pros & Cons Review 2023
A Complete Guide to Solid Surface Countertops

Corian countertops are often regarded as a third cousin whose time has passed compared to more "glamorous" kitchen countertop materials. But Corian has continued to evolve and deserves a second look. It can offer truly unique qualities and a new world of possibilities for achieving a more creative kitchen design.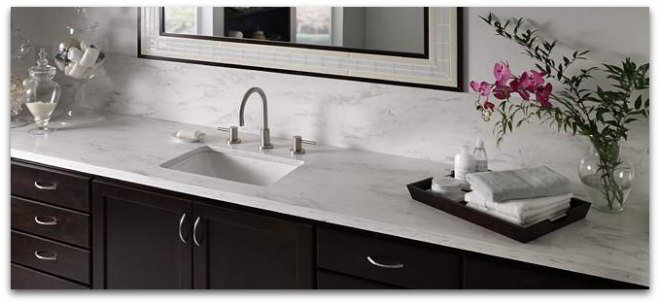 Many consumers are confused about Corian and solid surface countertops. What are they made of? How do they compare to granite and quartz? 
This detailed review will cover what Corian is made of, its pros & cons, cost, colors, design options, cleaning, care,  and repair. Additionally, you"ll also find buying tips and warranty info for DuPont solid surface materials for kitchens and bathrooms. 
On This Page...
What is Corian Made of?
Corian is a brand-name for a type of countertop called "solid surface" invented by DuPont back in 1967. Solid surface is a man-made or engineered stone material (quartz is too) vs. granite, which is a natural stone pulled from the earth.
A solid surface or Corian counter is made by blending acrylic polymers with other minerals and stone-derived materials. This acrylic polymer mix is poured into molds to make half-inch-thick sheets. The composition is consistent all the way through; in other words, it is solid and is exactly the same inside and out.
This blend allows for some cool features and benefits not available with other types of countertops.
Epoxy countertops and cultured marble are similar countertop materials that utilize various resins, mixes, and/or molds to form surfaces.
Corian by DuPont, which also makes Zodiac quartz counters is the big cat on the block and is increasingly popular.
However, since DuPont's patent ran out, other brands have jumped in with their own versions of a solid surface countertop. These other versions include Staron, Swanstone, Avonite, Wilsonart / Gibraltar, Formica, LG, Hanex, and Meganite.  
Differences in the "recipe" do exist between manufacturers, but the end result is essentially the same type of countertop material. Corian worktops are a durable kitchen countertop with specific advantages. But as you will find with all countertops, they come with some drawbacks too.
See how Corian countertops compare to a granite or quartz countertop.
Pros & Cons of Corian Countertops
Every countertop material has its good and bad points, but Corian solid surface holds up pretty well overall.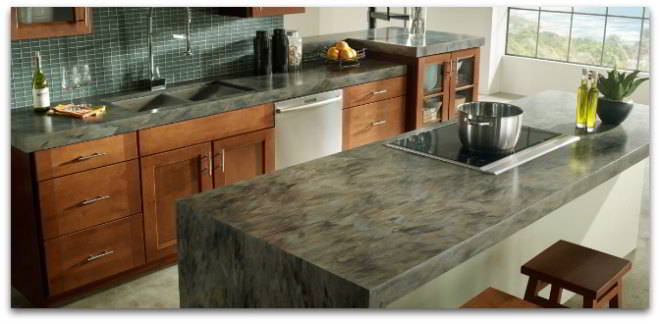 Pros: Benefits of Corian
100+ colors to choose from with many modern and attractive patterns

Corian is non-porous and doesn't need sealing

Easy to clean and maintain

Seams are nearly invisible

Integrated sinks and drainboards are possible

Can be formed into basically any shape desired

The surface can be illuminated, so the countertop glows

Can charge your phone or tablet just by placing it on the counter top

Damage can usually be repaired

Generally cheaper than quartz or granite countertops
Cons: Disadvantages of Corian
Can be dented and scratched as it is a softer surface (but repairable)
Inferior heat resistance. Hot pans can burn Corian (often repairable)
Some cleaners and chemicals may cause discoloration
Re-sale value is less than granite, marble, or quartz
Corian Colors Are Fresh & Modern
Corian colors in the past were limited to some pretty boring and subdued earth tones with a monotonous, speckled pattern. While appealing to some, these colors really couldn't compare to the depth and organic beauty of natural stone.
Luckily, those days are gone. Finding a new flair, pattern designs have expanded beyond the uniform speckled look of old with new Corian Countertop Colors now available encompassing a broad range of textures and looks that fit right in with modern bath and kitchen style.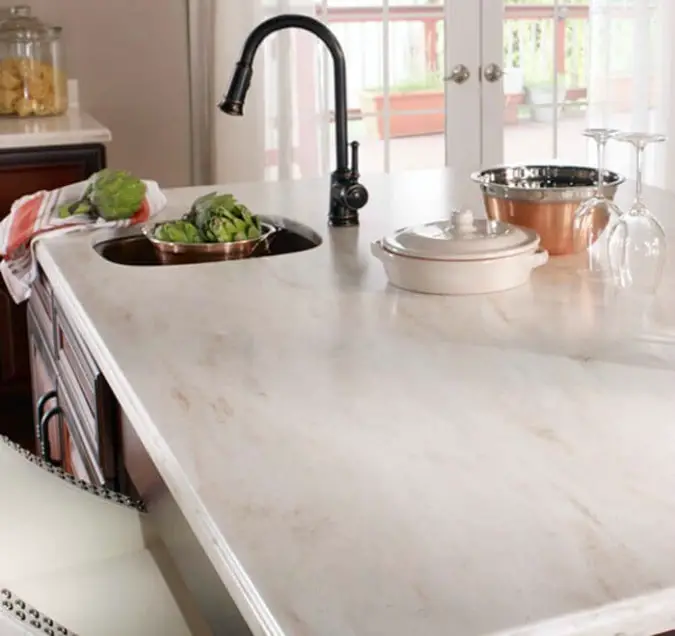 You can still pick from a wide range of neutral beige and brown colors along with popular grays. Pure black and white Corian countertop colors like Glacier White and Deep Nocturne serve the modern-minimalist aesthetic and work great for a more classic or transitional kitchen design as well.
Some colors in the Corian lineup utilize up to 20% recycled materials for a greener alternative.
And Corian colors get playful with solids in yellow and blue too, which few other materials can offer. Golds, purples, pinks, corals, and coppers fall in-between.
The evolution and addition of new patterns, though, is what's so enticing offering options for any bath or kitchen design theme.
Grain shapes and sizes vary from sand to pebble and even to recycled glass. Striations, veins, mottled color shading, and movement are now seen throughout the collection for a far more natural look that is very appealing. Many pleasing patterns mimic a travertine, granite, or marble countertop quite well.
Custom colors are possible too if you can believe it! Send Corian a sample color from a fabric or paint sample, and they will match it.
The Unique Features & Benefits of Corian
Corian counters have some truly unique features that many are not aware of. Some are subtle benefits while others are more dramatic and offer more desirable elements of design and function. 
Edges, Backsplashes, Sinks & Seams
Edge styles to suit most bathroom vanity top and kitchen design ideas are possible with DuPont Corian solid surface. From a simple eased or bullnose edge to a fancy Spanish style; there are around 20 different styles offered. 
A thick edge profile to simulate a huge block countertop, or to create the more elaborate designs is easily accomplished with a laminated edge. In most cases, the seams of a laminated edge will be invisible as well. You can typically see these seams on granite counter tops.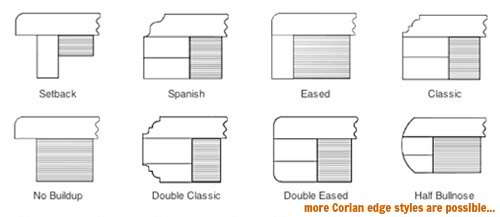 Backsplashes can be installed traditionally just like with granite, marble, or engineered quartz. You can use stone, glass, metal, or ceramic tiles configured in any design that suits your fancy.
You may even choose to install a full backsplash using the same Corian color as you used on the countertops. Note that the wall seam can be eliminated by molding a Corian coved backsplash into the countertop.
Corian sinks come in myriad single and double bowl configurations, colors, and sizes. They have your lifestyle demands covered for a kitchen or bathroom countertop.
Sinks can be installed in all the usual ways such as top-mounted, under-mounted, flush, beveled, or molded right into the solid surface countertop material for a seamless design.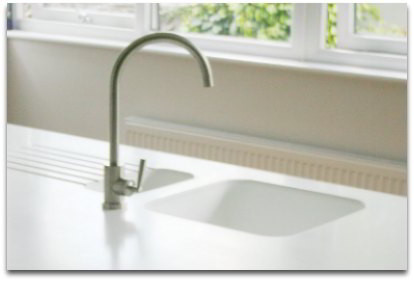 Drainboards for sinks are commonly integrated right into the countertop to help keep the area tidy. 

One thing to consider with an integrated sink is that a sink gets a lot of use and abuse and if it gets stained or worn you likely will have to replace the entire countertop versus just the sink. 
Integrated sinks need a bit more care and attention as well. For instance, Corian states that boiling water should not be poured into the sink as it could warp it. 
But, there's no denying that an integrated sink is very stylish. 
Seams are the bane of all other countertop materials. The one undisputed advantage DuPont Corian and other solid surface brands have over all other materials are the nearly invisible seams.
Corian surfaces must still be installed in pieces or sections like other materials. So, your counter will have seams. But the materials and system used usually results in a monolithic, "seamless" look with most colors—especially solids.
Seams may still be somewhat visible on the more elaborate patterns with a less repetitive or consistent design. Considering there's little to like about visible seams, Corian or any solid surface material is the clear winner in this category.
Shapes, Lights, and Phone Charging Features
A Corian solid surface countertop can be molded into essentially any shape or curve via thermoforming allowing for almost limitless design possibilities. That's a great characteristic if you want an unusual shape or your space is an unconventional shape.
Concrete countertops and glass countertops can also be formed into complex shapes or molds, but Corian is king and definitely the most versatile when it comes to this feature. 
This pliability is what also allows for integrated sinks, seamless backsplashes, and inlays, which no other countertop option offers.
Illumination (lights installed to glow through the surface) is also possible with a Corian kitchen countertop. 

And get this... you can now... charge your phone with Corian's new charging surface. An adapter on your phone or tablet allows it to charge simply by setting it on the countertop. No more wrestling with cords and finding available outlets.
Corian isn't just for the kitchen. It's possibly the most versatile and adaptable material also used for bathroom countertops, tub and shower surrounds, bar tops, wall cladding, furniture, boats, and RV's.
Corian Countertop Costs
Corian countertops prices are generally more affordable than granite or quartz countertops. The material itself tends to be less expensive, it's not prone to cracking, and is generally easier to fabricate with less waste. All these benefits translate into lower prices for the average, basic install. 
However, when comparing countertop materials, don't be surprised if the Corian price for your particular kitchen countertop design is similar to the quotes you get for a quartz or granite countertop installation. 
Most installs fall into the $45-$65/per square foot range

 which is about equal to an average granite installation cost but quite a bit less than quartz countertops which average $65-$85/psf. 
The final cost of Corian countertops can vary tremendously depending on the color chosen, the complexity of the kitchen and counter configuration, corners, bar tops, the intricacy of design details like edges, sink mount, drain boards and inlays, special shapes or molding, or illumination of the countertop surface (which is possible with Corian).
Labor costs will also vary significantly at times between different contractors. Costs can also vary from city to city, region to region, and even seasonally. So, the above gives you some idea of what you can expect to come close to spending.
Is a Corian Countertop Expensive?
Corian is not expensive, but not the cheapest. Generally, you will pay 10% to 20% less for Corian than you will for granite, marble, or quartz countertops. But getting detailed bids from several contractors is necessary to accurately determine the cost of your installation.
When comparing solid-surface brands, most will fall into the same price range, although, Dupont Corian countertops are usually the most expensive of all brands. But for a good reason. Corian has the best product with decades of development behind it. 
For additional material comparison, laminate countertops are still far cheaper than Corian or any solid-surface countertop. Tile countertops and epoxy counters are less expensive as well.
Care & Cleaning
Cleaning Corian countertops is easy. Soapy water will work; although, you should note that soapy water can end up leaving a dull film on the countertop over time. Not good.
You can also use abrasive cleaners, scouring pads, and other abrasive scrub pads. Common kitchen and household countertop cleaners are safe to use when used normally. This means you spray the cleaner on and then wipe it off without letting it sit.
All cleaning products recommended here are pH-neutral, safe, effective, and ideal for use on Corian as well as natural stone and quartz countertops.
Prolonged exposure to many conventional household products such as bleach can discolor the Corian surface. Also, window cleaners will leave a waxy film and should not be used when cleaning the counter.

Keep in mind that even though solid-surface countertops are very resistant to chemical damage, it is best to stick with pH-neutral cleaners like granite cleaners, or those made for solid-surface for proper cleaning. Corian is tough, but not impervious to stains or chemical damage.  
Are Corian Countertops Heat Resistant?
High-heat and hot pans are like kryptonite to Corian. Compared to granite or quartz, Corian is not very resistant to heat. You cannot put hot pots or pans directly on the surface without risking a nasty scorch mark.
Placing pots and pans directly on your kitchen countertop, hot or not, is generally not a good idea with any material.
Even with quartz or granite counters, it is possible that grit trapped under the pot may damage the surface and/or the surface could undergo thermal shock and then crack. It's rare but possible.
However, Corian kitchen countertops cannot withstand heat for long and will essentially melt or burn if pots and pans that are too hot are set directly on it, so always use a trivet.
Countertop appliances that generate heat (like toaster ovens) can sometimes cause damage.
Can Corian Countertops Stain?
Yes, Corian can get stained as no surface is 100% stain-proof. However, a stain on a solid-surface countertop is rare. Most are surface stains from food and easily removed with an abrasive cleaner or pad. Although, discoloring can result from certain cleaners or chemicals. 
Be a little picky about the cleaning products you use on your Corian and learn what can damage it or it may prove to be disastrous.
But in general, staining and removing stains in Corian is not a problem. 
Scratches are a more common occurrence because solid-surface countertops are relatively soft. The softer material helps prevent breaking dropped dishes but makes it easy to scratch from almost anything. Although, scratches can be sanded out in most cases. 
To avoid scratches, always use a cutting board and trivet and refrain from sliding anything across the surface.
Dents aren't as common as scratches, however, but they definitely do sometimes happen if a heavy object is dropped onto the surface.
Are Corian Countertops Durable?
Corian is reasonably durable but other materials are superior. When comparing Corian versus granite countertops, Silestone, or quartz, Corian falls short in the durability department.
Quartz can be chemically damaged, although it is rare, but is often permanent when it does happen. So, you will have to weigh all the pros and cons to get a better idea.
The good news is that most damage to Corian can be repaired while damage to quartz often cannot be repaired.
Corian Repair & Warranty
The meaning and benefits of the term "solid-surface" become readily apparent when faced with a Corian countertop repair.
This countertop material is exactly the same all the way through the slab. If you chip or scratch ceramic or plastic laminate, you will see that the inside color is different.
This is not the case with DuPont Corian. You will find that the material is the same color and texture all the way through.
Can Corian Countertops Be Repaired?
Yes. Corian countertops can always be repaired or re-surfaced to eliminate scratches, scorches, and stains. Small dents can often be repaired as well. Generally, Corian repair is a simple DIY job often requiring nothing more than vigorous abrasive scrubbing or sanding. 
Sanding out a scratch or blemish is a handy feature of Corian that is certainly beneficial. The only drawback is that in some cases, typically with deeper scratches, you may end up with a depression that may be visible and noticeable to the touch.
Still, it's nice to know that a simple procedure can fix a scratch. And re-surfacing is always an option since the color is uniform through the entire thickness of Corian countertops and other solid-surface brands.
Corian offers a limited 10-year warranty. This sounds great except it only covers product defects which would be a very rare occurrence. And this must be determined by DuPont Corian.
Also, it does not cover staining or chemical damage, heat damage, scratches, dents or outdoor installations (UV rays can yellow or discolor Corian).
Anything that could happen during normal use is typically not covered by the warranty.
An example in the warranty states that if you happen to let a pan overhang the cooktop while heating, the radiant heat from the pan could cause a crack in the countertop. Well, this is not covered because it is considered negligence. 
Same deal with leaving bleach on the surface too long. Diluted bleach can be used to clean Corian countertops, but it is not the best choice considering that if you fail to rinse the countertops well, or you accidentally spill a caustic chemical directly on the top, it could discolor Corian. 
The idea here is that the product is what it is. It is a solid-surface countertop that is resistant to damage but certainly can be damaged, so they offer no coverage for normal damages. Scratches, dents, and burns are not due to defects in the product.
No countertop material is completely impervious to damage. If you take the time to learn how to properly care for Corian, use common sense, and take reasonable measures to protect the surface (i.e., using cutting boards, setting hot pans on trivets, and using only pH neutral cleaners), then you'll easily avoid some of these more common problems.
The care and maintenance of a Corian countertop is essentially the same as granite or quartz countertops. So, for more Do's & Don'ts and general countertop maintenance information, visit the Care & Cleaning page.
Corian kitchen countertops may not be the most popular luxury choice, but they shouldn't be dismissed either. Corian offers a few very distinct advantages and features along with an upgraded and sophisticated style palette to provide plenty of design possibilities for your home. 
How & Where To Buy Corian Countertops
DuPont requires all contractors that sell, fabricate, and install Corian to be certified because this goes a long way in ensuring a quality installation. So, you must find a certified contractor. Luckily, there are many dealers scattered all over the US and DuPont will help you find a Corian installer via their database.
Or you can go through Home Depot which carries Corian countertops, and you can arrange a certified installation from there as well.