Our Specialty Is YOU!
Countertop Specialty is a family-owned and operated company that for many years served luxury home builders, designers and remodelers installing the finest in countertop surfaces all around Dallas, TX.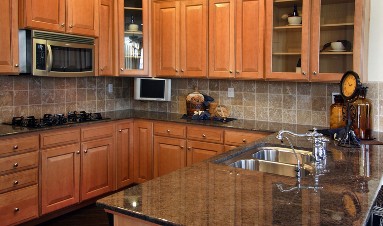 Well, we are done with the dust!
Almost that is... we still fabricate and install for a few select clients, however we've expanded our endeavors in order to serve and help even more people with their projects....
Today we are hard at work taking those years and years of accumulated knowledge and experience and presenting it all to YOU here on the pages of CountertopSpecialty.com.
Just like when we are installing beautiful marble & granite countertops, we take pride in being the best of the best online too and aim to provide you with a thoroughly informative, helpful and rewarding experience when visiting our website.
So, get comfortable and take a look around. I'm sure you'll find many answers to your countertop questions... if not, send us a message via the "Contact Us" page.
Also, we are continually updating and adding to Countertop Specialty.com, so feel free to visit often. We're glad to have you stop by!
Have fun and good luck with your project!
Ryan & Torri,
CountertopSpecialty.com
3824 Cedar Springs Rd.
Dallas, TX
866-733-7107
support@countertopspecialty.com
back HOME from About Us @ Countertop Specialty
Like CountertopSpecialty.com?