The Real Deal About
Dekton Countertops in 2023: Pros & Cons
Dekton countertops are sneaking onto the radar as the latest craze in kitchen countertop materials. Virtually indestructible, they're scorch-proof, stain-proof, and scratch-proof. There are numerous other reasons to love these countertops… but some drawbacks too.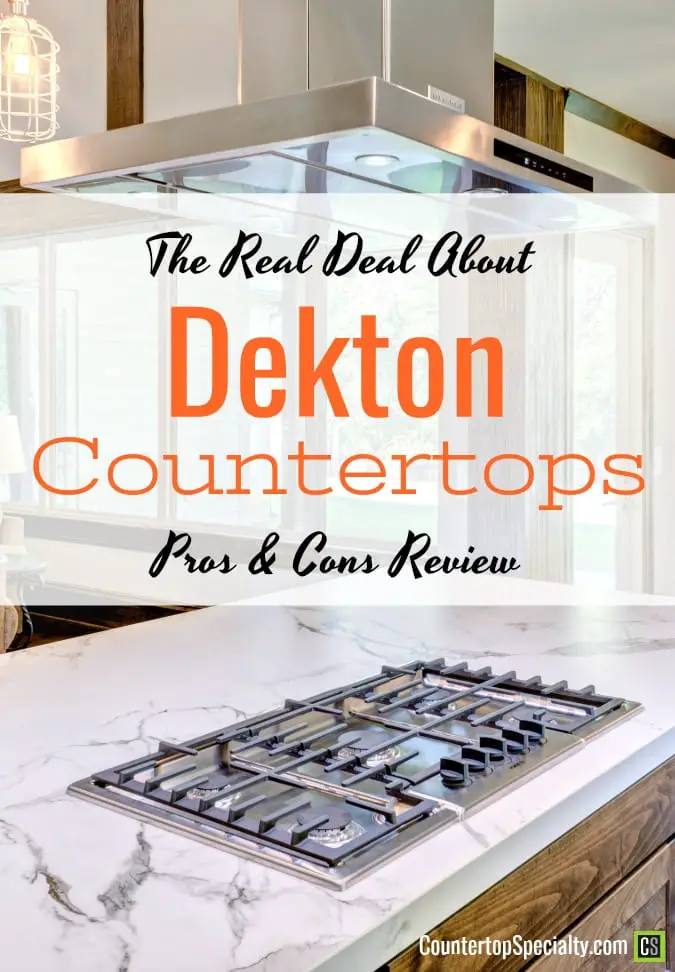 Ahead, we'll analyze Dekton countertops from every angle to help you determine whether or not Dekton is a decent choice for you and your home. Let's get started!

On This Page
What is Dekton Made Of?
Dekton is a sintered stone also known as an "ultra-compact surface" in the world of countertop materials. Dekton is made from a combo of the same raw materials used to make quartz, glass, and porcelain countertops. But it's different from all three. 
It's a brand new type of countertop surface that is created with a unique fabrication process called Sinterized Particle Technology. The process involves mixing the raw materials under extreme pressure and heat. We're talking compressors that squash at 5900 psi (pounds per square inch) and ovens that reach 2191ºF (1200ºC).
The result is a type of countertop that is almost indestructible and easy to maintain. That is the main claim to fame. The idea behind Dekton sintered stone is to improve upon the performance of quartz countertops, which are an extremely popular and excellent surface.
Dekton countertops are a product of Cosentino, a private Spanish company that produces decorative and architectural surfaces like Silestone quartz countertops, distributing them worldwide.
Dekton vs. Neolith: Is Dekton the same as Neolith?
Yes and no. Neolith is also an "ultra-compact surface" composed of the same materials as Dekton. So, how Dekton and Neolith are made, the type of countertop material, and performance are the same. 
However, Neolith is a different brand. Just like there are several manufacturers of quartz countertops, other manufacturers such as Neolith and Lapitec also produce sintered stone ultra-compact surfaces.
Pros & Cons of Dekton Countertops
Dekton ultra-compact surfaces stand up well to the competition with many benefits and few drawbacks, but alas, no countertop is perfect.
Dekton: The Good
Super durability
Dekton countertops are extremely durable. Whack them, slice on them, sit on them — they'll hold up. Of course, other materials feature this durability as well. But the key here is that those other materials (granite, marble, quartz, etc.) can stain and need sealing or can discolor (quartz) from some foods and products. Dekton will not stain and are highly resistant to cracking as well.
Heat-proof
Not many countertop materials can boast being heat-proof. Most are just heat-resistant. But with Dekton countertops, you can basically light them on fire as they're tolerant to even the most extreme hot temperatures.

Slab sizes are large
Unlike other countertop materials, Dekton countertops are sold in quite large slabs: 320cm x 144cm (~ 126" x 56"). This means that they are generally large enough to cover the entirety of your countertop area without requiring a seam. The result is a sleeker and cleaner look.
Full-body color is available
When color pigments are added to the raw materials that go into creating Dekton, the color goes all the way through. So, if your countertops do chip, the chip will be the same color as the countertop surface, and the repair won't be too noticeable. However, the pattern does not go full-body, so chips inside a pattern will be noticeable.
Perfect for both indoor and outdoor applications
Unlike quartz countertops, Dekton can be installed as outdoor countertops. This is true even in freezing climates. Dekton countertops will not crack or fracture due to even the most frigid or hottest temperatures. Furthermore, they are UV resistant, which means their colors will not fade (like quartz will) even when in constant exposure to the sun.

Dekton: The Bad
Alas, the perfect countertop doesn't exist. There are always trade-offs. Here are the disadvantages of Dekton.... 
On the Expensive Side
Compared to some other types of countertops like granite, marble, and quartz, Dekton countertops are in a similar range but are typically more expensive on average. More details in the "Cost" section below.
Limited Purchase Availability

Though Dekton countertops are now sold at places like Home Depot in the United States, availability is limited in North America. Overall these countertops are not as popular as materials like granite and quartz.

In other words, local fabricators or stone warehouses that carry granite, marble, and quartz may not have Dekton in stock, and possibly it is not available at every Home Depot.

Limited Number of Fabricators and Installers

Because Dekton countertops are relatively new to the kitchen design market, not many fabricators / installers are entirely familiar with installing this product (including the Home Depot installers).

Of course, familiarity with Dekton is definitely something you'll want in your installers or you risk irreparable damaged to materials during installation or a botched result. Someone hired in a rural area especially may not have the experience necessary to install these countertops.

Edge styles are limited with certain patterns and textures
The pattern and texture would be removed when creating or cutting some of the more complex edge styles. Thus, most opt for a simple squared or mitered edge.
Printed designs and textures do not extend through the countertops
A final drawback is that pigments don't run through the full thickness of the slab and patterns are printed onto the tops of the countertops. This means that in the rare event of damage, such as a chip, it will be quite noticeable. The same applies to any surface texture which cannot be repaired to new condition.

Dekton Colors & Design Options
When shopping for Dekton bath or kitchen countertops, you'll have several key decisions to make about colors, textures, and finishes.
Colors & Patterns
Dekton has 40+ colors available. The palette overall tends to be earthy, metallic, and neutral to easily integrate into your current kitchen design. You probably won't be making a loud "statement" with the subdued colors of your Dekton.
The range includes solid colors and washed or grainy patterns but also some with nice veining that looks like white marble.
Dekton Trilium (seen above) is a hot new color resembling rusted steel in shades of black, gray, and brown with a mottled sanded effect to the pattern. It looks great in both industrial and rustic kitchen designs with a matte finish. Cosentino claims that Trilium is the first 100% recycled Dekton color.   
Dekton Surface Textures and Finishes
As with other countertop material options, you have several choices for the surface finish. Dekton calls these "textures". The finish textures include matte and glossy polished, but also some exciting finishes like oxide, slate, leathered, and bush hammered. The specific finish types possible can vary with the color chosen.

Edge Styles
Abundant edge styles are available for your Dekton countertops, including standard square or mitered profiles, decorative beveled edges, full and half bullnose edges, and chamfered edges. Dekton recommends beveling the edge corners to minimize chipping.
As noted above, some edge styles may not work with patterned ultra-compact surfaces. Color extends through the entire slab but not the pattern or texture. Thus, the pattern may not be present with certain edge cuts. Luckily, mitered, squared and eased edges look great for the patterned surfaces.

Dekton Thickness and Slab Sizes
Again, one of the great benefits of Dekton countertops is that they come in huge slabs with several options of thickness.
How thick are Dekton countertops?
Dekton thickness options range from 8mm thick to 30 mm thick to suit your design style. The four thickness choices available are 8 mm, 12mm, 20mm, and 30mm.

Other brands of sintered stone and ultra-compact surfaces offer different thicknesses ( Neolith 12mm, 20 mm - Lapitec 12, 20, 30 mm).
How big are Dekton slabs?
Dekton slabs come in a range of sizes up to 320cm x 144cm (126" x 56") expanding the possibilities for large format installations in kitchens, bathrooms, flooring, and wall tile. 

The large slab means fewer seams and usually no seam on kitchen islands which is the primary benefit for most kitchen countertop installations.
What's the Price of Dekton Countertops?
Dekton ultra-compact countertops are not cheap countertops like laminate or tile but they are not astronomical like volcanic lava countertops either.

Are Dekton countertops expensive?
Dekton countertops are a bit more expensive compared to granite, Corian, or quartz countertops. But still the price of Dekton falls within the same range as popular countertop materials at $55 to $115 per square foot.
Dekton cost $55 - $115 per square foot installed.
Granite, marble, and quartz countertops can cost just as much (or more in some cases) but, on the flip side, granite and quartz are often installed for as little as $45 - $65/psf.
Who sells Dekton countertops? 
Dekton is sold primarily through Home Depot and other home stores. Independent stone warehouses and local fabricators in some cities may also sell Dekton countertops. Dekton is made by Cosentino, the same company that produces Silestone quartz countertops. 
Factors Influencing Cost
The cost of Dekton will ultimately depend on the following factors….
Cuts and Holes: How many cuts and holes will you need for faucets, sinks, etc.?
Seams: Do you want one entire slab without a seam? This may cost you more than if you're willing to have seams located at possibly inconvenient places.

Color and/or pattern: Full-body colors are available, but depending on the popularity of the color you want, the price could go up. The same goes for patterns and textures. Any design or distinctive texture will likely cost more than a solid color, and a few of the more unique patterns will be even pricier.

Slab Thickness: Go with a thinner slab to save. This will mean a thinner edge, but that can blend well with modern minimalist design. Or get a mitered edge for a thick edge profile.

Tear-Out Costs: You'll also want to consider whether or not your installer will need to tear out your existing countertops, which will, of course, cost more for installation.

In the end, you'll need to get estimates for accurate pricing on your project and costs to install Dekton countertops. Unfortunately, since Dekton is not widely available, you may only be able to get one estimate.

Putting Dekton to the Test: Is it Really That Durable?
In the "pros" section of this guide, we listed Dekton as being one of the strongest and most resilient countertop materials. This is not an overstatement. Dekton countertops can certainly stand up to their fair bit of abuse.
And when pitted against other countertop materials like granite and quartz (known for being pretty darn durable), or vs. Corian, Dekton does better overall.
Still, we would be remiss if we didn't mention that in some tests, Dekton didn't quite live up to the crazy hype that surrounds it. In particular, recent tests performed by the reputable product-testing magazine Consumer Reports showed less than stellar results for this unique countertop material in one area.
Consumer Reports staff performed several tests on Dekton surfaces. They sliced, scorched, stained, nicked, and scratched it. Here's what happened...
Is Dekton Heat Resistant?
Yes, tests demonstrate that Dekton is hugely heat resistant, which is a top benefit of this sintered stone surface.

In fact, Consumer Reports found that Dekton resisted damage in nearly all tests performed. It was especially successful at resisting abrasion, scorching, chopping, stains, heat, and cutting.
Does Dekton crack or chip easily?
Tests show that Dekton does chip more easily than most other types of countertops. Impact tests performed by Consumer Reports with weights of varying sizes resulted in chips and cracks on the Dekton material.

According to Consumer Reports, the tests simulated a heavy pot falling onto the countertop from a high rack or shelf. Other materials tested by Consumer Reports did not have these destructive outcomes when the same impact tests were performed. 
Dekton Cleaning, Maintenance, and Repairs
Due to the extreme durability and non-porosity of Dekton, general care and cleaning are relatively hassle-free. Still, here are some tips for the regular upkeep of your Dekton countertops.

How do you clean Dekton countertops?
The best option for general, day-to-day cleaning is to use a hard surface spray cleaner.
I highly recommend Puracy natural cleaner (very effective, non-toxic, biodegradable) or using a granite & marble cleaner for a streak-free shine.
Limit use of soap for regular cleaning.
Mild soap and water works and is often recommended, but there's a caveat... Soap and water are cheap and simple, but can leave a dull film on the surface (like soap scum in the shower) when used as a regular cleaner.
Better to use a hard surface spray cleaner, as recommended above.
Can Dekton countertops be repaired?
Damage to Dekton kitchen counters can be repaired. However, it depends on the type and extent of the damage. Some repairs to Dekton may remain visible or less than perfect like-new condition.
Dekton is known for its resistance to staining. Even wine glass rings can be left on the surface for hours — no stains should result in most cases. However, certain types of stains can still occur.

Removing Stains

According to Cosentino's "Cleaning & Maintenance for Kitchen Worktops" guide, any discoloration from dried-on substances can be cleaned with "cream detergents with abrasive particles."
Our favorite for this is Bar Keeper's Friend. It is fabulous for removing surface stains on non-porous materials. 
And stick-on stains, such as nail polish, paint, or gum, can be gently scraped off with a putty knife or sharp blade.

Using a Cutting Board

It is possible to cut and slice on your Dekton surface with even the sharpest knife.
However, Dekton does not recommend this because "metal transfer" may occur when cutting directly on Dekton. Metal marks can be removed with soap and water, but Cosentino merely recommends using a cutting board when slicing and chopping.
Really, using a quality cutting board is wise on any type of countertop. 
Repairing Chips and Cracks

It's possible that surface cracks from a heavy impact (as may occur according to the Consumer Reports test) are not repairable unless the entire section or slab is replaced.

Chips can be filled with a Pit & Chip Repair Kit, but it may still be noticeable on patterned surfaces. Chip repair on solid-color countertops (or on solid-color areas of patterned counters) will be much less noticeable… almost invisible.

Sealing

Since Dekton countertops are non-porous, sealing is not necessary.
Dekton vs. Quartz
The Dekton vs. quartz comparison is common too. Again, some similarities, but not the same.
Quartz countertops have certainly won a place at the top of the heap with excellent all-around performance. But there are reasons a leading quartz brand and manufacturer of Silestone developed Dekton. 

Dekton outperforms quartz, Silestone, and porcelain when all is considered. 
The key differences are that quartz counters and Siletone can be damaged by heat and quartz can stain or be discolored (sometimes permanently) by some foods and products.
When comparing all other characteristics of Dekton vs. quartz countertops, it's basically a draw. 
One thing... Quartz is now available pretty much everywhere so installation is not an issue. However, Dekton is so new that it is not readily available and many fabricators do not install this material.
Again, all considered, Dekton wins the contest vs. quartz and Silestone so if your local Home Depot stocks Dekton, then you'll be very happy with this sintered stone countertop. 
Related Content: 
Is Dekton More Expensive Than Quartz?
No, not really. Both Dekton and quartz countertops cost about the same price at $45 - $120 per square foot installed.
Dekton could easily be more than quartz and vice versa on your project. 

However, quartz prices have been increasing quite a bit in the last year due to tariffs imposed on Chinese imports and a lot of quartz comes from China.
So, the quartz market has been in flux and getting several quotes from different quartz fabricators and manufacturers is wise. 
Dekton vs. Granite
Despite all the new manufactured countertop materials that have emerged in recent years, granite remains the standard to which all are compared.
Granite countertops are not perfect, but in practical use, over years and years, it has proven it's worth performing as good or better than pretty much every other surface. 
Dekton does compare favorably to granite, though: 
Granite is very heat-resistant, is not sensitive to acids, and does not scratch. Of course, it can stain and does generally need sealing. Practically speaking, stains are not as big a problem as most think, especially after sealing. And although chips, pits, and cracks can occur, these problems are relatively rare. 
Dekton is also heat, scratch, and acid-resistant. It does not need sealing. Stains can occur, but rare and are usually easily removed. However, Dekton is much more prone to chips and cracks than granite. 
Dekton has a limited color palette, although, with several very appealing colors and patterns. It does offer large format slabs that are often hard to find with granite and may result in fewer seams. 
However, very few fabricators work with Dekton as it can be a bit more troublesome to cut and install than granite. And even though Home Depot sells Dekton, it is not available at many locations. 
In my opinion, granite is the slight winner in this head-to-head, but Dekton offers a wealth of benefits and is a top-performing countertop material. 

Is Dekton More Expensive Than Granite?
The average cost of a Dekton countertop installed is $65 - $95 per square foot. Granite costs $45 - $65/sq. ft. installed on average. So typically, Dekton is more expensive than granite. But granite could cost more if you choose an expensive granite color. 
The possible range of costs overlap. The full range of Dekton prices run from $55 - $115/sq. ft. installed where granite can cost from $35 - $200/sq. ft. installed.
The price of the particular slab or color chosen along with several other variables can have a dramatic impact on the final cost of either material.
You'll need to get quotes for both granite and Dekton to know which material is more expensive for your project.   
Dekton Countertops vs. Porcelain
Many people confuse porcelain and Dekton thinking they are one and the same; however, this is false. 
It's true that the two are quite similar, and in fact, Dekton countertops include the same raw materials used to create porcelain countertops.
The critical difference between Dekton and porcelain surfaces is that Dekton also includes the raw materials used to create the best quality quartz surfaces, which results in a superior product.
All considered I'd choose Dekton countertops over porcelain. 
Is Dekton Right for Your Kitchen Remodel?
Dekton countertops are new to the kitchen design world, but many homeowners have been delighted with them. The sintered stone countertops like Dekton are becoming very popular in Europe.
Not only are they tremendously durable and heat-proof, but they're also great for both indoor and outdoor settings.
Of course, you can't forget about the Consumer Reports tests that revealed cracking with heavy impact. In some settings, this might make Dekton a material to stay away from. However, in settings where substantial impacts are doubtful to occur and with reasonable care, you're probably safe.

Dekton countertop pricing is in line with other types of countertops, but installation is trickier, so finding an experienced fabricator may be more difficult.

Given these points, Dekton — though still a new material — has proven itself sturdy and stylish. And if you're planning a new kitchen remodel in your home, it's certainly a material to consider.