10 Tips To Find The Best Granite Fabricators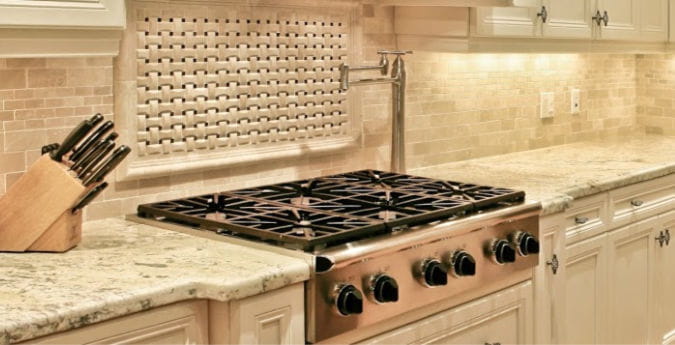 Finding the best granite fabricators for your bath or kitchen countertop installation is quite likely the most important decision you'll make when buying granite countertops.
You'll be spending a good chunk of money so it's worth taking the time to research and hire a reputable countertop fabricator with the skill and experience to help you choose the right granite and deliver the beautiful, quality countertop you dreamed of.
The following tips will help you locate granite fabricators and then pick the right one.

1. Find Local Granite Installers
Granite fabricators are contractors that cut large granite slabs on specialized machines to the exact measurements of your countertops and then install the granite countertops (or quartzite, marble, quartz).
Create a list of 5 or 6 granite countertop fabricators in your area. Note that most granite fabricators will install quartz countertops as well.
This doesn't mean you should automatically use a recommended granite installer with good reviews... it's just a good place to start your investigation. This is doubly true for any on your list from yellow pages or internet search that don't show any reviews.

2. Call and Interview the Granite Fabricators
Your evaluation begins with the first call. Are they easy to contact? It is not unusual if you have to leave a message, but does the fabricator return your call quickly?

Describe your project but don't expect granite fabricators to provide over-the-phone quotes.  

Also ask:   
If they are licensed, insured, and bonded? A legitimate company will have all of these in place to protect you if a worker is injured in your home or if your home is damaged.
For quartz countertop installers… is the fabricator "certified" by the quartz manufacturer to install their product? This can vary by manufacturer but, for instance, Silestone and Caesarstone have a certification process and only certified fabricators can install their countertops.  
Is the fabricator a member of industry trade organizations like the

Natural Stone Institute

? This doesn't guarantee quality and isn't critical but is a good sign that the fabricator is established and adheres to certain standards, etc.  
Do the granite fabricators also have slabs for sale? Most do not and those that do will not have nearly the depth of selection as a stone warehouse, but you may get a better deal buying a slab directly from the same company doing the fabrication and installation.
Will the fabricator educate you about proper sealing, cleaning, and ongoing maintenance. I recommend that you educate yourself about

granite care & maintenance

here on CountertopSpecialty.com but it's a good sign if the fabricator is eager to help you in this regard.
However, far too many granite fabricators don't really know proper marble & granite care and may just give you very general and in some ways wrong advice like "clean with soap and water and apply a sealer every year."
Take notes... form an impression.
3. Schedule Appointments to Inspect the Project
Hopefully, you found at least two granite installers you like and it's not a bad idea to schedule three even if you're not too impressed with the third.
I recommend trying to schedule all of them on the same day back to back if possible. Mainly this is just an efficient use of your time allowing you to make good comparisons while each meeting is fresh in your mind.  

And if the granite fabricators happen to cross paths at your front door... all the better to help motivate them to produce a competitive bid. Of course, timing these meetings isn't critical in any way. It's just ideal.  
Ask him/her to bring:

Proof of license, insurance, bond

The 3 to 5 references that you can contact
4. Meet the Granite Installer
Allow him/her to measure for your countertops and gather details about what is desired regarding the edges, sink, cooktop, seams, and the granite color.
Alternatively, you could make a drawing and measure your countertops to determine the total square footage, then go meet the fabricator (at their place of business) to review your drawing and project.
However, the fabricator will get a much better idea of your project if the meeting is at your house and you'll get to learn more about what the fabricator is like to work with.
The granite color you choose can have a big impact on the overall costs so you want to visit local stone warehouses and have a good idea of the color you'd like prior to interviewing fabricators.
Or you can do this after hiring a fabricator who may help you choose, but recognize the final estimate cannot be finalized until the exact granite slabs have been chosen.
This is actually the most common route… working with a designer or installer to choose your granite, but any stone fabricator should be able to give you rough pricing based on the general granite color or variety your wanting.
If you aren't finding the slab you want at the local stone yards, then try contacting a national slab distribution company like MSI.

5. Get Itemized Estimates for the Project and Compare
After you and the contractor are satisfied that all the aspects of installing granite countertops for your project have been covered, ask the contractor to write up an estimate.
Be sure to ask for an itemized bid that details the entire job step by step so everything that will be done, what is and isn't included is plainly stated.
Such items will be things like:
Templating (making a lifesize pattern that serves as a blueprint of your countertops)

Tear-out of old countertops

Number of cutouts

Installation materials

Trip charge

Faucets, sink, cooktop hook up (often done by a plumber and not included in the bid)

Sealing the granite or marble (if needed or desired. Though, you as the homeowner can easily

apply a granite sealer yourself

and save quite a bit.)
This avoids misunderstandings, mismatched expectations and "I thought this was included... no that's extra" arguments.
Also, you may find that one fabricator charges extra for even a basic edge style while another includes a basic edge… or other such line-item differences that could save you some money without sacrificing quality.
Most marble and granite fabricators will want to get back to the office, review the job, write up an estimate and email it to you. No problem. He/she should be able to do that within 2-3 days... a week at the most.
Once you have all the bids, compare the numbers.
I'd expect prices to be somewhat similar. If your bids show a wide range of prices for similar procedures you could call all of them and ask why their price is so much higher/lower than the others. Personally, I'd be most skeptical of a very low price.
Watch Out for Low-Ball Estimates
Don't be fooled by advertisements you see for super-low per square foot pricing. That's a starting price designed to lure you in but doesn't include hidden upcharges that suddenly appear on the final bill. That's why a detailed up-front estimate is so important.
Granite fabricators that try to be the absolute cheapest are typically the most troublesome. That low price is based on installing the cheapest low-quality grade of granite that can have pits, blotches, or a rough finish.
They are working with paper-thin profit margins so they will cut corners everywhere they can and try to do the job as fast as possible. This is when mistakes happen and too often excuses about why it's not the fabricator's fault.
Now you're stuck with an unsatisfactory countertop installation and wrestling with a contractor that doesn't want to take responsibility or fix the problem because he priced the job so low and will not make a profit by fixing mistakes.
Buying granite countertops from a big box store is also risky and can put you in the same situation as the cheap low-ballers.
The store will sub-contract the fabrication and installation to a business you have no contact with. And the store will pay as little as possible to the fabricator which encourages the fabricator to cut corners.

For jobs that really don't require a lot of skill and can be easily repaired if messed up (like painting) or you don't need perfect results, then going for the cheapest price is often your best move.  
Stone installation and restoration are not such jobs. A contractor that prices 20% or more below other contractors is likely desperate for the job (not the best sign), won't make the time or effort to do the best job, doesn't really know what he is doing, or all three.
6. Call References and Verify Insurance
Verify the amount of the bond, how long he has been insured with this company and if he's had any claims. Some companies may consider this private information, but at least verify that your contractor has active insurance.  
Call the references... ask what they had done and their experience working with him... let them talk... have a few questions ready (would they hire him again, etc.) Be brief and polite.
Of course, if the fabricator has a bunch of positive and detailed reviews on Angie's List and your interview went well, then maybe you can rely on that, but a live Q & A with a previous client of the fabricator is always helpful to get a more complete perspective that isn't always fleshed out in online reviews.
Check with the Better Business Bureau (BBB) to see if any claims or complaints have been filed. Don't worry too much if they do have two or three. Every business has a percentage of customers that couldn't be satisfied for one reason or another and the BBB lists only complaints. But if there's a long list of complaints you may want to scratch this fabricator off the list.
7. Negotiate
At this point, you should have pretty much decided which countertop fabricator you're going to hire or at least a tie between two. It's not really productive to try and negotiate with every granite or quartz fabricator you got a bid from.  
There's always a little room to negotiate, so choose the stone fabricator you like best and have at it. If you have a lower competing bid, present it and see if the chosen contractor can sharpen his/her pencil a bit.

Most have some built-in wiggle room, but some will stick to their price. Usually, this is a contractor that has the experience to know exactly what the job entails, how long it will take, what the expenses will be, and the amount of profit he is willing to accept.
He gave you his best price already and knows that if he bids too low his profits may vanish if there is a problem and nobody wants to work for free. No problem.

See if he can do something a little extra for you. Be creative. Remember, it has to be a win-win for both of you. You're not trying to shave his margin to the bone. Be friendly and show that you can understand his position and perspective in the deal.

8. Go With Your Gut
All the above provides an excellent guideline to hiring a granite installer, but you also have to rely on your instincts throughout most of this process.
First and foremost you want the best craftsman. Skill and experience usually pay off when installing kitchen countertops. But also, you want someone you can work with comfortably. Someone who is reasonably responsive to your questions and concerns, shows up on time, etc.  

So, if you have a couple really good candidates and you are having trouble deciding, then just go with your gut. More often than not this will lead you in the right direction.
Anyway... pick one, agree to the contract terms, price, and schedule the job.
Remember, it may be a week or two before he/she can get to your job. In the meantime, you can shop for granite slabs with the fabricator unless you are also working with a designer who will do that.
9. Contracts, Payments & Buying Granite Slabs
As stated before, the written estimate/contract should detail each thing that is to be done and the cost of all materials. For a really big job, you may want to include a clause stipulating how many days the job will take and if important, a monetary penalty for exceeding the time limit.  
Also, you want the contract to state that the contractor is responsible for thoroughly cleaning the area once the granite countertop is installed and the job is complete.  

For natural stone installation, a 50% deposit is standard to buy the marble or granite slabs. Both you and the contractor must sign the contract and get a copy. If you don't get a signed contract then you have zero recourse if a problem arises.
The fabricator will then come back by your house to make a template of your countertops which is used to cut the granite slabs to the correct size and shape.
Buying Granite Slabs
When buying granite countertop slabs it's very important that you view, inspect, and choose the exact granite slabs you want.
Looking at small color sample squares is a good place to start and narrow down your choices, but actual slabs can look a lot different than the sample and every slab is unique.
You may like the particular color and pattern of one slab vs. another even when both have the same color name.
Also, you want to closely inspect the slab for pits, a smooth and even finish, and any unsightly blotches.
When two or more slabs are needed then be careful to buy slabs where the color and pattern are essentially the same. This is accomplished by picking slabs from the same bundle.
Again, granite fabricators should help you with this as well as the stone warehouse salesperson.
Note that you won't get pricing for the slabs from a stone warehouse. Very few will sell directly to the public.
The stone warehouse will give pricing to the fabricator and he/she will make the purchase and include the cost in the final quote.
The warehouse will then deliver the slabs to the fabricator who will cut the stone according to the template made for your countertops.
10. Provide a Testimonial or Reference
If your granite fabricator did a good job for you and performed up to your expectations, then write out a short testimonial for him and agree to be a reference.
Truly good contractors can be hard to find, so you should be happy to promote those that are.  

But please don't expect absolute perfection. Consider that hardly any restoration or remodel job is without complications or unforeseen issues and even the best installers can have a problem.
If something is their fault, the good ones will correct it and still produce the desired result without a bunch of excuses.
Conclusion
Contractor horror stories are a dime a dozen. You don't want that to happen when hiring a fabricator and ruin your beautiful kitchen countertop installation. Taking the time to find the best granite fabricators pays off in peace of mind and getting what you wanted in the end without any hassle or surprise costs.

Related Content: 
21 Kitchen Remodeling Mistakes To Avoid
Ultimate Granite Countertops Review & Buyer's Guide