21 Kitchen Remodeling Mistakes to Avoid in 2023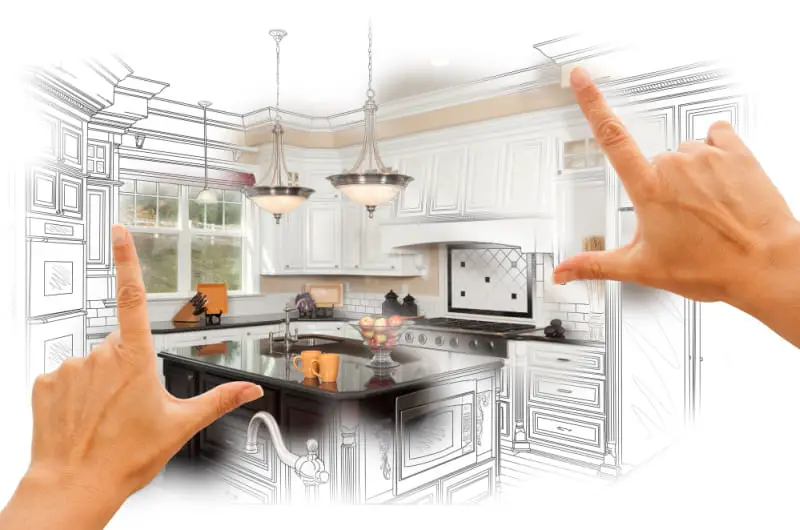 We spend more time in our homes than ever before, and remodeling has become so common it is practically a sport! Chances are you have a couple of home improvement ideas on your list.
The kitchen is the heart of the home and often the prime target for renovation. But kitchen remodels require careful planning, or the project can quickly become costly and complicated.

To help you succeed, we've put together a list of common kitchen remodeling mistakes to avoid throughout the design and remodeling process.
Common Kitchen Remodeling Mistakes To Avoid

Kitchen improvements add significant value and function to your home when done right. This list will provide many kitchen remodel ideas, what you should consider in a kitchen remodel, and help you learn what you should not do so your dream becomes a reality.
1. Underestimating How Much Work It Will Be

Remodeling a kitchen is a large project to take on and can be stressful. Don't be surprised if it's more complicated than you first imagined. Many homeowners make the mistake of focusing on major items and style but overlook function and the many small details.
Whether you have professional designers or contractors renovating the space for you or you're taking it on yourself, you never know what's to come.
Allow yourself plenty of time during the design phase to map out the entire project, including large and small tasks.
Expect some obstacles, but hopefully, what you learn here will eliminate any kitchen remodel regrets. It's OK to feel overwhelmed. Don't be afraid to ask for help throughout the process or seek additional advice when you need it.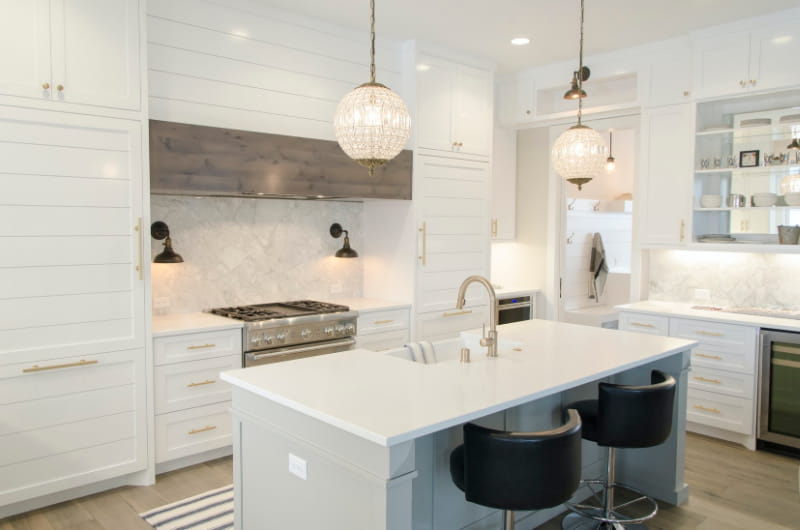 2. Waiting To Apply For Financing

Being financially prepared for the expenses associated with a kitchen renovation is essential to ensure that you can complete the project in its entirety. You need a solid idea of how much money you have available before you can start serious planning.
Take a realistic look at your current finances. Evaluate the financing and incentive options you have available. 
While some individuals may choose to forgo this step, it can be detrimental to your project's future and your finances overall. Start by taking a look at your savings to see how much you have available.
If you need to apply for additional funding, consider taking a loan out on the equity in your home. These loans can be used to finance home renovations and do not have strict requirements to obtain one. After these steps are completed, you'll want to set a budget that you can stick to.
3. Improperly Allocating Your Budget

Although it's critical to set a budget for this project, it's more important to stick to it. Failing to do so is one of the biggest kitchen remodeling mistakes. This step requires significant research.
For instance, cabinets are often the largest expense of kitchen remodels and may take up to 30% of your budget. Countertops and flooring will demand a big chunk too. Appliances, lights, paint, cabinet hardware, sinks & faucets... the list goes on.
Often during a renovation, unexpected expenses can arise. More expensive items or materials are selected, causing a budget to go awry. By setting aside extra funds in your budget, you will be better prepared for the unexpected and finish the project as planned.
4.  Disregarding The Potential Resale Value

Although kitchen renovation is typically done for use by the current owners, it's always important to consider the resale potential of an investment this large. Certain features in an over-personalized room of a house can drive buyers away. 
Not having features popular with most buyers can mean your home doesn't get much attention on the real estate market and sits unsold much longer than desired. 
Though you may not be thinking of selling now, it's still important to consider how the design would appeal to buyers should you ever decide to sell.
The main factors that sellers consider are the visual appeal, quality functional features, and whether they can see the space working for their design preferences and lifestyle. 

Suppose you are planning to sell in the future. In that case, you'll want to consider the color scheme and allocate extra money for upgraded items like custom kitchen cabinets, task lighting, quartz or granite countertops, backsplash tile, a quality range hood, and durable flooring. 
Homebuyers increasingly appreciate the use of natural materials. You'll never get all this money back at resale, but your home will sell faster and for a higher price.
5. Not Hiring a Kitchen Remodeling Professional

Yes, completing a kitchen remodeling project on your own may seem like a cost-effective option, but it can be a daunting DIY task to take on. 
You risk damaging your home (and sanity!) by making poor design decisions or common kitchen mistakes If you are not an experienced contractor or accomplished handyman.
It can be particularly risky to try to work on electrical and plumbing systems or load-bearing walls without consulting an experienced kitchen renovation professional.
Permits may be required as well. If things aren't built to code, that will come back to bite you when you are ready to sell. For example, specific types of outlets and wiring are needed in the kitchen.
Spend the money to consult with kitchen designers or experienced professionals before beginning your remodeling job. This step will spare you the headache and hassle of spending more money later on to repair damages or rectify common mistakes you've made.
6. Disposing Of Demolition Remnants

After your project is all planned out, the first step is to tear out your existing kitchen. With most demolitions, almost all of the remnants are disposed of.
Laws apply to specific materials, how, and where they can be disposed of, so investigate this before you bust out the sledgehammer. 
Also, you may want to consider saving some of these for other remodel projects throughout your house. Old kitchen cabinets can make excellent storage units within a garage. Even items like a sink or old countertops can be used when finishing a basement.
7. Creating a Kitchen Layout That Isn't Functional

One of the worst kitchen design mistakes is creating a layout that isn't functional in real life. First, visualize how you currently use your kitchen and how a new layout will change that. Stick with a common kitchen design that will accommodate all functions of the kitchen and your own needs.
A major consideration when planning your layout is the traffic flow or ease of moving between spaces.
The kitchen triangle is one of those design basics that should be incorporated into any kitchen remodel project. The paths between the cooktop or stove, refrigerator, and sink should form a clear triangular workspace for ease-of-access and efficiency. You don't want these all side-by-side.
If you have plans for an island, consider how the placement and size of the island counter will affect the triangle.  

Design the placement of appliances and the proximity of the doors on cabinets and appliances to other features so they can open freely. Make sure you add plenty of electrical outlets to provide options for using countertop appliances.
8. Measuring Kitchen Space Only Once

When it comes to measuring your kitchen and each of the openings where major appliances and cabinets will be going, always measure at least twice. 
This may seem like obvious advice but you'd be surprised how often, and inexplicably, measurements turn out to be incorrect. 
If you measure wrong, you could risk an appliance not fitting within its designated space or having counters that aren't the right height for the individuals using them.
Also, measure in person or verify all measurements of appliances including with doors open before purchasing. 
Never take rough estimates or round your numbers up or down. Make drawings indicating all measurements along with square footage. 

Having the right tools for the job is always critical. You'll be using a tape measure a lot, even if a contractor is doing all the work. 
Get one that can extend without bending for large measurements of the entire kitchen. And a smaller tape measure that is easy-to-read for tight spaces. Always be sure to make the most precise measurements and have someone verify them with you.
Incorrect measurements can create the most costly kitchen remodeling mistakes. With so many measurements to make it really pays to be patient and diligent with this process.
9. Forgetting To Incorporate Storage Into The Kitchen Design

Having plenty of storage options is at the top of the list of kitchen design ideas you should consider when remodeling. Ample storage is a feature that every homeowner desires.
You can never have too much storage! So, add as much as possible.
During the design phase, think about where it makes the most sense to store pots, pans, dishes, utensils, etc. Note that drawer dividers are increasingly popular.
Having enough space to hide small appliances will help clear countertops of clutter and provide you with more workspace.
Additionally, it's crucial to build in cabinet space for food storage. If you have enough space to incorporate one, a pantry is a great way to add additional storage space to a room while keeping these items out of view. Pantry pullouts are a feature you'll love.
10. Skimping Out On Countertop Space

Adequate counter space is vital to a well-functioning kitchen. Incorporating enough space into your design for food prep, cooking, and dirty dishes is important. Still, it's also essential to avoid cluttering them with small appliances and other knick-knacks.
You may want to consider adding a kitchen island into your design for additional meal prep and cooking space. Work with your designer to plan for countertops that are both well located, suitable for kitchen countertops, and a standard height.
Related content: 
10 Tips to Find the Best Countertop Fabricator
Everyone seems to love the look of marble countertops, but it can be a maintenance hassle in the kitchen. Too many unknowingly make this mistake and regret it. If you have your heart set on marble, check out other countertops that look like marble.   
Be sure to research which type of countertop is right for you, and don't choose based on looks alone.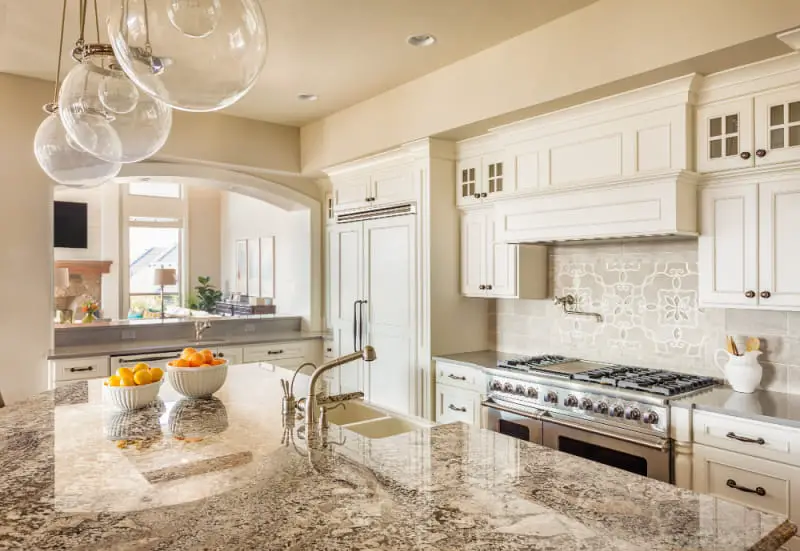 11. Forgoing a Backsplash

While a backsplash may seem like a small piece of the overall design, it can add a lot of value and visual appeal to the kitchen. It's an upgrade that provides a big bang for the buck.
The multitude of backsplash tile options available creates endless possibilities to showcase your style.
Also, backsplashes are traditionally made from natural stone, glass, metal, and ceramic, which are much easier to clean. The backsplash will help protect the walls behind your backsplash from growing mold and mildew, both issues that can damage your walls and your health.

12. Choosing The Wrong Paint Colors

Picking out the right color scheme for your kitchen should be done carefully, considering how that color will work against other room features.
If you choose a color that is too dark, the room may feel less inviting than a warm and bright color would.
However, it's also recommended to consider your counters, cabinets, and flooring colors and how they will look against the wall colors. The goal is a cohesive design theme.
13. Failing To Install Adequate Lighting

Depending on where your kitchen is in your house, you may or may not have a window supplying natural light. Having enough light in the kitchen is crucial when preparing and cooking food and for general comfort and enjoyment of the space. 
Without it, it can be challenging to see if your food is fully cooked. The colors, design, and style won't impress. And knives are dangerous in the dark!
Add or enlarge a window where possible.

You'll want to incorporate different types of lighting into your design, such as overhead for overall brightness, spot or cabinet lighting for work areas, and accent lighting to create beautiful focal points in your kitchen. 
14. Picking The Wrong Flooring

When choosing your flooring, don't make the mistake of picking something hard to clean or easily damaged. A kitchen floor takes a ton of abuse, so you want durable materials that can withstand the constant wear and tear, like porcelain tile or natural stone. 
Hardwood floors are popular as well but can be expensive and require more maintenance.
Thankfully, there are many flooring options you can choose from that will fit in well with your design.

15. Neglecting Available Wall Space

Organizing your kitchen doesn't have to be limited to cabinet storage and pantries. Available wall space is an often-overlooked aspect of kitchen remodel designs. Incorporating features such as shelves and hanging racks can help avoid cluttering up other spaces.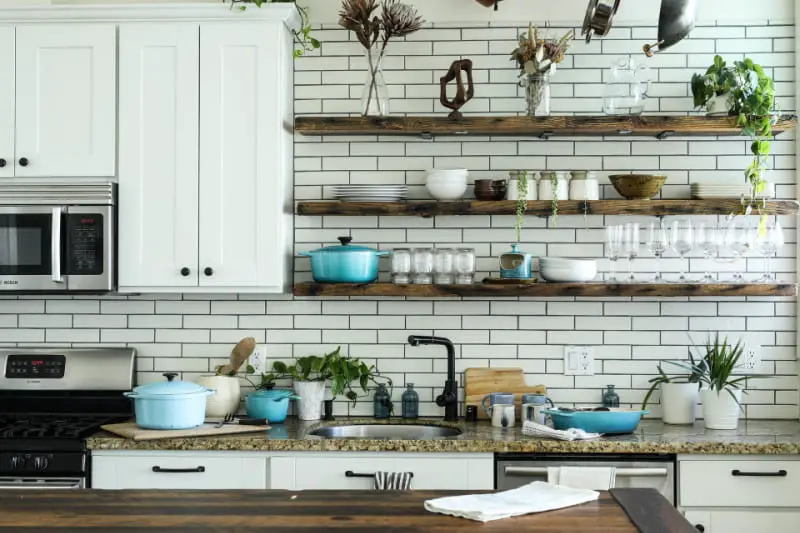 16. Buying Cheap Appliances That Won't Last

Many individuals opt for cheaper appliances to save some money after spending a considerable amount of money on quality cabinets, countertops, and flooring.
Cheap appliances won't last. Ultimately, having to replace cheaper appliances more frequently can cost you more in the long term. 
Wait for deals and sales to make large appliance purchases when possible.

Here again, consider resale value. Stainless steel appliances are still standard features buyers desire, and these tend to be the higher-quality models. Of course, you don't need to buy the most expensive stainless steel fridge or oven either. 
17. Choosing The Wrong Size Stools Or Furniture

Suppose your home does not have a formal dining room. In that case, you may be limited to placing a table in your kitchen, adding a breakfast bar or dining area on a kitchen island. 
The problem here is that standard furniture, seating, or stools may not fit within the limits of your kitchen space. Luckily, this kitchen remodeling mistake is easily prevented. 
The simple solution is to opt for compact yet functional furniture. And don't buy it until the renovation is complete. 

18. Leaving The Trash Bin In Plain Sight

Your trash and recycling bins don't have to be left out in plain sight for your family and friends to see. Instead, choose a sleek enclosed design where they can be pulled out from hidden kitchen cabinets when needed.
This will save you floor space and help keep odors at bay. It can also be a smart way to keep pets from rifling through your trash cans.

19. Trying Too Hard To Be Trendy

We all like to partake in current trends, but sometimes a traditional look is the better option when it comes to our kitchens. These renovations can be one of the most costly investments you make in your home, and you don't want to have to redo it all in a few years. The same holds true for a bathroom remodel as well.
This is why you shouldn't choose a modern trend that you will grow tired of. It's also helpful to consider how the style will appeal to buyers should you ever decide to sell.
What's trendy now may quickly become dated.
Stick to timeless design choices and don't mix and match styles within your home. For instance, a minimalist, industrial kitchen in a French country style home doesn't work.
20. Not Splurging For The Features You've Always Wanted

If you're taking the time to upgrade your kitchen, you might as well splurge on the features that you've always dreamed of.
Whether it's a coffee bar, built-in cutting boards, or smart home appliances and technology, you deserve to have a space you enjoy cooking and hanging out in. This is especially true if these features will help make life easier.
The best way to incorporate these extra features is to set aside a small portion of your budget at the beginning of the process so you can add these features later. 
This tip is mainly for those planning to remain in their home for years to come and don't intend to sell or not soon as the fanciest features have the worst ROI.
21. Overspending Relative to Home Value

Spending too much is one of the worst kitchen remodeling mistakes people make. It's easy to get carried away with a remodeling project when you start thinking of all the latest and greatest cool features you could install.
The cost can add up quickly if you don't stick to your plan and budget. Often it can be the hundreds of small items that can cause cost overruns. 
You'll never recoup 100% of the cost of your renovation.
Generally, home sellers can expect a 50% - 80% return on investment (ROI) on a kitchen remodel. Curiously, the more you spend, especially on upscale items, the lower ROI you can expect.  
And if you overspend relative to your home value, you'll recover an even lower percentage when selling. That can be a lot of money down the drain.
A good rule of thumb is to spend between 5% - 10% of your home's value on a kitchen renovation, and you'll get a good return. 
Focus on features that add the most value to your home, and that buyers want the most (see below). 
But if you plan to stay in your home for ten years or more, then splurge as you like and get that kitchen you've always wanted.
FAQ: Kitchen Design and Remodeling Tips

Here are answers to a few of the most common questions to help you plan and budget for your project.

What is the most expensive part of a kitchen remodel?

Cabinets are the most expensive item in most kitchen remodeling projects. Generally, installing new cabinets will cost about 30% of your overall remodeling budget. To save money, consider refacing, replacing doors and drawer fronts, or painting and adding new hardware. 
Appliances come in as the second most expensive part of kitchen renovations, followed by new countertops.  
Expect to pay: 
Cabinets: $5000 - 15000
Appliances: $3000 - 8000
Countertops: $1500 - 6000 
Kitchen remodeling costs can vary greatly depending on the kitchen's size and the quality of items installed.
How much do you get back on a kitchen remodel?

Remodeling Magazine's annual Cost vs. Value Report for 2020 shows that you'll recoup about 53.9 to 77.7 percent of your investment on a kitchen renovation. You'll get the best return on investment (ROI) on minor remodels with mid-range quality items. 
ROI = 77.6% on a minor midrange remodel costing $23,452
ROI = 58.6% on a major midrange renovation costing $68,490
ROI = 53.9% on a major upscale remodel costing $135,547
What adds the most value to a kitchen?
Spacious storage and modern cabinets
Energy-efficient appliances
Granite countertops - type of countertop homebuyers want most
Backsplash - adds a lot of style for low cost
Lighting - accent and task lighting
Floor tile - durable and easy to clean 
Large kitchen sink, especially farmhouse style, and a nice faucet
Range hood that actually ventilates to the outside
Hopefully, you got a few good kitchen design ideas you should consider from our list. But more importantly, learned what you should not do during a kitchen remodel. Avoid these common mistakes made when remodeling a kitchen, and you'll get exactly what you want while saving money, time, and effort.