Kitchen Backsplash Idea & Design Tips
Turn your kitchen backsplash idea into an eye-catching, one-of-a-kind design with exotic pieces, murals, mosaics, tile or tin. Possibilities are endless, so good planning is important. Start by reviewing the kitchen backsplash styles and themes below to help dream up your desired design.
Kitchen Backsplash Styles and Themes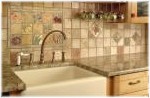 I'm sure you've been in kitchens that you've really loved and some you didn't. Also, you've seen enough pictures to have a good idea of the "look" you want to create with your kitchen tile design.
The following are some kitchen backsplash ideas that will help unify your theme. This will help you avoid a mish-mash style and turn your ideas into a enjoyable design that keeps you cookin'!
Old World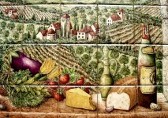 This look is cozy and comfortable and easy to achieve. Use tumbled travertine tile, chipped or worn marble tile, cobblestone or generally any aged material in the subtle earth tones of beige, gold and brown.
Hand-painted tiles, murals and mosaics are also right at home with this style. Even a copper backsplash or tin backsplash will work while still being warm and interesting.

Mediterranean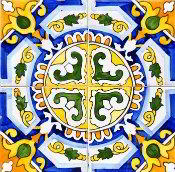 Colorful, hand-painted tiles in seaside colors of blue and green are what create this fresh, vibrant and comfortable look.
Boldly colored kitchen tile can be used as an accent, or as a distinct mosaic tile design in a particular section or for the whole kitchen backsplash.
This look works best when paired with light earth tone countertops and cabinets or countertops matching the primary kitchen backsplash tile color for a more monochromatic scheme.
Contemporary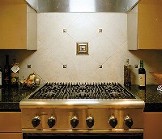 Clean, sleek lines and smooth surfaces are the keys here. Don't employ complex tile patterns, rough textures or a busy stone. A polished granite backsplash matching the countertops is perfect for achieving this look.
Also consider a metal backsplash or glass tile which come in many colors and for ultra-urban appeal... try a stainless steel backsplash.
Uniquely Yours
Don't be afraid to take elements of style (but not too many) from different themes to create a design that looks and feels good to you.
Just remember a simple, elegant design will be produce the most pleasing kitchen tile backsplash. So, plan it all out first, have a clear picture in your mind what the finished product should be like and have fun!
Designing Your Backsplash
Your goal of course, is to integrate the kitchen backsplash idea with all the other ideas, elements and structures you have planned to establish a "theme".
Color for your kitchen backsplash tile material should be chosen to complement the countertops and cabinets.
Bits and splashes of other colors can be integrated into your design if they don't compete for attention, but start by picking colors that are represented in your countertop.
Texture of the kitchen tile materials should be consistent with the style or theme of your kitchen. Rough and uneven for "Old-World" or smooth and sleek for "Contemporary".
Avoid creating a busy kitchen backsplash design or using too many textures, colors or intense colors if your countertop has a lot of movement or veins.
Creating harmony with your idea is key. You don't want to confuse the eye with an intricate design on top of a dramatic countertop.

Niches and ledges can be interesting and useful elements to add to your kitchen backsplash.

Place these above the sink or behind the cooktop to display a collection of colorful bottles, ceramic bowls, figurines, small plants or all your spices!
Picture frame designs are a great kitchen backsplash idea and are often added above the cooktop (if space allows) creating a focal point for a mural, mosaic or a more elaborate tile pattern.
Murals & Mosaics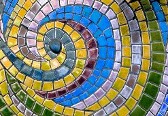 Murals and Mosaics are fantastic options for a truly unique and visually stimulating backsplash. Keep it simple and mosaic tile designs add appealing texture. Or create an intricate pattern, scene or picture and your backsplash becomes a work of art.
In general, murals and mosaics (especially those with patterns and pictures) will look better when paired with a countertop that has a uniform color and pattern.
For more kitchen style inspiration visit our friends at Kitchen Design Ideas where you'll find a ton of wonderful information and kitchen remodeling ideas.

go to part 2: Kitchen Backsplash Design
back to countertop HOME .... from kitchen backsplash idea