Stainless Steel Backsplash Guide


A stainless steel backsplash will add a touch of modern urban chic and still blend well with most color schemes and design themes, but it can be expensive. These tips and pro's and con's will help you decide if it's the right kitchen backsplash for you.
Kitchen Backsplash Design
Stainless steel backsplashes have a definite functional appeal being easy to clean up the grease and grime, spills and splashes of everyday cooking, but they also offer some interesting design options.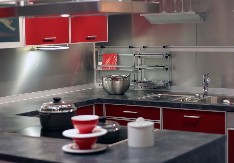 Stainless Steel Tile can be used for a kitchen backsplash much the same as marble or ceramic. Patterns and configurations are only limited by your imagination.
You could tile the entire backsplash in one style of stainless steel tile, mix in stone and glass or other materials as well. Maybe you want stainless steel only over the cooktop and sink with a mosaic or mural or full granite backsplash everwhere else.
Stainless Steel Sheets are commonly used in restaurants to create a sleek kitchen backsplash (counter tops and sinks too) that will take tons of abuse (not with- out marks though) and is easy to clean. This ultra-modern look goes well with the stainless steel appliances that continue to be popular with home-owners.
More Design Options. Any competent stainless steel fabricator can provide a range of surface textures such as hammered, quilted or ribbed for your stainless steel, zinc, brass, tin or copper backsplash. (However, it'll likely be more difficult to find a fabricator specializing in stainless steel backsplashes and counter tops than granite so be persistent.)
Pros & Cons
Easy To Clean. Stainless steel is one of the simplest surfaces to clean (studies show granite is the cleanest). Hot water, soap and a sponge will most often do the trick.
If needed, use a softer scouring pad (not steel wool) for a tough mess. You don't need to seal it, wax it or oil it, but wipe it dry to avoid water spots and don't let acidic foods (tomato, citrus, coffee) sit too long on the surface or it actually could cause some discoloration.
Heat and hot pans are not a problem except the surface will heat up and could cause burns, so still best to use trivets.
Dents and Scratches unfortunately are easily created so don't expect your stainless steel or any metal backsplash to remain pristine.
Polishing. Unlike copper, zinc or brass which oxidizes and changes color, stainless steel sheets or tiles do not require polishing to maintain a nice shine.






Price
Tiles for a stainless steel backsplash can be expensive when compared to ceramic and even stone.
Depending on the size, tiles can run from $40 to $200 per square foot.

Sheets of stainless steel are less expensive, but stainless steel is very unforgiving and precise placement of outlet, switch and window cutouts is required making experienced and skilled installation a must.
Expect to pay about $20 per square foot just for the stainless steel. Installation including all cutouts and the necessary mounting on a substrate backing will of course increase the cost considerably.
A less expensive option
is a metal laminate. This is a plastic base with a thin sheet of stainless steel applied. Several finishes and textures are available from manufacturers such as Formica and Wilsonart. You can find the stainless steel backsplash laminates at your local Lowe's or Home Depot. Expect to pay between $15 and $20 per square foot installed.


back to Kitchen Backsplash Ideas

HOME