Floor Tile Comparison Guide
Floor tile is increasingly popular with excellent durability and an abundance of colors and materials available. But with so many choices it can be tricky... Marble, travertine, granite, porcelain, ceramic, slate, Saltillo, vinyl and still more. Which one is the best type for your kitchen or bathroom tile design?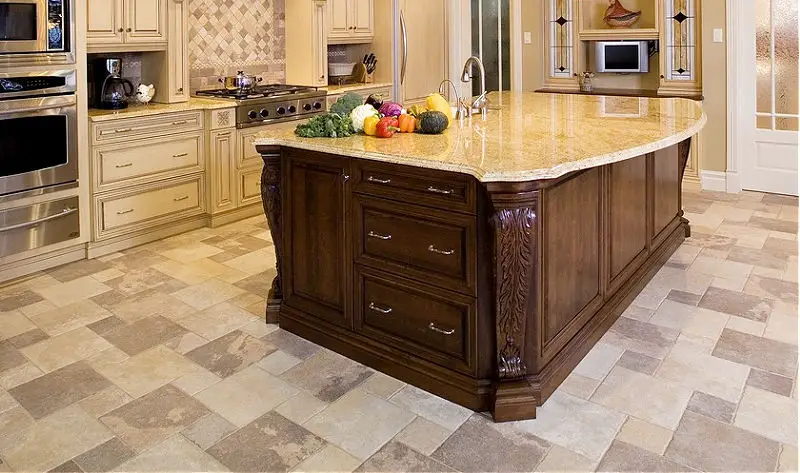 Well, you're in luck... because I broke it all down for you.

Keep reading to get a great start on your tile flooring project with full descriptions of the different types of tile available, cleaning requirements, characteristics, comparisons and recommendations below.... So, let's get started!
Marble, Travertine, Limestone
The classic floor tile material exuding elegance, luxury and style. The look of travertine and marble tile flooring is often imitated by ceramic and porcelain. A wide variety of colors are available especially earth tones.
Related Content: 
Natural Stone Flooring Types, Pros & Cons, Cost
Marble, limestone and travertine tile are all calcite-based stones and thus have similar properties regarding care and cleaning. Not as care-free as man-made tiles, but cleaning marble is relatively simple once you learn how.
Sealing may be necessary and etching can be an issue; however, most problems are simple to solve. Using the proper cleaning products is a must. So, a little more work and care, but no other tile will look as good in your home.
Marble, travertine and limestone can be used anywhere in your home for: kitchen tile design, bathroom floor tile, shower, patio, etc. Keep in mind that the kitchen is the most common area for etching, although floors aren't nearly as susceptible to etching as countertops.
Granite Tile
If you choose the right variety, granite tile flooring is essentially indestructible and can be used in any room without worry including an outdoor patio or entry.
Granite tiles do not etch like marble, travertine and limestone can and staining is generally not an issue. You also have thousands of gorgeous and unique patterns and colors to choose from.
For the most part granite has simple maintenance requirements although polished granite (like any polished stone floor) may require periodic re-polishing depending on the degree of use and wear.
Some granite tiles may need a granite sealer applied to help diminish staining and although not absolutely critical, it's best to use made specifically for stone.
Slate Tile
Many people love the look of slate tile flooring. It's certainly distinctive, but it is also a maintenance nightmare. The quality of slate can vary widely from hard and dense to soft and crumbly.
Most slate will stain easily and thus must be sealed.
Slate tile will also etch (marks of corrosion) when in contact with acidic substances. Also, the most popular cleft finish collects dirt easily.
Get it honed and use only in small or low traffic/use areas like an entryway, hallway or office.
Ceramic Tile Flooring
Ceramic is the most common tile found in homes today. Ceramic floor tile wears well, provides good traction, is essentially water and stain proof and easy to maintain using almost any cleaning chemical. As such, it can be installed in any room without any particular concerns.
Nearly unlimited color and pattern choices are available making ceramic a versatile tile flooring, although it can look a bit "manufactured" or "plastic." Take a look at the ceramic tile flooring page to see how ceramic compares to other materials.
Porcelain
Porcelain tile is becoming a very popular alternative to stone and ceramic. It is harder and more durable than ceramic... almost like stone. Porcelain also provides a better imitation of marble, travertine or other stone patterns, colors and textures with plenty of choices to match any design.
Like ceramic, porcelain tile is nearly impossible to stain, scratch resistant and easy to maintain. Install it anywhere you like.
Saltillo Tile
Like slate, many people love the unique look and vibrant yellow-orange colors of Saltillo tile, but when compared with other options, Saltillo has some drawbacks.
Made of clay, it is very porous and stains easily, so it must be sealed often and is not a good choice for a kitchen or bathroom. Saltillo is prone to scratching and scuffing and cracking in colder climates. It is also difficult and thus expensive to install.
Vinyl
Vinyl is an inexpensive option available in either sheets or vinyl floor tile with tons of colors and patterns to choose from.
Thicker tile is more durable and resistant to gouging or tearing, but all vinyl floor tile is susceptible to abrasions, scratches, cuts, tears and staining.
Proper cleaning is a bit tricky since soaps and many cleaners will leave a film attracting more dirt and regular waxing and/or application of floor polish is needed to keep your floor looking its best. Vinyl is fine for any area or room.
For additional ideas check out:  
What Is Natural Stone Flooring?