5 Top Flooring Design Trends In 2023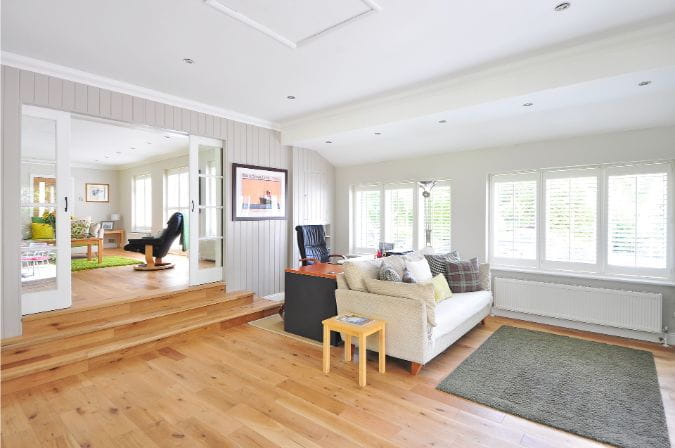 All homes have one essential thing in common. They are filled wall to wall with flooring. Good flooring design is key to creating that unique style and comfort of your home. 
The living room floor may be covered in plush carpet, with ceramic tile in the kitchen, natural stone tile flooring in the bath, while other areas have sturdy wood that has stood the test of time.
No matter what the flooring is made of, it lives the life of your family up close and personal. From babies crawling, kids playing, and pets racing around to friends and family enjoying festivities, flooring can take quite a beating.
When considering a flooring design update for your home, the numerous options can be overwhelming. Do you go with a standard carpet or an adventurous new tile? 
Not to worry, we've profiled five of the top flooring trends and ideas to help you along the way.
Mixed Flooring Colors
With an original wood floor, there is frequent variation in the wood due to the individual nature of the trees. As people began to stain and mimic woods, however, the ideal became to have uniform color and appearance in the planks. 
Moving away from this style and back towards a more organic look, color variations are the new flooring trend.
Whether you prefer dark or light-colored wood flooring, a mixed floor color and pattern can be customized to your tastes. Even the presence of wood grains can intensify the variation by becoming darker than the surrounding areas when stained.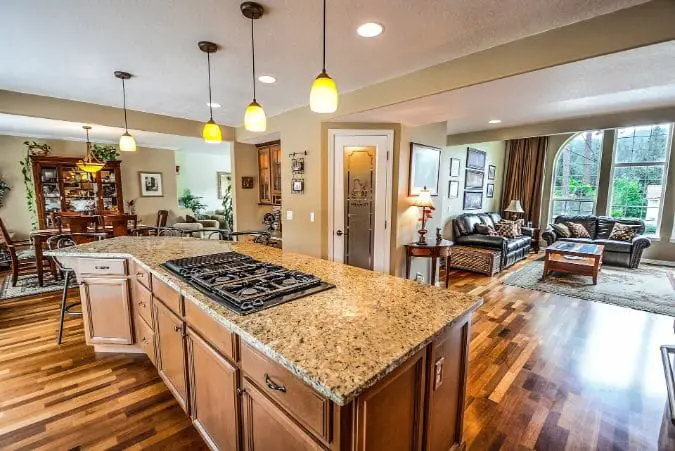 Floor tile options are even more diverse and numerous. Tiles can be found in virtually any color imaginable, and the patterns are nearly infinite as well. 
Tile can mimic the look of other materials like solid hardwood or concrete floors, and therefore add unexpected colors to looks that would otherwise be inaccessible.
Tile also comes with variable width and length, adding an extra element of interest to the flooring design. Porcelain tile is especially durable and easy to care for as well.
In some cases, this means buying separate types of flooring sections in different styles, while other times, the pieces can be premixed to give a specific look. 
The idea behind this trend is to make your floor design and home look like it is one-of-a-kind, with pieces you won't find anywhere else.
Textured Flooring Trends
Smooth floors used to be all the rage. People filled their homes with perfectly symmetrical pieces of engineered hardwood, laminate flooring, linoleum, luxury vinyl, or polished tile. 
That time has passed. Now is the time of gorgeous individual flooring pieces, made with imperfections that are their kind of beautiful. 
Textured flooring has become highly praised for its personalized style and slip resistance. This type of flooring is finished with an amount of roughness still present in it.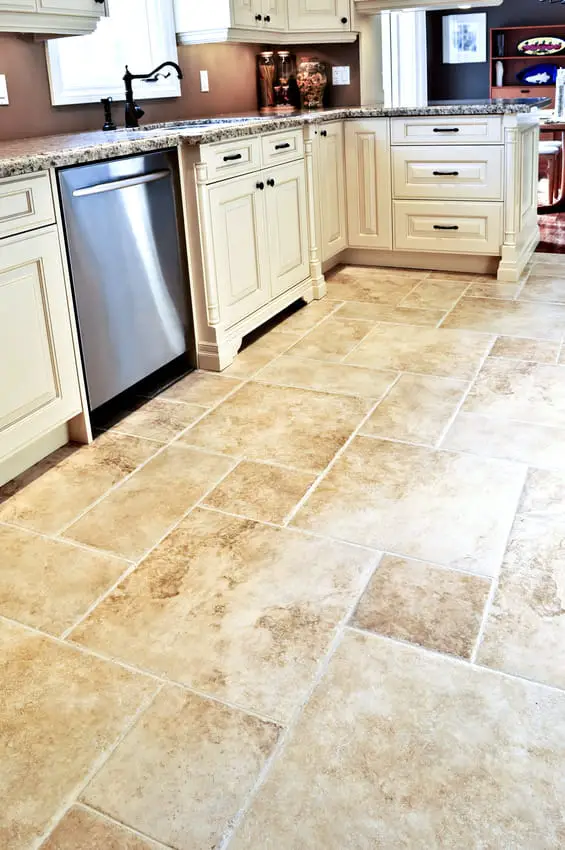 By adding texture to the interior design, it brings character to the room, while setting one place apart from the next. 
Varying degrees of distress can be visible in the type of flooring you choose, though all of it will give your rooms a more natural appearance. 
Light reflects off of a textured floor in more exciting ways than it does from a smooth one and the variation in surface creates the impression of different colors in the material. 
Slip protection is an added benefit when using a coarse surface such as travertine tile, ceramic, or porcelain floor tile. 
Textured flooring offers many options for color and style. Most flooring materials come with varying degrees of roughness and texture. A hardwood floor is a perfect example.
The types of activities that you expect in your home can help you choose the best kind of texture for you. 
For instance, the look of hand-scraped laminate or natural wood is useful for hiding claw marks in households that have pets where distressed wood floors have dents, burn marks, or darkened edges that hide the wear of high traffic areas.
Flooring Trends & Changing Patterns
No matter the material, laying flooring in a standardized pattern, from one side to the other, is no longer trendy. With the rise of technology in cutting materials, the ability to have perfectly matched shapes and patterns has arisen. 
As noted above, a delightful pattern can change the whole feel of a room.
With hardwood floors or laminate, laying wide planks in parquet patterns adds a wow factor to any room. The most common patterns are chevron, herringbone, or Versailles (a pattern of squares latticed with thinner strips of wood).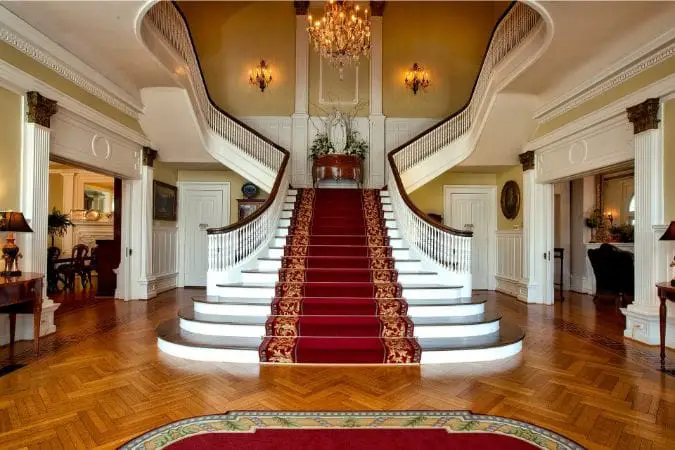 There are even more labor-intensive patterns, such as inlaid stars or diamonds that are made with contrasting flooring colors.
By using floor tile, the options only grow. Cutting tile pieces at home allows for greater variation, or mosaics, and gives you the ability to create art with your floor covering. 
Tiles come in all colors, shapes, and sizes, making a personal mosaic a real possibility. The trends in tile are exciting, and you can certainly find something that you love. Even carpet tile is a flooring option.
Recycled Flooring and Sustainable Materials
As time goes on, more and more homeowners are focusing on using sustainable resources. Reclaimed items can be used in many ways, such as creating recycled glass countertops or repurposing plastic into accent rugs. 
In the same vein, there are many options for using recycled flooring or recyclable materials in manufactured floors.

As with countertops, glass chips or pieces of stone and concrete can be put together with a bonding agent to make a unique floor design. 

Similarly, reclaimed wood and brick or stone can be reused without much processing. These types of materials are great for creating an antique look in your home.
Recycled flooring is not the only option for a low impact floor, though. 
Flooring products produced using sustainably sourced materials are becoming very popular. There are multiple options to choose from in this category as well.
Some of the more popular options for sustainable flooring materials are cork, bamboo, and linoleum. 
Cork is taken from the tree in such a way that it can regenerate and produce more without being cut down. Though the period before the first harvest is relatively long, all subsequent harvests are pretty reasonably timed out.
Bamboo grows fast enough that the impact to nature of cutting it down is minimal in comparison to traditional wood flooring. Bamboo is trendy natural material because it is similar to hardwood flooring. It holds up well to heavy use even in high-traffic areas, while still maintaining its beautiful appearance. 
Linoleum is a product similar to vinyl flooring but made in a much more eco-friendly way. By combining various plant products, limestone, and wood pulp, linoleum is easy to produce by using a mixture of sustainable products and byproducts. This material is also durable, water, and fire-resistant. 

Be careful when purchasing any reclaimed, recycled, or sustainable flooring material. As demand for these items increases, many low-quality versions are popping up on the market. Especially in the market of bamboo flooring, as it has jumped ahead in the race for market share.

Accent Rugs Tie it Together
As the popularity of hard floors has increased, accent rugs have become an vital flooring design accessory.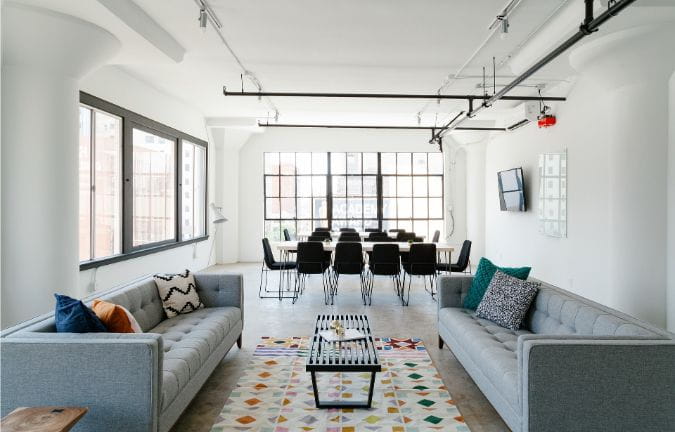 Adding a well-placed area rug not only lends a feeling of comfort, it helps tie together the colors of the room. No matter what material you have chosen to work with, something soft in front of a sink or a couch can be just what the room needs.
A vast selection of area rugs in a wide variety of patterns, colors, and materials makes it easy to find the perfect area rug for your space. 
Long runners are great for stairways and hallways. Short tight weaves are cleaner in front of the kitchen sink, while cushier shag type rugs are best for the bathroom or next to the bed. Don't hesitate to try exciting shapes and patterns when picking out a rug.
If you are going for a completely green flooring set up in your home, rugs are a great place to find recycled materials. Plastics can be recycled fibers that make accent rugs, as well as reclaiming carpets, to spin into new rugs. These types of materials are becoming more popular and, therefore, easier to find.
Conclusion
Your home and family deserve the safety and beauty that only good flooring design can provide. A lot of life goes into the floor of your home, even if you hardly notice it's there. By picking an alluring style and coupling it with a renewable material source, you're sure to be pleased with any room.
Textures and patterns are becoming more popular as people attempt to create a unique home that speaks of their style. The ability to find materials in multiple colors and shapes has made this more accessible than ever. 
Don't forget to mix it up a bit. Variety is the spice of life and also of a house. Even though floors spend a lot of time covered with furniture and people, they still make a significant impact on the appearance of an area. 
Give flooring design the attention it deserves, and you'll be rewarded with years of joy and comfort.