What Is Natural Stone Flooring?
Types, Pros & Cons, Cleaning, Costs
Hunting for the best flooring material and that look of luxury and quality you see on all the home improvement shows? Then natural stone should be at the top of your list. Natural stone flooring is known for its classic beauty, durability, and lasting value. Stone tile flooring is excellent for kitchens, bathrooms, foyers, hallways, living areas, and paved outdoor areas.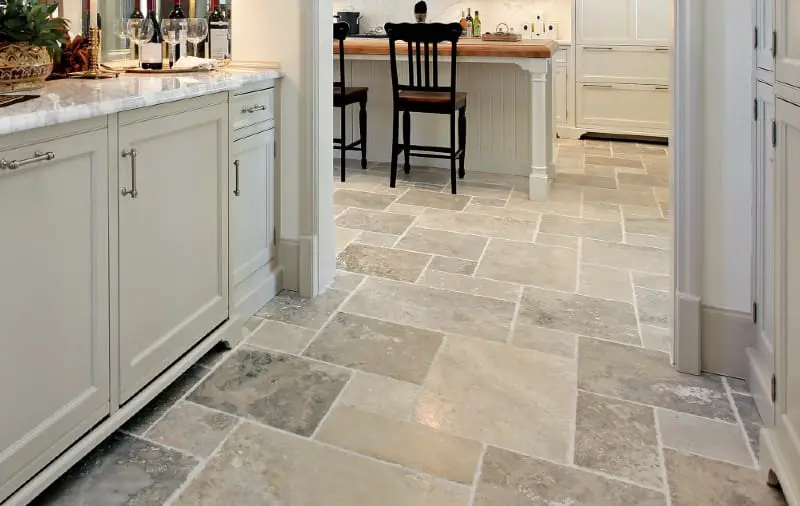 Tumbled finish on limestone and travertine tile floor
In this article, we'll cover what is natural stone flooring, its types, pros & cons, cost, cleaning, ideas, and all the things you should know when choosing stone tile.
What is Natural Stone Flooring?

Natural stone flooring is tile cut directly from stone blocks formed over millions of years by Mother Earth vs. man-made tile that is manufactured by combining various substances and chemicals such as porcelain or ceramic tile.
Stone tile has been used for thousands of years.
The most common types of natural stone flooring are marble, travertine, limestone, granite, quartzite, slate, and sandstone.
One of its many advantages is its timeless elegance. Homes and buildings that use natural stone don't become outdated, and tile increases home value.
Natural stone flooring is commonly used to create a sense of space. This is achieved through the seamless integration of both interior and exterior areas using the same material.
Its natural properties allow it to catch and reflect the light to create an airy and light feel.
Types of Natural Stone Flooring

Looking for natural stone flooring ideas? Below are detailed overviews of the best types of natural stone floor tiles. Later we'll discuss characteristics, pros & cons, cost, and cleaning.

1. Marble

Marble flooring is famous for its classic look of luxury, dramatic veining, smooth texture, and high-gloss finish. It comes in a wide variety of colors, although white marble is the most popular.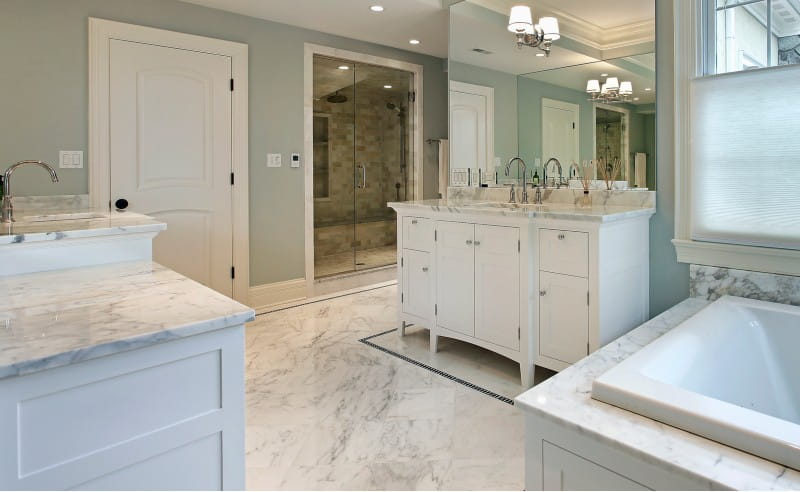 Polished finish on Carrara marble floor tile
Also, marble tile sizes run the full range from large format to small mosaic tile. Nearly all shapes are available as well - square, rectangle, round, triangular, hexagonal, you name it.
Marble is the top pick of natural stone flooring for bathrooms to create that spa-like look and feel. 
Given the many floor tile choices, marble is perfectly suited as flooring and countertop material for many homes. Although, you may think twice about installing marble in the kitchen. 

It should be noted that marble is a softer calcium-based stone prone to scratching and etching from acidic foods and drinks that dull the finish.
In particular, when marble is used for kitchen countertops, it can frequently etch when everyday acidic household products like vinegar and orange juice regularly come in contact with the stone surface.

Bathroom products like toothpaste and those for cosmetic purposes may contain acid that can damage marble as well. However, damage to marble bathroom vanities, floors, and showers is much less common than in the kitchen.

Marble tile flooring can etch as well, but the risk is much lower, and it doesn't tend to be a problem in the bathroom or other living areas. Although, a marble kitchen floor may still cause some maintenance headaches.

Etching and surface scratches can be repaired and polished out with DIY products like the Etch Remover / Marble Polishing Powder. Still, in the kitchen, such repairs will be frequent.

Even with a little extra required maintenance, marble flooring remains immensely popular. It is commonly installed in all areas of the home.
2. Granite
When you consider durability alone, granite tile is superior to all others and the best natural stone flooring for kitchens. It ranks a 7 on the Mohs scale, which makes it harder than marble.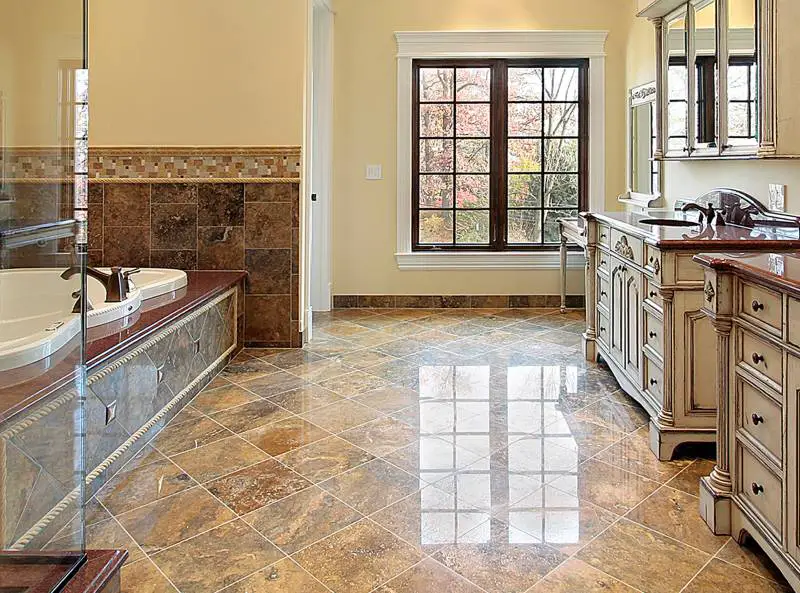 Polished finish on granite tile flooring
It won't scratch, etch, or scorch. Stains are not a problem when sealed, and darker colors may not even need sealing. 
Plus, it's easy to clean and hides dust and grime, so you don't feel the need to sweep and mop daily. 
For these reasons, granite tile is fantastic for floors.
For decades homeowners have installed granite countertops for superior all-around performance and low-maintenance. 

Another benefit is that far more granite colors and patterns are available compared to any other surface. Although, you may find some patterns too busy for floors. 

Granite can be an excellent paving stone for patios and driveways. The stone's natural beauty coupled with expert craftsmanship can create a unique and beautiful design. 
Granite flooring produces a luxurious and elegant feel to any room. Granite bathrooms and kitchens are especially sought after in modern homes.

3. Travertine
Travertine is formed by hot spring water that bubbles through limestone. Its unique character and appearance make it an attractive flooring option.
Travertine tile is an ideal flooring material for bathrooms, shower stalls, hallways, living areas, and laundry rooms.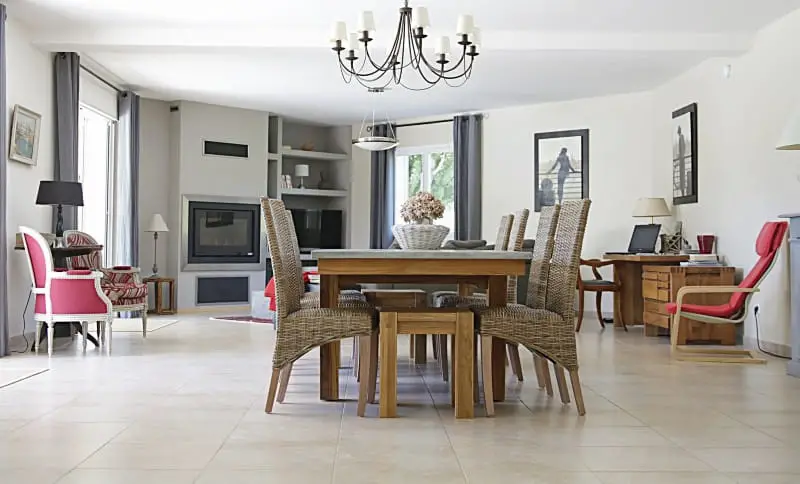 Honed finish on a travertine tile floor
But keep in mind that travertine is a sister stone to both marble and limestone. All three share basically the same performance characteristics and maintenance requirements.
The main similarity is that all three stones can be scratched and etched (damage to the finish from acids and harsh cleaners). Specific knowledge of proper care and cleaning is necessary.

Thus, travertine can require a bit more maintenance as a kitchen floor (where etching is much more common) than, say, granite or man-made surfaces like porcelain tile.

Tumbled travertine is a popular choice for pool decks. Its sandy coloring blends well with the garden and pool environment. Also, it is slip-resistant and remains a bit cooler than other surfaces on scorching hot days.

It's also desirable as a driveway paving material because of its durability and non-skid properties.

4. Quartzite
Quartzite is popular as a material used for decorative tiles and wall veneers but has shot up the charts in recent years as a countertop material. It can look a lot like marble but with the durability, performance, and low-maintenance of granite.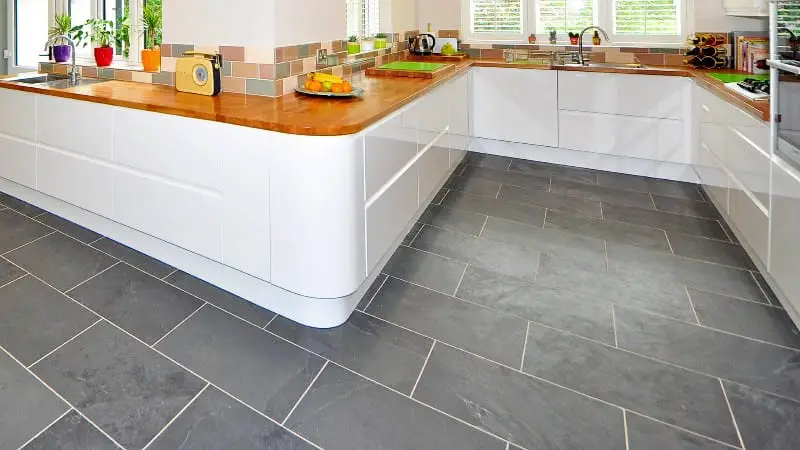 Honed finish on gray quartzite tile
People who find the busy patterns of granite and the maintenance of marble a little too much turn to use quartzite.
Quartzite originates as sandstone before heat and pressure transform it into the much harder quartzite. 
On the Mohs hardness scale, quartzite is rated at 7. It's as hard or harder than granite. It's known for its crystalline shine, high heat, chemical, and scratch-resistance.
Areas of the house or building that see a lot of foot traffic can significantly benefit from a quartzite floor. The stone also does well exposed to the outdoor environment and is often used for patios.
Pro tip: before buying "quartzite," be sure to test it with lemon juice to ensure that it is not marble. Sometimes these two types of stones get mixed up since they can look so similar to each other. But quartzite is much more durable and easy to care for.
Quartzite is a solid choice for both indoor and outdoor floors. It can be used for indoor floors without issue in all home areas, including the kitchen.
Countertops, vanities, and fireplace surrounds are other common uses.
5. Slate
Slate is another common floor tile. It is characterized by its fine grain and unique cleft texture. One major advantage of using slate tile is its attractive appearance and durability.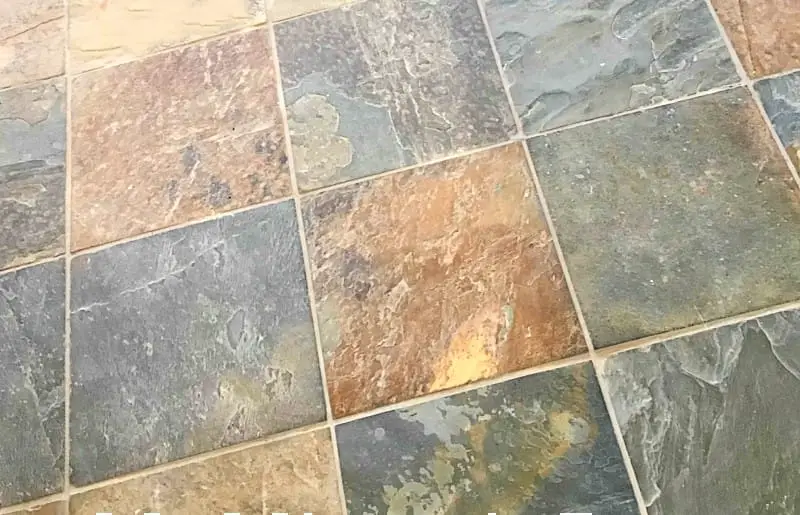 Natural cleft finish on slate tile stone floor
Slate tile comes in multiple colors such as green, red, purple, black, and brown and various combinations of these. The color is determined by the type and amount of iron and other organic material it contains.

One issue to note is that the quality, hardness, and durability of slate can vary. Some slate is very hard, resistant to chemical damage, scratches, and chips.
However, some slate can be just the opposite. When repairs are needed, it is nearly impossible to replicate the typical texture of slate.

So it's a good idea to test the exact slate tile you intend to purchase to ensure good durability.

6. Limestone
Limestone tile is not as popular as marble or travertine but equally beautiful with its own unique characteristics.
This sedimentary rock is made of calcium carbonate in the form of mineral calcite like marble. Since it forms in shallow marine water, fossilized creatures, corals, shells, and algae can be seen in the pattern. That's very cool!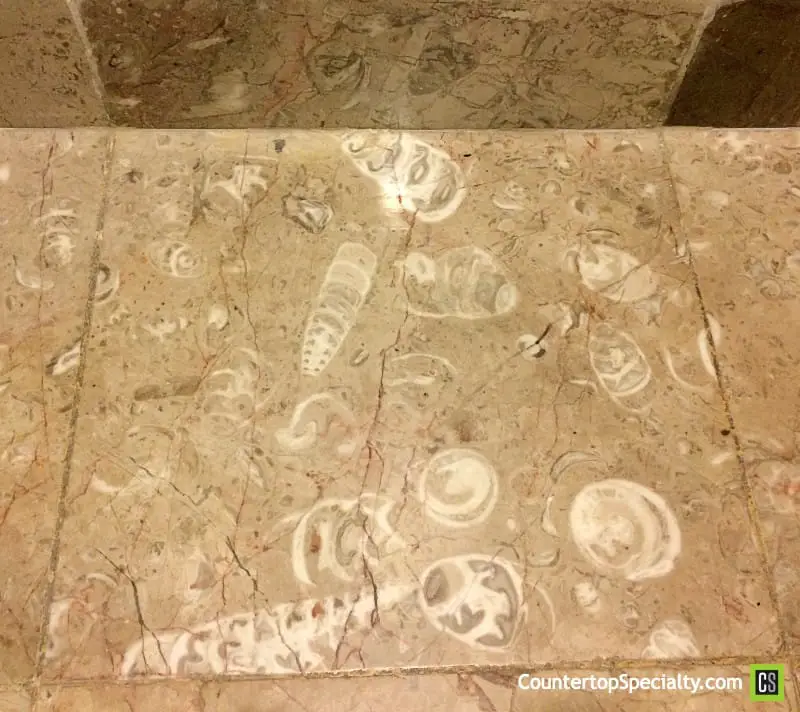 Ancient fossilized sea creatures embedded in limestone tile
Limestone is known for its durability, so it is used as a road base, railroad ballast, and concrete aggregate. It stands well in freezing conditions and abrasion.
Limestone will require the same care and maintenance as marble. It should be installed in locations that will not be excessively exposed to acidic foods and drinks. So, avoid it for kitchen flooring, but limestone tile for the bathroom, living room, entry, or outdoors works well.
7. Sandstone
Sandstone is a warm and earthy stone that evokes the beach and desert with a sandy ridged texture in rich red, tan, and brown colors. These are the most common colors but also pink, gray, gold, black, and white.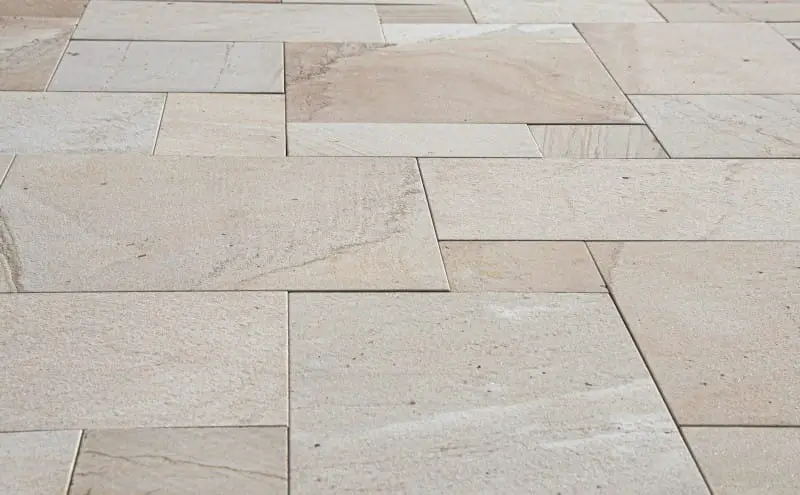 Rough honed finish on sandstone floor tiles
Sandstone generally has a minimal pattern and is often a solid color. But it can display mottled shades and striations of various colors. 
It's a sedimentary rock composed mainly of cemented silicates, quartz, feldspar, clays, and silt.  
Sandstone tile is soft and relatively porous, so it can scratch and stain easily, so consider the pros & cons. It is not as durable as granite, but it is durable enough to last a long time. Still, the look will change some with wear and weathering when installed outdoors.

Finishes of Natural Stone Floor Tiles

The "finish" refers to the look and feel of the natural stone surface. Quite a few different finishes are possible for countertops, wall tile, or floor tile, such as polished, honed, tumbled, leathered, antiqued, brushed, or flamed.
However, natural stone floor tile will almost always come in two main finish types (polished and honed). A third type (tumbled) creates that worn and rustic look. The fourth type (flamed) is employed when good traction is paramount.
1. Polished
Stone tile with a polished finish has a glossy and mirror-like reflective surface. The color and pattern of the material are saturated and vivid (see photos in the "marble" and "granite" sections).
This type will readily show dust, smudges, blemishes, and wear. It is also potentially very slippery.
Using this Anti-Slip Floor Cleaner will improve traction on polished surfaces. 
It requires the highest level of maintenance and periodic refinishing and polishing of dulls spots and wear.

You'll want to hire an experienced tile installer for a polished floor where every imperfection shows.

2. Honed
A Honed finish has a satin-smooth matte surface. It will have a slight sheen but is not shiny or reflective. Colors are more soft and earthy (see photos in "quartzite" and "travertine" sections).
The honed finish is typical for bathroom and kitchen floors, thresholds, stair treads, and other places with high foot traffic or wet areas where good traction is essential.
It wears much better than a polished finish and will not need refinishing often, if ever.
3. Tumbled
A tumbled finish is more coarse and textured than a honed finish. It will not be completely flat and smooth like a honed finish. 
Tile edges may have a slightly rounded or chiseled look. A tumbled finish is very popular with travertine tile evoking that old-world, rustic charm (see photo at top of page).

Stone tile flooring with a non-slip flamed finish can range from a slightly pebbled texture to a rough ridged texture and dramatic appearance.
A flamed finish is seen mostly on granite floors or as decorative wall cladding. It can be challenging to keep clean via mopping. It is best suited for outdoor use.
Cost of Natural Stone Flooring

The total natural stone flooring cost will range from $8 to $47 per square foot installed. However, the actual cost of your project will depend on a variety of factors:
Size of tiles; larger tiles cost more than smaller tiles
Color or veining; unique colors and patterns are priced higher
Rare stones; imported and exotic stones are expensive
Discontinued lines typically cost less
Removal of existing floor
Degree of subfloor preparation or repair required
Complexity: stairs, corners, obstacles, irregularly room shape
Cost of living and wages in your area
The cost of natural stone flooring tile will have a range of prices. Here are the average price ranges by material:

Marble: $2.80 to $20.25 per square foot
Granite: $2.85 to $17.50 per sq. ft. 
Travertine: $2.15 to $10.35 per sq. ft. 
Quartzite: $3.50 to $7.75 per sq. ft.
Slate: $2.20 to $12.50 per sq. ft. 
Limestone: $1.75 to $11.80 per sq. ft.
Sandstone: $1.20 to $7.75 per sq. ft.
Note that prices for rare or exotic colors and stones can be well above these averages. 
The installation will be a large percentage of the total natural stone flooring cost. Installation labor and materials may cost as much as the stones themselves.

Tile installers charge $5 to $20 per square foot for natural stone flooring installation.
The wide range is due to variance in complexity, grouting, subfloor prep, etc.
Tear out of existing flooring is not usually included in installation or prep prices. 
Expect to pay $2 to $7 per sq. ft. to remove the existing floor covering.
The best advice is to get several estimates from experienced local stone tile installers.
---
Is natural stone more expensive than tile?
Natural stone tile is typically more expensive than ceramic or porcelain tile. Stone tile flooring commonly costs $5 - $20 for the tile. Porcelain and ceramic tile cost $1 - $7 per tile.
However, sometimes you can find stone tiles for $2 - $5 and high-end ceramic and porcelain can cost over $10 per tile.
Natural stone is considered more luxurious and unique plus it costs more to extract stone from the earth vs. manufacturing the floor tiles. 
Cleaning Natural Stone Tile Do's & Don'ts

Every surface requires specific cleaning protocols. Once you learn how to clean natural stone tiles and avoid damage, it's easy. Here are the main do's and don'ts: 
Do…
Do apply a top-quality stone sealer if necessary
Do clean spills immediately
Do sweep and mop floors frequently
Do rinse with clean water (if needed) and dry the surface thoroughly
Don't…
Don't use lemon juice or vinegar, or any cleaning substance with acids
Don't use abrasive cleaners
Don't use vacuum cleaners as they may scratch the stone
What is the easiest stone floor to maintain?
Granite is the most durable, low-maintenance, and easy-to-clean natural stone flooring option. Granite floor tiles do not etch from acidic foods or drinks, will not wear down from foot traffic, and can be highly stain-resistant. 
Lighter colors of granite may need sealing to protect against stains, however, dark colors are near stain-proof and rarely require sealing. 
Related Content: 
Marble Cleaning Ultimate Do's & Don'ts Guide
Best & Safest Marble Cleaning Products (for travertine and limestone too)
Cleaning Travertine: The Complete Guide
Ultimate Granite Care Do's & Don'ts Guide
Properties of Natural Stone Floor Tiles

Natural stone has several performance properties and grades that are useful to understand when shopping for tile.

1. Absorption Rating
The absorbency rating refers to how porous a material is. The higher the rating, the more absorbent and prone to staining the stone tile is. A porous stone with a high absorption rating installed outdoors is also prone to cracking when exposed to freezing conditions.
Natural stones vary in their absorption rating, with sandstone rated as the most porous and dense granite tile varieties are the most impervious to water.
Just perform this absorption test, and you'll know how likely the stone you want will stain without getting all scientific with actual ratings. 
The rate of absorption and staining can be reduced by applying a stone sealer. Sealers protect the grout as well.

2. Grade
The grading system is used to rate the quality of natural stone slabs or tiles. It is an umbrella term that refers to the shape, size, thickness, and surface condition. 
Without a governing body or strict grading guidelines, the levels mainly refer to the appearance (color and pattern consistency and anomalies, blemishes, pits, mineral inclusions, etc.) and not necessarily to the suitability of a slab or tile for home installation. 
Most systems of grading natural stone have three levels of quality:
Grade 1: the highest quality
Grade 2: minor defects like scratches, chips, or an irregular surface
Grade 3: major flaws in the stone's shape, size, or surface. Such stones are only ever used as accent pieces, wall cladding, or as a rustic decoration.
3. Coefficient of Friction

A stone's coefficient of friction refers to how slippery the natural stone tile flooring is when wet. The higher the rating, the more traction the stone tile has and thus prevents slippage.
This is one factor that interior decorators and contractors look for when choosing bathroom tile, natural stone flooring for kitchens, and other parts of the house or building with high foot traffic or where safety is a concern.
Of course, the type of finish is a significant factor impacting friction. A polished finish is much more slippery than a honed finish, and honed more so than tumbled, etc. 
Improve traction by using this Anti-Slip Floor Cleaner.
4. Oxidation

Natural stones have been formed underneath the earth for millions of years. This means they contain different elements that react to surface air in different ways.
In particular, stones with iron content have a tendency to degrade over time due to the process of oxidation, known as rust.
Stones that exhibit red or amber hues are better suited for indoor use in dry areas than outdoors, where the environment can speed up its degeneration or cause rust stains.
Oxidation and rust stains on white marble tiles can occur due to small iron deposits often embedded in the tile. This can be a problem when installed in showers where constant water exposure will oxidize the iron deposits.
However, this is generally not an issue for marble tile flooring, even in the bathroom.
Here again, a sealer can virtually eliminate this problem by minimizing the absorption of water.
Pros & Cons of Natural Stone Flooring

Some building materials have benefits or advantages over others, but alas, no material is perfect. All have weaknesses, and none are carefree. Let's compare natural stone flooring pros and cons.

Advantages of Natural Stone Floors

Natural stone is an excellent flooring material because of its beauty, durability, and increased value to your home. It is a material that can be used both indoors and outdoors. Some advantages of using natural stone include:
Natural stone is solid and durable. With the right care and maintenance, it can last for decades. Many old houses with natural stone floors are still standing to this day.
Besides being excellent at withstanding heat, stone floors can also be installed over radiant heat because it has good heat retention. This means you can install these stones on heated floors. Granite, limestone, sandstone, and travertine conduct heat very well. Even in the dead of winter, it can be very cozy and comfortable walking on natural stone floors barefoot.
One of the top reasons that people go for natural stone is its beauty. The organic colors and patterns present in these stones make it a wonderful way to inject a natural feel into a building. The unique beauty of natural stone creates a sense of elegance and luxury.
No material is maintenance-free. However, once you learn the proper methods for protecting and cleaning natural stone, you'll realize it doesn't require much effort. Or no more than other options. Regular sweeping and mopping with a quality floor tile cleaner is all that it needs.
One great advantage of natural stone over man-made flooring is that damage to natural stone can almost always be repaired. Stains, etching, and scratches can be removed. 
The surface can be repolished or refinished to a like-new condition, which cannot be done with ceramic tile  or with porcelain tile, for instance.

Disadvantages of Natural Stone Floors

All flooring materials have some drawbacks. When considering natural stone products, contractors, decorators, and homeowners must understand their weaknesses and limitations.
The timeless beauty, versatility, and durability of natural stones come at a high cost. Not all homeowners have it in their budget to splurge on a marble bathroom or granite kitchen floor. 
On average, a natural stone floor will be more expensive, but it can still be installed for a reasonable price. Plus, it will retain its value vs. other man-made materials.
Some types are more resistant to damage, but in general, natural stone can stain, scratch, etch, chip, or crack. Luckily, damage is not typical, and most damage can be repaired and/or refinished with DIY procedures by the homeowner. When maintenance falls short, natural stones won't last as long as they should.
Time-consuming installation
Not only are natural stones expensive, but laying them out takes quite a bit of time and with expert hands. Once the stones have been laid out, they may need several rounds of finishing. Periodic refinishing may be needed as well.
Natural Stone Flooring Near Me

What to know where to buy natural stone tile? The good news is that tile is sold in many stores, online, and from tile installers. Check the following sources to compare selection and prices: 
Home Depot
Flooring stores 
Local stone warehouses
Online tile dealers
Or find a local installer for estimates on your entire project 
Final Thoughts
Between architects, interior decorators, and contractors, everyone agrees that natural stone flooring is one of the best options for homes and commercial spaces. Stone exudes luxury with a style that stands the test of time and durability that far outlasts carpet, wood, or synthetic surfaces.