Try Travertine Floor Tile for Rustic Charm
Travertine floor tile is an immensely popular choice for kitchen and bathroom flooring due to its warm, soft tones, pleasing texture, durability, low-maintenance and cozy feeling of rustic charm and Old-World romance.
Travertine is but one of several types of natural stone flooring. All natural stone is forged over millions of years by Mother Earth and provide one-of-a-kind design options. 
The sensual patterns of travetine tile come from unique veining characteristics and from gradations, swirls and shifts in the density and tone of the inherent color.

Although typically less dramatic than its sister marble, the color and pattern can be equally captivating.
And of course it is perfect for that Tuscan design theme.
Pits and pores developed from the bubbling hot springs deep in the earth near where travertine was formed. . . enhancing its rustic beauty.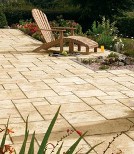 Pits and pores can and should always be filled, otherwise they will simply collect dirt. Once filled during installation these are not a problem.
Surface finish options for your travertine floor tile, countertop or travertine shower are numerous such as tumbled, brushed, undulated, hammered, pillowed or polished.
A "honed" (matte) finish is most popular for bathroom or kitchen flooring since it is doesn't show dust and dirt (like a polished surface), is easy to clean and wears well providing excellent footing.
Travertine tile is typically not recommended for kitchen counter tops due to it's sensitivity to acidic foods and drinks (coffee, alcohol, fruit juice, salad dressing, etc.).

Acids and other harsh chemicals can cause dull spots from etching. For more in-depth information go to cleaning travertine.
A honed surface is typically the most popular countertop surface as well to help hide the etching. A honed travertine tile is more susceptible to staining though. Polished travertine, however, is extremely stain-resistant.

Like marble, travertine floor tile and countertops must be treated with care.
Treatment with an impregnating sealer (when needed) will protect it from stains. Again... travertine is actually quite dense and often will not need sealing.
A honed finish will keep you from fretting about dull spots from etching the surface. A honed surface will still etch, but it is not nearly as noticeable as on polished travertine.
Also, routinely using coasters and cutting boards will keep your travertine looking fabulous for years to come.

One thing to note with travertine (and really all natural stone) is that they . . . age beautifully. Fears you may have about accidentally ruining your stone are really unnecessary.
Tile Sizes for travertine flooring range from miniature mosaics up to 36-inch squares . . . which makes this stone a great choice for creating simple or intricate backsplashes . . . along with floors, tub decks, showers, walls and fireplace hearths.
Certainly, performing proper care and maintenance is prudent, but unlike almost every other building material in your home . . . stone will not decay. Witness the Roman Colosseum . . .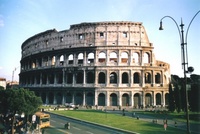 Rather it's natural beauty and patina is only enhanced through years of use. And if you do have a catastrophic stain . . . it's good to know that it can be repaired in almost every case.
Travertine Floor Tile Questions & Answers
Learn even more! Click on the links below to see questions submitted by other visitors with complete answers and great info.
New Travertine Floors Dusty and Gritty 
QUESTION: I installed travertine flooring in my house - about 1800 sq ft. I did not apply a sealer yet. My issue is the floors never feel clean - they …
Honing Lippage on Travertine Floor 
QUESTION: I had Travertine floor tile installed and the tiles were not level. There were 1/16th to 1/8th inch edges in some areas. The installer …
Filling Holes in Travertine Floor 
QUESTION: I have travertine floor tile in my guest bathroom as well as the tub surround and separate shower. It has been installed for 5 years and …