Filling Holes in Travertine Floor
QUESTION:
I have travertine floor tile in my guest bathroom as well as on the tub surround and in a separate shower.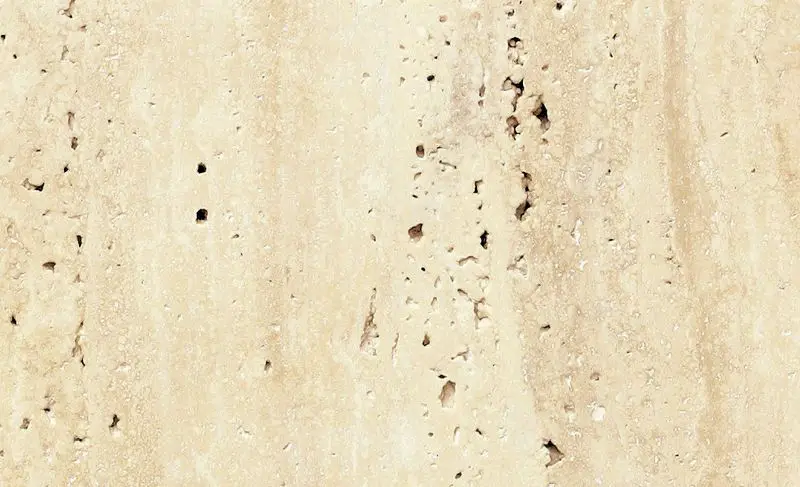 How should the holes in the travertine be filled?
And what should it all be sealed with?
ANSWER:
Travertine floor tiles
naturally have holes of various sizes, as you may or may not know.
The naturally occurring holes are one of the distinct
features of travertine
.
The holes should be filled to prevent the accumulation of dust, dirt, and grime and to prevent mold growth.
Non-sanded grout
is usually used for a travertine filler because, typically, the holes aren't very wide or big, and this type of grout won't scratch the tile surface.
Non-sanded grout must be used on a polished travertine or even a satin smooth honed finish to avoid scratches.
Now, I'm assuming that for some reason, these holes were never filled, or the original grout has come out, and they are not from damage of some sort.
You have different options depending on the type of finish on the travertine tiles.
Honed finish:
This is a flat or matte finish that's smooth but with no shine.
Use non-sanded grout to fill the travertine floor tile holes. Or a dedicated travertine filler.
Polished finish:
This finish is shiny and reflective. Use the same non-sanded grout or filler as on a honed finish.
Tumbled travertine:
It's a rough and rustic finish. For large holes (greater than 1/4") and/or deep, then you should use
sanded
grout or a travertine filler.
A non-sanded grout is still fine for the small holes.
Sanded grout
is typically used for wider gaps and wider grout lines.
It won't shrink, and
it blends better with more rustic surface finishes like tumbled travertine tiles.
I wouldn't use the sanded grout on honed or polished, even if the holes are huge... you may scratch the surface. Use a filler.
You can use
non
-sanded grout on larger gaps/holes and on tumbled travertine too, but it may shrink some, and you'll need to re-apply until you completely fill the holes and have a tight fit.
Sealing Filled Travertine
Sealing the filled travertine tiles will improve the stain resistance (of both the tile and grout) by dramatically decreasing the rate of absorption.
The risk of stains on a bathroom floor is much less than in a kitchen, but I'd suggest using these
recommended marble & granite sealers
.
The Permanent Marble & Granite Sealer
is currently the most advanced, durable, and top-performing product on the market.
Risk of staining in a shower
or on the tub surround is very small unless you like to drink coffee and dye your hair in there.
So
sealing a travertine shower
often isn't necessary, especially with a polished finish. It is less absorbent and won't stain easily.
Note:
Sealers don't protect against etching. Etching is a dull spot of chemical damage from acidic foods, drinks, and harsh cleaners.
Often a polished travertine tile won't absorb a sealer anyway, so it's futile to try. Of course, it won't absorb anything else either or stain.
But if you decide to seal your honed or tumbled travertine floor tile, then a single properly applied coat of a quality stone sealer will be fine.
You may also consider sealing with a
color-enhancing sealer
, which will seal and darken the color a bit, giving the travertine a 'wet look.'