What Is Travertine?
All About This Popular Natural Stone

You've certainly seen travertine in homes, hotels, and buildings worldwide, but likely without knowing what this beautiful material is. In this guide, you'll learn all about travertine, its uses, pros & cons, colors, cost, durability, and cleaning.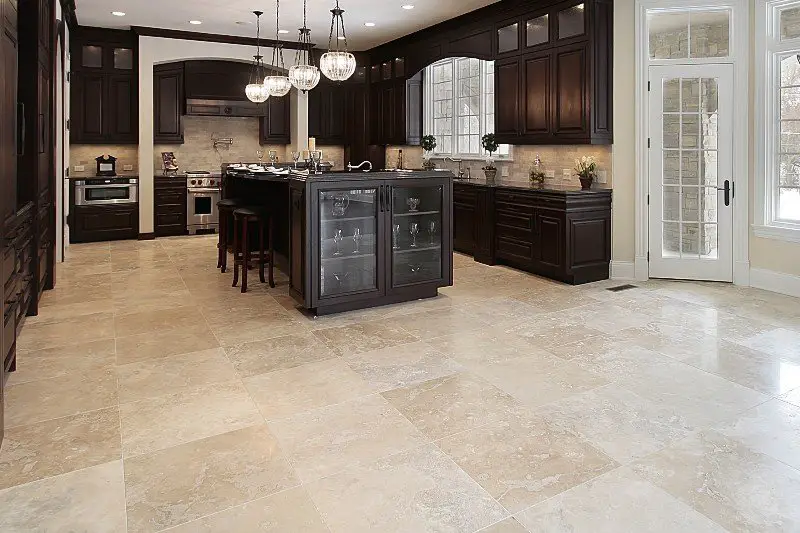 What Is Travertine?

Travertine is a natural stone similar to limestone and marble that has been used as an architectural building material for centuries and is a popular choice for tile flooring and showers. Uniquely, it forms around hot springs from calcium carbonate (calcite) and other mineral deposits that create its soothing colors and patterns.

Travertine and marble form from limestone, and all three share similar performance characteristics.
The holes commonly seen in travertine come from hot gases bubbling through the soft travertine as it formed over the millennia.  

Yellowstone National Park has many natural travertine formations, as do the famous travertine terraces and hot springs in Pamukkale, Turkey.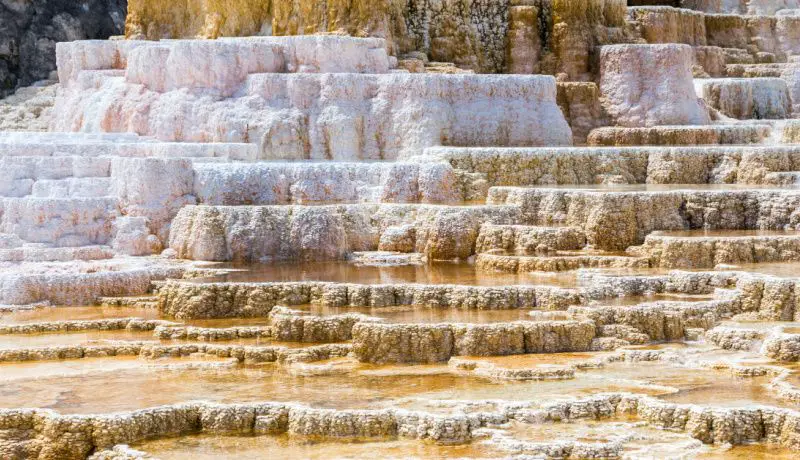 Travertine formation and mineral pools - Yellowstone National Park, USA
What Is Travertine Tile Made Of?

Travertine tile is made from large travertine blocks, a natural stone sourced from quarries in Italy, Mexico, Turkey, China, Iran, and Peru. The blocks are cut into travertine slabs and then into tiles. 
Travertine is also found in the USA but is not mined.
Before the 1980s, Italy had a monopoly as the leading travertine supplier. Italy has produced travertine tiles since the time of the Ancient Romans from quarries in Tivoli and Guidonia. 
In Italy, travertine was a principal building material used for common structures and monuments such as the Roman Colosseum.
Travertine comes in three grades of quality:

Mainly the differences between grades have to do with color consistency, the number of filled holes, and thus, price. But the actual performance and durability of each grade are essentially the same.
First Choice (or Premium): Tiles have a consistent color with little filler. Most in this class come from Italy and are the most expensive. However, durability isn't better, and Premium quality isn't necessary to achieve an appealing design.


Standard: This grade has a greater variation in tile color with a bit more filler. It is the most common grade of travertine sold. Most of what you'll find in home improvement stores or stone warehouses will be standard grade, and most of it comes from quarries in Turkey.


Commercial: A lot more color variation and more extensive filler use. This grade is used mainly for outdoor applications such as wall cladding on commercial buildings. Although, some commercial grade is near "Standard" quality and perfectly fine for residential use.  
Again, Standard grade is suitable for most residential installations of floor tile or showers. If you prefer a consistent color across all tiles of your floor and a more sleek and refined look, go with a First Choice grade of travertine.
What stone is similar to travertine?

Limestone is the most similar to travertine, but marble is as well. In fact, both travertine and marble come from limestone. All three share the same essential performance characteristics regarding care and maintenance. 
Travertine and marble are the most popular types of natural stone floors. 

All three come in a range of colors and patterns but with specific differences in pattern. 
Like travertine, limestone and marble come in various shades of beige, but marble has many white, gray, and black colors. And marble has a more pronounced pattern or dramatic veining not seen with travertine.


Limestone looks most like travertine with a similar color palette but with more browns, grays, and blacks. The distinctive difference is that limestone has embedded marine fossils like skeletal fragments and shells of marine organisms. 
Travertine patterns are not dramatic and look more like mottled shades of color.
Travertine Colors & Finishes

The colors of travertine range from tan or ivory to honey, burnt oranges and reds, pink, rich browns or green if cyanobacteria (blue-green algae) were present during formation, and even silver travertine. 
The most popular travertine colors are beige or ivory and gold.
Travertine gets its unique soft swirly appearance due to mixing other minerals with calcite.
Surface Finishes

Travertine tile is available in four different surface finishes with varying degrees of shine and texture to suit your decor and the performance needed for the area of installation.

Polished: A shiny, elegant finish that is slippery for a wet floor and requires the most frequent cleaning. Use for a sleek modern look on indoor flooring in non-wet areas, walls, fireplace surrounds, and countertops.


Honed: Silky smooth matte finish that wears well and provides good traction. It's the most common finish suitable for any area of the home.


Brushed: A textured finish that is more rough and rustic than honed but still with clean edges. Great for showers, bathroom floors, and outdoors.


Tumbled: The most textured and rustic finish with worn edges and a classic old-world charm. Popular for kitchen backsplashes and indoor or outdoor flooring.

Filling the natural holes and pitting before finishing is standard for all types. However, brushed and tumbled travertine is often unfilled or filled on installation.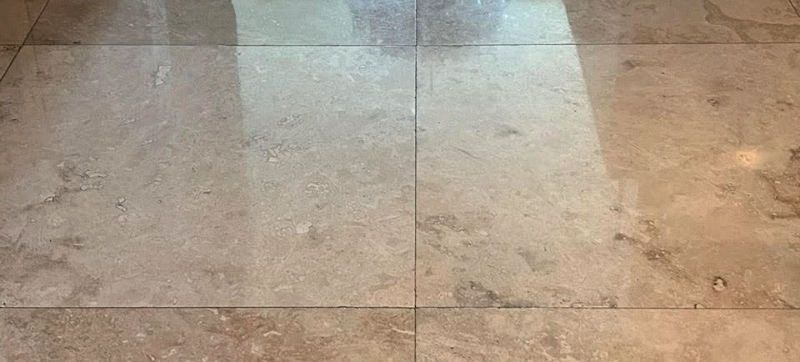 Polished Travertine Finish
What Is Travertine Used For?

Travertine is used primarily for tile flooring throughout the home but also for countertops, showers, walls, pavers, and more. Honed or tumbled travertine tile provides an excellent non-slip surface for bathroom flooring and showers. Luxury hotels around the world routinely install travertine.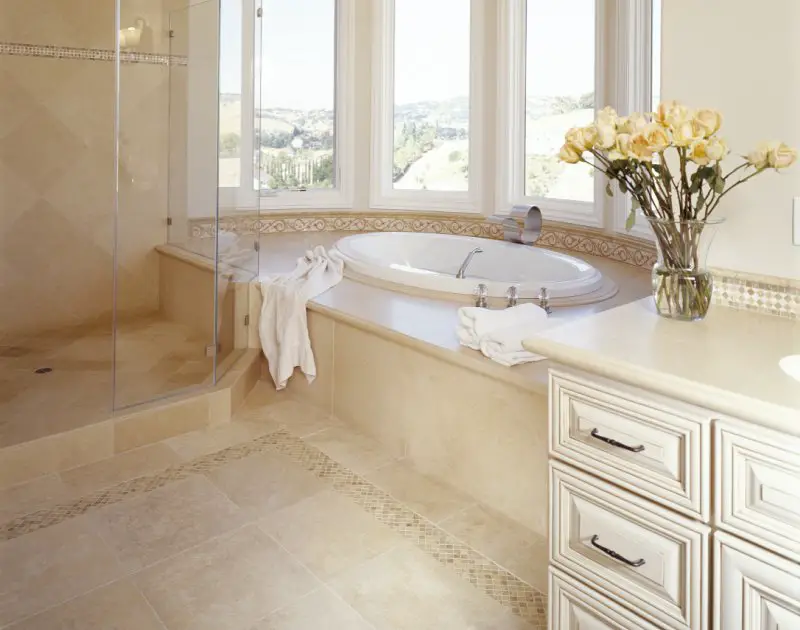 Travertine tile floor, shower, tub surround, and slab countertop
Travertine stone is suitable indoors or outdoors for all the following uses.
Interior floors
Backsplashes
Countertops (slabs or tile)
Shower walls & flooring
Bathtub surrounds
Bathroom floors
Kitchen flooring
Fireplace Surrounds
Tables
Pool decks and coping
Patios
Walkways 
Interior and Exterior Wall Tile 
Driveways
Travertine Flooring

Travertine is a popular flooring material as it blends well with many different design styles and adds a touch of luxury to any home. 
It comes in various colors like gold, orange, brown, pink, or green, but tan or beige is the most popular travertine color. 
Travertine flooring is usually installed with a honed finish for good traction. It can be polished to a glossy finish for a more refined look, but this finish is slippery when wet.

Travertine countertops

Travertine countertops are not nearly as popular as granite, quartz, or marble countertops because other countertop materials offer more color and pattern options. 
Most people prefer more visible or even dramatic colors and patterns over the more muted colors and patterns of Travertine.
Pro Tip: travertine and marble have essentially identical durability and performance characteristics. The critical point here is that both will etch (a chemical reaction that damages the finish leaving a dull spot) quickly from acidic foods and drinks or harsh cleaners and are not the best choice for a kitchen countertop.

Travertine backsplash

Tumbled travertine is popular for kitchen backsplashes. A backsplash is a durable and decorative material like tile or a slab of natural stone attached to the wall behind the countertop. Its purpose is to prevent water damage to the wall behind the sink, cooktop, and food-prep areas from splashes and stains. 
Often a granite countertop is paired with a travertine backsplash. A tumbled or brushed travertine finish adds a rustic style to your kitchen design, perfect for a Mediterranean or Tuscan look.
Travertine Pavers & Pool Coping

As travertine offers excellent traction, travertine pavers and tiles are installed for the pool deck around pools to prevent slipping.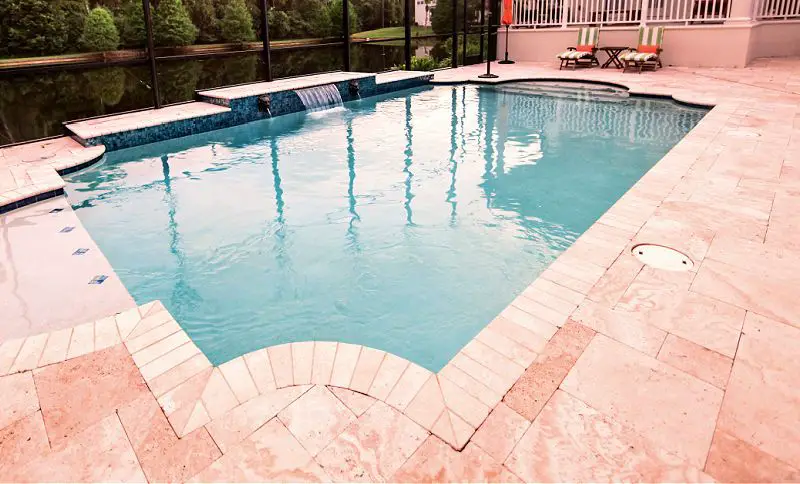 Travertine pool deck and pool coping
Also, travertine floor tile and pavers are used for pool coping, (i.e., the edge immediately surrounding the pool shell or wall). Travertine pool coping prevents water from getting behind the pool shell.
Other outdoor uses for travertine are patios, walkways, and driveways. Travertine flooring is best used outdoors in warmer climates as they erode faster when routinely exposed to rain, snow, and freezing temperatures.
Pros and Cons of Travertine Tiles

Now that you have an answer to "what is travertine?" here are the advantages and disadvantages of travertine:

Advantages of Travertine Tiles

Timeless Appearance
Travertine tiles have an aged, vintage, or rustic appearance while still looking beautiful and never going out of style. The new one won't stand out from the rest if you replace one tile. What's more, these tiles blend well with all home decor styles.
Affordable Cost
Travertine tile is generally the most affordable natural stone tile on the market, with a price lower than marble. However, travertine still looks as gorgeous as other stone floor tiles, so it's an affordable luxury. The travertine tile cost will depend on the finish, whether it's filled, and the source.
Excellent Durability
Travertine will withstand a ton of use and last forever. Proper care and cleaning of travertine will keep it looking lovely. 
Installing the appropriate finish for a specific space will help it last longer. Travertine marble is soft and can get scratches, so you must take precautions when moving heavy objects on travertine tile flooring. 
Versatile
You can use travertine for various purposes, including kitchen countertops, backsplashes, bathroom flooring, showers, tub surrounds, outdoor walkways, patios, pool coping, fireplace surrounds, etc.
Travertine tiles come in all standard sizes plus large format (in inches): 1x1, 3x3, 6x6, 12x12, 18x18, 24x24, 36x36, and many different rectangular sizes.
Multiple Finish Types
Four surface finish options (polished, honed, brushed, and tumbled) provide different textures, appearances, and traction.
Easy to Shape
Travertine tiles can be cut and shaped relatively easily. This way, you can fit a tile into odd-shaped spaces if needed. 
Repairable
Nearly all damage to travertine is repairable. Stains and etchings can be removed, cracks filled, and the surface refinished to like-new condition.
Disadvantages of Travertine Tiles

Requires Routine Maintenance
Travertine can be scratched, etched, or stained and may require more maintenance than other materials like granite or porcelain tile. To prevent stains, clean up any spills as soon as they happen.  
It Needs Sealing (usually)
Honed, brushed and tumbled finishes require resealing more often than polished. Although polished travertine often does not need sealing, polishing the surface closes the pores. 
Holes Need Filling
Holes and gaps in the surface are a natural characteristic of travertine. In most cases, holes in travertine are filled with epoxy or grout for cleanliness and durability. Otherwise, the holes collect dirt and debris degrading the look. 
Highly Susceptible to Acids
Travertine is made of calcium carbonate, which will react with any acidic substance, food, drink, or caustic chemical, creating dull spots on the finish. Etching is not a significant issue when the travertine is installed as tile flooring or in a shower, but it is not a good choice for a kitchen countertop.
Cost of Travertine Tile & Pavers

Travertine tile costs vary widely and depend on the quality of the stone, the type of cut (cross-cut vs. vein cut), the thickness of the tile or paver, the amount of filler, and the particular finish.
Prices vary from $2 to $30 per square foot of travertine tile. 
The average cost of travertine tile installed is $14 - $17 per square foot. 
Marble averages at about $20 - $30 per square foot installed.
Travertine Paver Costs

The installation cost of travertine pavers (pavers + installation) ranges from $6 - $27, depending on many factors. The average cost is $9 - $17.


Is Travertine Durable?

Travertine tiles are durable if you install and maintain them correctly. However, travertine is a soft, calcareous stone like marble, so it may get scratched, etched, or stained.
It may show some wear from foot traffic over the years. For this reason, honed travertine is the most popular finish as it doesn't show the wear like a polished finish.
Applying a sealer when needed (sometimes a sealer is not required on polished travertine) will help prevent stains. 
But scratches and etching are physical damage to the stone that require surface repair.
Luckily, you can do most travertine repairs with DIY stone care products.
Travertine, marble, and limestone are identical in performance, durability, cleaning, care, and maintenance.   


Travertine is more durable than ceramic. Travertine is less susceptible to cracks and scratches than ceramic. 


Travertine is less durable than porcelain because porcelain is water-resistant and highly scratch-resistant.


Granite is a lot more durable than travertine. It's harder, will not show wear, and cannot be scratched or etched.
Will Travertine Crack?

Travertine does not crack easily, so it's a good choice for outdoor use. It can withstand extreme weather and freeze-thaw cycles. Dropping a heavy object could crack a tile, but cracks can be filled or repaired.

Travertine Care and Cleaning

Here are some quick tips about cleaning travertine and routine care. Travertine is like marble, and it can etch, scratch, and stain, but maintenance won't be a hassle with knowledge of proper care.
Our Cleaning Travertine Guide provides detailed information on all aspects of maintenance. 
Seal travertine tile when needed. Note: it isn't always necessary
Use only non-acidic travertine cleaners (many common cleaners are too acidic)
Do not use abrasive cleaners or pads
Wipe up spills quickly
Sweep with a dry or microfiber mop regularly
Use floor mats at entrances
Take care not to slide heavy objects across the floor
Note that polished travertine requires the most care and cleaning. It readily shows dust and debris, etch marks are more visible, and foot traffic or weather outdoors will eventually wear away the polish.
FAQ About Travertine

What is honed and filled travertine?

Honed and filled travertine is a travertine tile or slab where all the natural holes and gaps are filled and the surface smoothed to a honed (matte) or polished (shiny) finish. It's smoother, less porous, and more durable than unfilled travertine.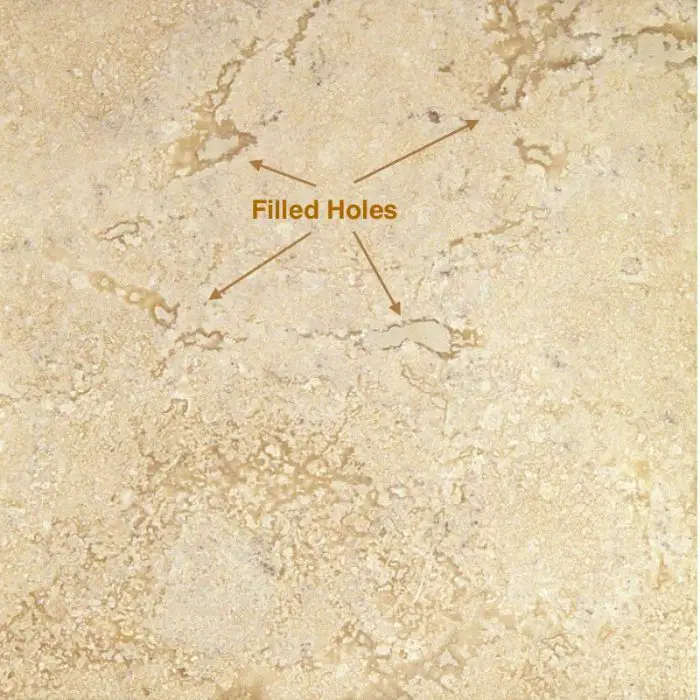 What is used to fill holes in travertine?

An epoxy filler made for travertine is used to fill holes. These naturally occurring gaps are usually filled at the factory before creating tiles or pavers. Epoxy travertine fillers come in colors but can be tinted. Optionally, sanded or unsanded grout is used to fill the holes upon travertine tile installation, depending on the type of finish.

Can you polish travertine?

Yes, you can polish travertine to a shiny, glossy finish. Travertine polishing is done on machines at the factory or by a stone professional, but you can polish travertine and remove scratches or etch marks with DIY fine-grit polishing pads.

Can travertine be used outside? 

Yes, travertine tile is an excellent choice for outdoor use. It withstands all kinds of weather with only minor wear and will last for decades. Many ancient monuments and buildings (like the Roman Colosseum) were made entirely of travertine. Travertine is often used for pool decking around swimming pools, outdoor patios, walkways, driveways, and exterior walls on residential and commercial buildings.

Can travertine be used in a shower?

Yes, travertine is a popular tile for use in a shower. Its soft, warm tones create a luxurious spa-like feel to your bathroom. Honed or tumbled travertine provides superior slip resistance. A travertine shower is highly durable and easy to maintain with proper care. A sealer isn't necessary for a shower but can be applied for extra protection.