Porcelain Floor Tile:
Hard As Stone
Although porcelain has been used for centuries, porcelain floor tile is comparatively new to the marketplace and quickly gaining popularity.
With superior manufacturing, many desirable qualities and tons of colors, porcelain is a better product than ceramic tile.
It's nearly as durable as stone and doesn't need sealing in most cases. 
Take a look.... porcelain may be the perfect choice for your floor tile project! 
Different Tile Types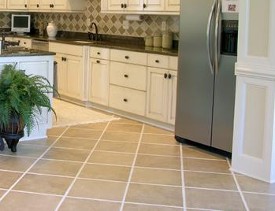 Not all porcelain tiles are created equal though. Some ceramic tiles have porcelain in the body to make it harder.
Some porcelain floor tiles are glazed like ceramic, so the color is only on the surface.
And some (the best) are "full-bodied" or "through-body" porcelain tiles.
These full-bodied tiles are unglazed porcelain with a consistent color all the way through the body much like stone.
Porcelain Floor Tile Benefits
Hard, Dense and very durable (second only to stone)
Essentially stain-proof and highly resistant to moisture
Frost and Fire resistant... good for any interior/exterior application
Offers good traction and resistance to slipping
Doesn't need sealing (except polished finished), waxing or polishing
Broad range of colors, textures and patterns... including decent imitations of marble, travertine, etc.
Easy to clean with hot water or typical products
Does not etch like marble or travertine
Highly resistant to scratching
Won't break or crack easy
Comparisons
Porcelain vs. Ceramic
Porcelain is made similarly to ceramic floor tile with all of the same great benefits and a couple better than ceramic.
Like ceramic, porcelain is basically a fired clay tile, but with more mineral (feldspar) than clay. Porcelain is also fired at higher temperatures.
Both factors make porcelain harder, stronger, denser and less absorbent than ceramic, which makes porcelain floor tile more resistant to chips, scratches, cracks, wear and tear than ceramic.
Ceramic is not very absorbent, but porcelain is even less so, making it great for interior, exterior and bathroom applications.
Both are simple to clean and maintain, although porcelain is easier to repair if necessary since the composition and color is consistent throughout the body.
Ceramic though is easier to install... Why?....

Due to distortion from the extreme firing temperatures, porcelain tiles can be slightly irregular in size, which can be an installation challenge. Also, the hardness of porcelain requires more skill and precision to cut and install.

Porcelain and ceramic each offer a wide array of colors, though in general porcelain offers greater variety, unique looks and achieves a more natural presentation especially with colors and patterns resembling stone.
As you might imagine, porcelain is more expensive than ceramic due to the improved qualities and performance of porcelain floor tile.
Porcelain vs. Stone
Natural stone tile such as granite, marble, travertine and limestone is typically considered to be at the top of the pyramid. It is the most durable, unique and best looking floor tile. It is also the most expensive.
Granite (in general... not every case) is pretty care free and indestructible, but even though marble, travertine and limestone look fabulous and will not wear out in your lifetime, they have some drawbacks when compared to porcelain.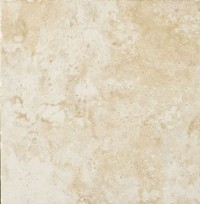 Porcelain typically does not need sealing. Some brands of "polished" porcelain should be sealed one time upon application because the polishing actually creates pores in the tile (which is the exact opposite of marble).
Polished marble, travertine and limestone really do not need sealing, but a honed finished stone does need sealing especially in the kitchen.
The shiny polish on a natural stone will eventually wear down requiring re-polishing. Of course, a polished porcelain will show wear much sooner than a matte finish.
Porcelain has a wider range of colors and textures than stone. Although natural stone tile comes in more colors (thousands), it all is recognizable as stone and so the color variety is not as diverse as porcelain.
Porcelain offers choices ranging from solid colors of all shades to travertine and stone imitations and translucent tiles that resemble glass.

Common household cleaners can be used to clean porcelain, while stone should be cleaned and maintained with products designed for marble, etc.

Porcelain does not etch or react with chemicals causing dull spots like marble, travertine and limestone do.
All in all it's hard to go wrong with porcelain floor tile. It provides a tough, easy to maintain and aesthetically pleasing surface. If you are wanting a true discount floor tile than ceramic is your best bet.

If you love the look and feel of stone, but are concerned about maintenance then check out porcelain. It's the closest approximation to stone with plenty of colors, long-lasting durability and many great qualities that make porcelain floor tile a perfect fit for most projects.