Slate Tile Guide:
Flooring & Countertops
Slate tile is easily recognized by its most popular cleft surface finish texture, which provides a truly unique look and feel setting it apart from other stones.
However, it's this same exotic surface texture along with other characteristics of slate that makes it a difficult stone to maintain or repair.
Slate can still be a good choice for some stone installations.

Smart buyers of slate tile will get the whole story and carefully consider how much use and abuse the stone will need to handle before installing slate flooring or slate countertops. 
Choosing Slate Tiles
When thinking of slate most people see the cold, dark domestic variety (commonly found in the northeast US and Europe), which tends to be a somewhat drab gray or green.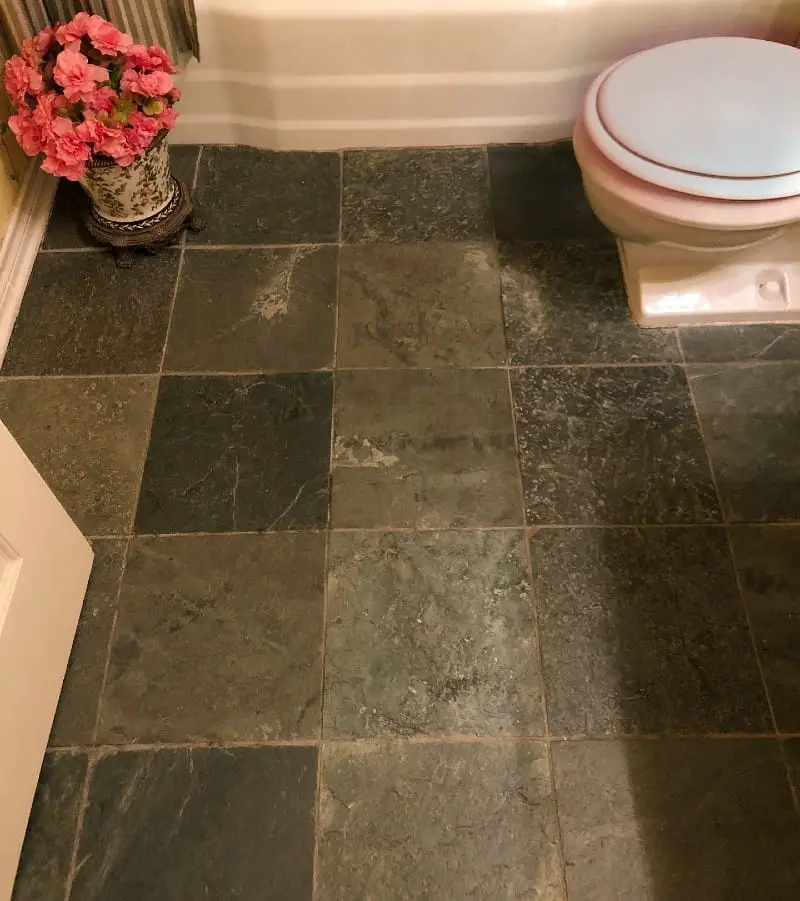 It stands to reason since these darker, harder slates that are more durable and less problematic have historically been used as a roofing material, on walls, chalk-boards, sidewalks and pool tables.

Appealing to some, but gray slate flooring or countertops may not fit with every design style or theme.
Check out all the other types of natural stone flooring.

Slate Tile Has Colors Too!
For those wanting a few more choices.....
Slate varieties from Asian, African, South American and other countries have come onto the market in recent years displaying vivid hues in . . . purple, green, gold and copper.
Certainly the additional colors expand the range of design possibilities and slate tile could fit perfectly in an uptown condo or a back-woods cabin. But using these more vibrant varieties comes with potentially significant trade-offs (see below).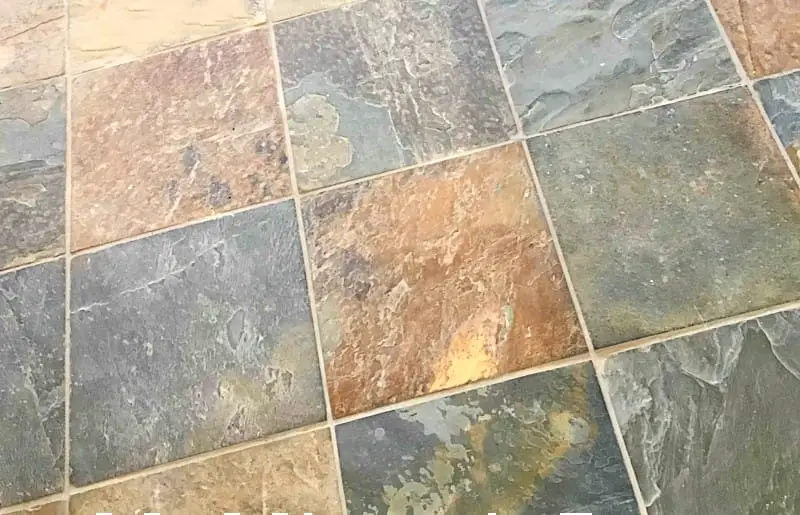 Most commonly you'll see interior or exterior slate floors because it can provide excellent footing like travertine floor tile.

Slate countertops can be considered too IF you choose the right slate and have the surface honed flat. 
Slab countertops are a much better choice than slate tile countertops. Slate tile countertops won't have nearly the durability of slab countertops. Grout lines will require extra cleaning, care, and repair over time. 
This is essentially true with any tile countertop even granite tile countertops. 
In truth slate tile is best used for wall applications like a fireplace surround. All other installation locations present some rather irritating maintenance issues that are usually very expensive to repair or simply cannot be repaired.
"But I see slate floor tile everywhere and it looks great!", you say....
Yes, I know. And slate can be a great floor tile, but here is where it gets tricky so, this is the part you should be paying close attention to.
Slate Tile Maintenance
Slate can be a bit troublesome to say the least.
First, not all slate is the same. In fact, there can be a HUGE difference in the physical characteristics and performance from one slate color or type to the next.
Some slates are super dense, hard and completely unaffected by acidic foods or cleaning products like granite tile. These are always the darker slates, but not all dark slate.
Obviously, this type is what you want for long-term durability and ease of maintenance. But finding and choosing this type can be difficult.
The pretty colorful slate tiles can be a nightmare. Some are rather hard and dense, so do not wear quickly or absorb liquids or even etch from acids.
But just as likely you'll end up with a stone that readily flakes and crumbles, absorbs liquids and stains like a sponge (and thus impossible to seal) easily scratches and etches even upon contact with the weakest acids.
To avoid damage only use quality stone care products. 
The extreme variance in characteristics and performance of slate tile is due to the broad range of mineral composition found among the slate "family". Slate is a bit like stew... there are no real set ingredients. It can contain almost anything.
Thirdly, the cleft surface finish (which is the most common and popular finish type for slate tile or slabs) is problematic no matter the other qualities.
The main reason is that the cleft surface is not a "man-made" surface. Slate is "cut" so to speak, but the rippled and ridged texture is a product of nature.
Naturally the clefts collect a lot of dust and dirt especially on slate floors. Also, the higher points on the surface will be worn down by foot traffic and/or other use. When this occurs it cannot be restored.
Since the cleft surface occurs naturally there is no way to return it to it's original condition.
The same problem occurs if you scratch or etch the surface. You simply can't repair it without visibly altering the natural texture in a way that is usually not satisfactory.
Etching from acidic foods and drinks could occur a lot on slate kitchen countertops and slate floors in the kitchen.  
There are some "band-aid" type repair solutions, but unlike any other stone and surface finish, slate tile cannot really be "restored".
If you know this is the case with slate and just let the stone change and age as it will with use (which is the "traditional" attitude), then no worries. But most people these days want their expensive stone installations to remain a pristine showpiece forever.
The only solution to totally eliminating any evidence of damage or repair is to grind the surface flat... or simply install it with a honed (rather than the natural cleft) surface finish.
Sealing Slate
The question inevitably arises when consumers are faced with any type of problem with stone:
"But what if I seal it?"
Sealing slate will not prevent it from scratching or etching or flaking. And as noted above, some slates are so porous they just cannot be sealed.
Impregnating stone sealers are designed for one purpose only... to retard the absorption of liquids to help prevent staining.
And just FYI.... some slate varieties are so hard and dense that a sealer cannot be applied. The sealer simply won't absorb and when this is the case the stone won't stain anyway, so a sealer isn't needed.
You could apply a "topical" sealer that forms a hard film over the surface which will prevent most etching and staining (but not necessarily scratching or crumbling).
However, topical sealers come with a bunch of maintenance problems of their own are aren't typically a good recommendation for stone.
Slate Tile Recommendations
For the above reasons, you must do your due diligence and make sure you choose a hard and durable slate for a kitchen countertop or kitchen floor tile. Otherwise, it may drive you nuts!
Also, for a slate bathroom floor or shower choose ONLY a variety that is very hard/dense since some slates will just fall apart under constant exposure to water.
Again, use the proper natural stone cleaners that will keep the slate in great shape without damaging the surface like many common household cleaners will. 
It's best for a wall, fireplace surround or for slate flooring in a smallish area.
Again, the harder types are preferred and be sure to perform the lemon juice test to determine if the slate tile you are considering is sensitive to acids and/or too porous. Also, I'd consider having the floor tile or countertop honed.
Good luck with your slate tile project!
Slate Tile Questions & Answers
Learn even more! Click on the links below to see questions submitted by other visitors with complete answers and great info.
Sealing Slate Tile Countertops 
QUESTION: I have a slate tile countertop that I would like to seal and give a glossier look. Is there a non-toxic natural product (suitable for …