Granite Colors & Design Details
With literally thousands of granite colors to choose from it's easy to find a shade that suits your style and kitchen design.
The tricky part will be deciding which one of the many gorgeous colors you love the most!
Choosing, mixing, and matching all the other various elements is challenging as well.
The countertop color, pattern, and finish will anchor the overall kitchen design given its large and highly-visible surface area.
Your backsplash tile, cabinet color and pulls, wall color, flooring, faucet, and appliances should complement and coordinate well with the granite or other countertop color. 

Create Your Vibe With Color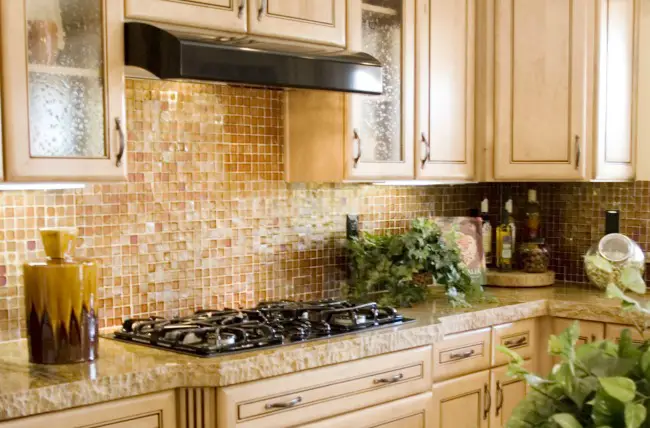 Color has tremendous impact as an emotional trigger that sets the mood of any space. Use color, pattern, and texture to achieve the look and feel you desire.
Sleek and modern looks are created with blacks, whites, and gray granite colors with minimal pattern for cool sophistication.
Old world designs use gold, brown, and ivory countertop colors for a rustic charm that is comfortable yet elegant.
Classic, traditional and transitional kitchen designs employ whites, light grays, browns or other muted tones, and black. 
Eclectic styles can look for blues and purples for vibrant energy. Darker reds and plums are cozy and romantic and greens can be casual or formal depending on the shade you choose.
Granite colors range from soft beige to golden brown, light pinks to rich corals, greens of all shades, blacks, whites, and blues. Use our granite color selector below to search for your perfect color.
---
Granite Color Selector Tool
---
Classic styles "sell" better so keep this in mind if a move is in your future. Choose a color scheme focused more on neutral earth tones.
However, if your tastes run toward the more dramatic and exotic granite colors... go for it! After all, the countertops are for you to love and enjoy and very often it's the unique that commands a premium upon resale.
Simple Tips On Design
Minimizing the number of different elements you combine in a design. Choosing those that share common features will help create a unified theme. But you can still mix and match texture, pattern and color. Get some great tips on choosing interior design colors.
For example, you could combine a polished granite countertop with a tumbled marble backsplash and a slate floor.
Use a polished finish on one surface and honed on another. Or mix a dramatic pattern with a simple one. The idea is to create a harmonious balance. 
Also, consider how your kitchen lighting will affect the colors in your design. Using a mix of lighting types such as overhead, spot or task, and accent lighting can add drama to your kitchen design and make work spaces more comfortable to use. 
Granite Colors & Countertop Patterns
Granite colors are so interesting because of the variety in the pattern. Generally there is a flecked or pebbled appearance, but even when highly structured the quartz, crystals and minerals that make up the "flecks and pebbles" vary in size and density.
Many other granite colors lack a consistent arrangement of the crystals and other elements and are said to have movement in their pattern.
Granite varieties with lots of movement in their pattern add a dramatic flare to your design and are truly one-of-a-kind. Happy hunting!