Kitchen Appliance: Installation Planning Tips
A modern kitchen appliance will offer many options and design features so start shopping early and plan to purchase your kitchen appliance prior to beginning your countertop installation and kitchen remodeling project.
It's important to know which appliances you will be installing or replacing before work begins simply because all dimensions must be known in order to create that perfect fit for your countertops.
Making changes after installation of the countertops will create added expense, hassle and significant dust in your house if the installation team has to re-cut the granite.
Cook-tops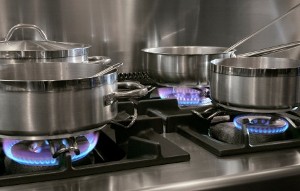 Not all cook-tops are created equal. Even though two brands make a 30" cooktop, the actual countertop cutouts are different sizes.
The cook-top you buy will have a paper or cardboard template that the fabricator can use to make the cutout at the shop.
Gas Ranges
If you are buying a large kitchen appliance like a gas range, then you will certainly want to know the dimensions prior to installing your cabinets. Obviously, your countertops can't be installed, or even templated, until the cabinets are installed.
Refrigerators
Problems with a refrigerator are not very common and really only occur with a major kitchen remodel when you are replacing the cabinets. So, if you are planning to upgrade to large Sub Zero or other fancy refrigerator then, the dimensions must be determined so the cabinets can be set properly for a nice fit.
Dishwashers
Dishwashers are probably the most troublesome simply because of the plumbing and mounting involved. If you are replacing a laminate or tile countertop, chances are that the dishwasher was screwed into the bottom of the countertop. Can't do that with granite, quartz or Corian.

Wood can be glued onto the underside of the countertop for mounting, but you may see the wood. Another, better option is a side-mount where the dishwasher is secured to the cabinets.
As with the other kitchen appliances, planning ahead is important. You need to fit the dishwasher to the available space if not replacing the cabinets and make sure that the particular brand of dishwasher has a mounting kit that will work with your set-up.
Further consideration will need to be made if you are planning on buying an integrated dishwasher in that a front kitchen door will be attached for a fully integrated dishwasher. Semi-integrated dishwashers will have a door just up to the control panel.
And if you are replacing cabinets, you still have to have a proper mounting kit.

One last consideration is the "air-gap." This is the stubby piece of plumbing that sits on your countertop next to your faucet. Most new models don't require this, however your building code might. So, you need to verify this with you plumber or city code department.