Edgy Ideas for Countertop Edges
Countertop edges are a finishing touch that helps define the personality of your kitchen design ideas. Some edge styles will work best with a particular theme, practical issues and cost must be considered, but feel free to get creative and.... 
With a bunch of edge profiles to choose from, you're sure to find the perfect style for your kitchen countertops, kitchen island, outdoor kitchen, bar top or bathroom vanity. 
Below you'll learn about the most popular edges and which styles work best with particular design themes. Photo examples of actual countertop edges are included. 
How To Choose a Countertop Edge
Watch the video guide!
Get Some Edgy Ideas
Square edges, straight, pencil, eased (all similar) or bevel edges are a natural choice to complement minimalist or urban contemporary designs where clean lines are key.
These profiles also work well with Arts & Crafts / Craftsman / Mission styles, traditional American and transitional kitchen designs.

For the most part, the square profiles are the "free" edge styles. Every countertop must have an edge of course, and most countertop contractors include a straight or slightly rounded edge profile in the bid.
Rounded & Bullnose countertop edges are possibly the most versatile easily integrating with virtually any design. The profiles in this group range from a radius curve on just the top edge, to a waterfall-style "demi" or half-bullnose to a fully-rounded bullnose countertop edge.
Softer than the square edges, these still reflect a sleek and modern vibe, but can go retro, or blend nicely with the classic European and American styles.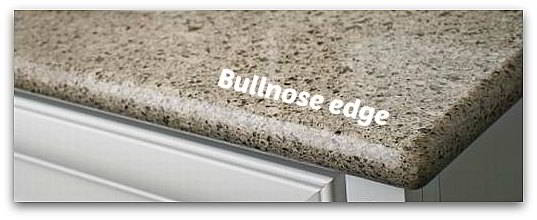 Decorative edges like the Ogee, Dupont or French Cove look best in a larger, gourmet kitchen, Tuscan or Old-World motif, antique, French country, or Victorian decorating theme where the design lives in the details. 
Or reverse this idea and use one of these fancy countertop edges as the one elaborate element within a bath or kitchen design that otherwise features clean lines.
Add extra drama by combining two different styles for something completely original!

Another idea is to mix edge styles in different areas. For instance, cut a Square edge on the main countertop and a Dupot or Ogee edge on the kitchen island.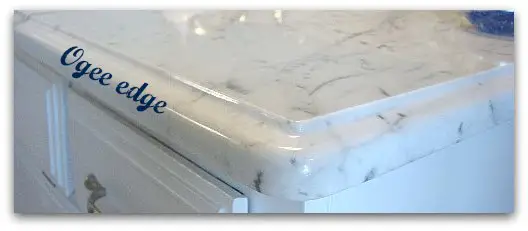 The more decorative edges are commonly used for granite and marble vanity tops in the bathroom as well.
Of course, decorative granite edges are typically an optional upgrade that will "upgrade" the countertop cost a little to a lot depending on your choices and size of the installation.
Countertop Edges for Different Materials
Are you wondering about countertop edges for different types of countertops?
Well, most styles and profiles are possible for granite edges, marble, Silestone edges, quartz countertops, Corian and other natural stone countertop materials.
However, some types of countertops have more limited choices.
For instance, porcelain countertops, Dekton, concrete countertops, stainless steel, and laminate countertops don't offer as many edge style options. Mainly these materials lack the more complex and fancier edges profiles.
If you're in love with a specific edge design, then be sure to confirm that your design is possible with your chosen countertop material.  
Size Does Matter: Countertop Edge Thickness
A 3cm slab provides a substantial profile that looks good with a variety of edge styles and is the preferred size to use.
A 2cm slab is cheaper and sometimes used, but the countertop can look too thin.
A thin edge can work well within a modern, minimalist design, however, laminating a 2cm slab edge is common.
An additional strip is glued ("laminated") underneath the slab edge to make the countertop look thicker and allow for something other than a square edge. 
Laminated edges are also used on 3cm slabs to create elaborate or stepped edges that combine styles such as a Cove over Dupont edge or Dupont over Ogee as seen below. Combined styles can be stunning when done well.

The drawback of laminated edges is a potentially visible seam that runs horizontally around the edge.
In most cases this is not a problem and virtually unnoticeable, but for marble and granite countertop edges the lamination seam may be visible depending on the color and pattern of the stone.
Darker countertop colors with more consistent patterns will "hide" a seam better than lighter countertop colors with lots of "movement" in their pattern. This is typically less a problem with Corian, quartz or Silestone edges since the color/pattern is more consistent.
Unless your on a very tight budget, skip the 2cm and go with the 3cm slab. It's stronger and simply looks better.
(Note: The wholesale discounters and backyard fabricators that advertise and quote ridiculously low 'per square foot' prices are selling you low grade 2cm slabs)
Get An Edge
To start, narrow down your choices to those edge styles that you instinctively like keeping in mind your theme and budget. The typically free straight or square edge styles always look classic and classy... a solid choice.
A decorative edge may not cost you much more, though, and if you can blow the bank, then a combo edge may suit your style, but...
Remember it's important that all design elements resonate or create harmony. Even a seemingly small element like your countertop edges can make the space just "not feel right" if it doesn't match or blend well with the look and feel of everything else.
Next, get some finished edge samples from your contractor or granite fabrication company--preferably of the same material you're installing, but it isn't crucial. You just want to get a feel for what the actual edge will look like in 3-D. Good Luck!