Live It Up With Laminate Countertops

Laminate countertops may not be as luxurious or durable as more stylish surfaces like granite, marble, soapstone or quartz, but laminate delivers big bang for you buck so you can live it up for less!

This material is still a popular pick for kitchen countertops with a wide spectrum of color and pattern choices, a clear cost advantage and easy installation.
Laminate Countertop Edges, Colors & Patterns
Laminate countertops are available in hundreds of solid colors, graphic prints and patterns like cork, leather, wood, and even paper and fabric!
Also, laminate countertops that look like granite, marble, travertine, and slate are now available and look pretty sharp. 
Premium laminate product lines now have a visual "depth" to the pattern vs. the flat, one-dimensional look of standard laminate countertops.
Many surface finishes like: honed, polished, brushed, velour, quilted, riverwash and several more are available in many colors/patterns for an added textural design element.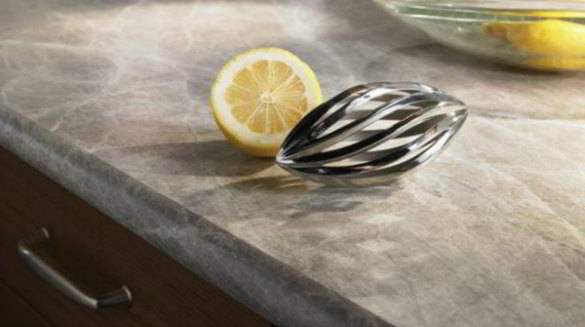 Thus, from a design perspective, no countertop material offers you a wider range of color choices and options than laminate (technically natural granite has the most "colors" with 2500+, but the range of pattern is much more limited).
So, with laminate you may have trouble deciding which color/pattern combo to use, but you certainly won't lack for many excellent candidates (such as the Formica design in the above photo) no matter what your color scheme or design theme.

Decorative edges can also be created similar to some natural stone bath and kitchen countertops. You can even have a unique "no-drip" edge to keep spills from dripping onto the floor.
Backsplash design possibilities aren't altered much by the countertop material (just different choices) so; installing laminate won't necessarily limit your options for kitchen backsplash design.
Of course, a standard 4-inch splash using the laminate is fine, but don't be afraid to create a more upscale look.
You can still use any and all materials or tile designs that you might use for a backsplash above a granite countertop. It's simply a matter of combining complimentary textures and colors to create a cohesive look.
Care & Cleaning
Durability is improving with upgraded laminate surfaces that are much more resilient and resistant to wear and damage than standard or older varieties. Still, laminate is nowhere near as durable as stone requiring more delicate care and use.
Laminate will scratch, chip and cut easily from knives, utensils or rough treatment. Laminate is not heat resistant no matter what you might read to the contrary.
On the other hand, laminate does resist stains very well and cleaning laminate kitchen countertops is a snap with only a few simple precautions.
Laminate Countertops Prices & Installation
Laminate is the clear winner when comparing on cost alone, which is why it's often the first choice for rental properties or old house remodeling projects.
The cost of installing laminate countertops will typically range from $5 to $30 per square foot depending on how it's installed, color chosen, edge detail, etc.
A competent do-it-yourselfer or handyman can install laminate countertops, but a professional is the way to go for the best look, fit and finish.
Given that laminate countertops prices are so low relative to other countertop materials it's a super value. Cheap countertops yet still good performance overall. Epoxy countertops are another low-cost option.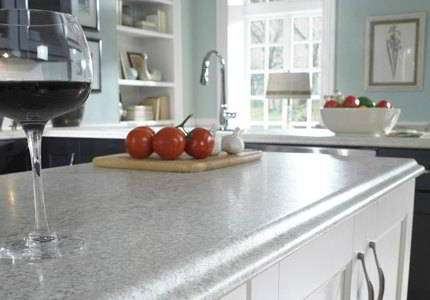 Manufacturing
The origin and manufacturing process of countertop laminate dates back to the early 1900s. Although technological advances have allowed for continued improvement in the finished product, the manufacturing process is basically the same and fairly consistent across brands. Today laminate is used in many products and applications other than countertops.
Formica is the "original" laminate countertop company and still a big player along with Wilsonart (photo above). A few smaller companies like Nevamar, Pionite and Arborite round out the competition.

Laminate won't ever top granite or natural stone in terms of style, cache or re-sale value, but laminate does offer some distinct advantages.
For those who'd like to upgrade their kitchen countertops without sacrificing design possibilities or busting the bank, then the extensive color palette, low-cost and easy installation make laminate countertops a perfect choice.