The Ultimate Neolith Countertops
Pros & Cons Review
You may not have heard yet, but Neolith countertops are one of a new breed of countertop materials called "ultra-compact surfaces" or "sintered stone" making a splash for improved performance over other favorite surfaces.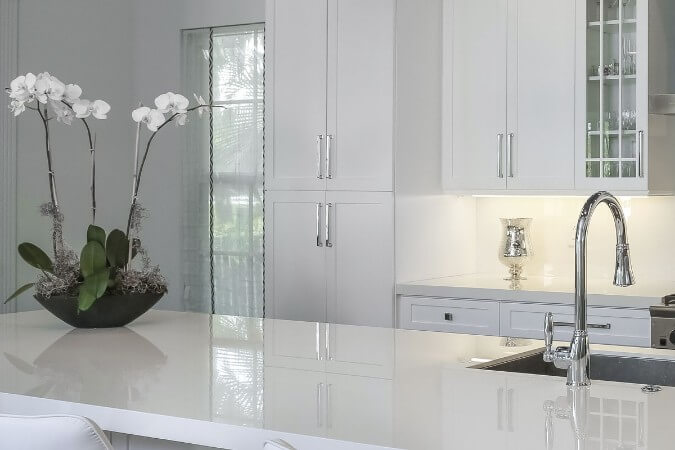 Neolith is attractive, durable, and packed with features you'll love when remodeling or upgrading to new kitchen countertops. But is it indeed better than granite or quartz? Let's find out...

Neolith is a product of a Spanish company called TheSize started in 2009 by professionals from the natural stone industry. TheSize began producing the Neolith ultra-compact surface in 2010.

What Are Neolith Countertops Made Of?
Like Dekton (a competing brand), Neolith countertops are made with 100% natural materials. Granite compounds, natural oxides, glass, and silica minerals are combined through a process of extreme heat, pressing, and sintering into one of the most resilient surfaces available.
The raw materials are similar to those used to make glass, porcelain, and quartz countertops but the specific combination and process are what gives Neolith its strength, hardness, and durability.
You may see reference to Neolith porcelain countertops or Neolith stone. But this is not correct. Neolith is made with elements of stone but is not, itself, a natural stone material. It's man-made. 
And Neolith is different and more durable than porcelain counters, although, the two share some similarities.
Natural oxides are used to provide the Neolith countertop colors while glass and silica minerals provide chemical stability and resistance to damage from chemicals and cleaners. 
The high-pressure process makes the sintered stone slab very dense and non-porous, so no sealing needed and it is essentially stain-proof.
Neolith can withstand high temperatures from hot pans without scorching or cracking from thermal shock. It is also unfazed by freezing winter weather making it an ideal choice for outdoor kitchen countertops. 
The Pros and Cons of Neolith Countertops
Just as with all types of kitchen countertops, there are some things that you will love about these sintered stone countertops, but also some problems that you may encounter.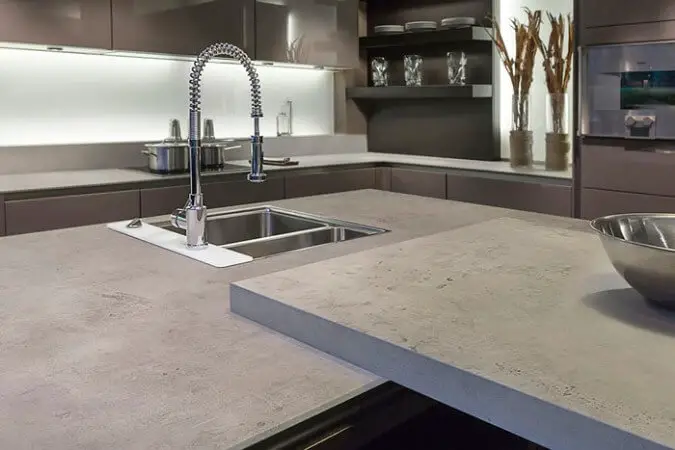 Neolith Countertops: Advantages
Eco-friendly, resin-free, and made up of 52% recycled materials. The new Essentials collection is made of 90% recycled materials.




Made from all natural products and a sustainable option for homeowners worried about the impact that they may have on the environment.



Not porous so it won't stain even if you don't wipe up coffee or wine spills right away.
Ultra-hygienic and easily disinfected. Now made with NeolEAT anti-bacteria technology baked in. 
Acid-resistant and will not etch like marble or suffer chemical damage like quartz.
Neolith Countertops: Disadvantages
Difficult to handle during installation and easy to accidentally crack the surface and damage the edges. Neolith is very tough once installed and supported, but during installation, it is much more tricky to work with than granite, quartz or other countertop materials.


Finding skilled countertop fabricators willing to work with Neolith slabs can be difficult. Many refuse.


Slab colors may not match since a specific Neolith color shade can vary depending on the dye lot.


Overhangs like bar tops are limited to only 6 inches.


Neolith counters can be scratched by ceramic knives but nothing else, although, the "polished" finish is more delicate and susceptible to abrasion. 
Sintered stone countertops tend to chip with heavy impact (especially edges) easier than other materials. But most materials can be chipped.
Neolith Countertops Colors, Edges & Finishes
You can choose from about 30 Neolith colors in a range of whites, grays, blacks, and browns.
Many homeowners want countertops that look like marble, but without the maintenance of marble, so it's no surprise that the most popular Neolith colors are amazingly realistic marble look-a-likes:
Neolith Calacatta

Neolith Calacatta Gold

Neolith Estatuario

Neolith Carrara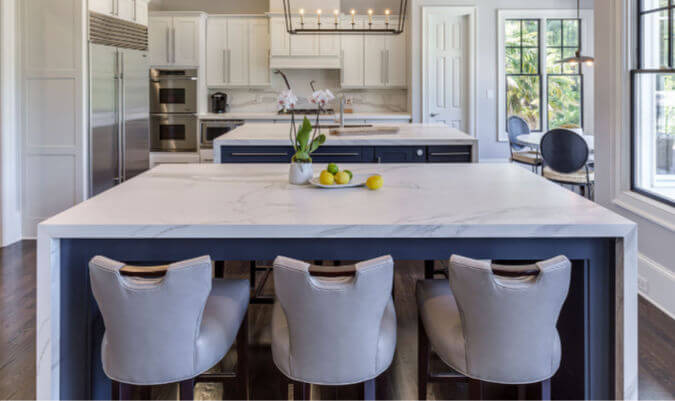 Note that even though Neolith is man-made, the color match can vary depending on the manufacturer's dye lot. This is important for you to consider when updating your kitchen as you will want to buy all the Neolith sintered stone slabs needed to complete your remodel in a single purchase from the same dye lot.
---
Video: Neolith Kitchen Design Ideas
---
Neolith Finishes
Neolith sintered stone finishes are quite unique and will suit any kitchen design style or personal taste for home or commercial use. Choices include: 
Natural Honed - matte, honed finish as on natural stone
Satin - completely matte finish that is highly-resistant
Silk - matte with a subtle shine
Ultrasoft - matte but with extra softness and depth of color
Slate - appears to have thin layers and texture of natural slate
Steel Touch - metallic look with soft reflections
La Boheme - warm, soft feel of wood
River washed - slight rough texture
Anti-Slip - for flooring and wet applications
Polished - glossy, reflective, excellent color depth
Note: the "polished" finish is far less resistant to scratches and abrasion. Knives and abrasives cleaners can scratch or dull a polished Neolith finish. And ceramic knives can scratch all finish types.
Also, some of the above finishes are available only with specific Neolith color collections. 
Neolith Edges
Edge styles are more limited than with other types of countertops, but you still have attractive edge options to choose from when installing new Neolith worktops.
Minimalist edge is when the edges are eased and honed, which then look a little rounded and very smooth and won't have sharp corners. This creates a contemporary style and showcases how thin the material is.


Mitered edge is made with a short apron to mimic the thicker edges of granite and marble.


Waterfall edge runs from the countertop surface down to the floor cascading down the cabinets creating a luxurious look that is very sophisticated.
Neolith Countertop Thickness
Thickness and slab size are options you can choose like colors and edges.
Neolith comes in 4 thicknesses:
3mm (⅛") for interior wall cladding

6mm (¼") for interior flooring or exterior walls

12mm (½") for countertops and exterior flooring

20mm (¾") for countertops and exterior pavers
Slab sizes range from 2.5 ft. x 2.5 ft (750mm x 750mm) up to 10 ft. x 5 ft. (3200mm x 1500mm) and can be cut to any size or shape needed. 
The large-format slabs cut down on the number of seams needed and make it easy to cover large kitchen islands or long countertop runs while maintaining a cohesive look to the pattern.

Neolith Care and Cleaning
Like most people, you're busy and don't want to spend time worrying or fussing about how to take care of your countertops.
Thankfully, cleaning Neolith countertops is simple and doesn't require any special cleaners.
Recommended cleaners: 
Puracy cleaner is an excellent choice for Neolith or use a quality quartz and granite cleaner for a streak-free shine.
Avoid using dish soap as a regular cleaner. Soaps and detergents that contain waxes (many do) will leave a dingy residue or film on the surface over time.
Hot water is just fine for quick cleanups.
It's important to note a few things though…

Deeper cleaning may be necessary immediately after installation to remove any cement or joint compound left behind by soaking with hot water.


Any dry or encrusted food on the countertop can be removed by first soaking it with hot water and then wiping it with a damp cloth and your chosen surface cleaner.



Avoid abrasive scrubbers and cleaners on the "polished" finish. In truth, Neolith surfaces are very scratch-resistant and essentially scratch-

proof

except for the "polished" finish.


Do not use acidic cleaners on a newly installed Neolith countertop as the acids may damage the glue used in the joints.



Do not use ceramic knives on the surface. Ceramic knives are the kryptonite of sintered stone (ultra-compact surfaces) and will scratch all finish types of Neolith.
Neolith Countertops Cost
The total installed cost of Neolith is $60 - $105/sq. ft. which is similar to mid to high-end granite countertops and/or quartz countertops.
Some say Neolith is cheaper than quartz or granite, but on average this is not the case. Although, quartz is becoming more expensive now that tariffs have been imposed on the importation of quartz slabs from China.
And granite prices have dropped over the last 10 years so many granite colors can be installed for less at around $45-$65 psf.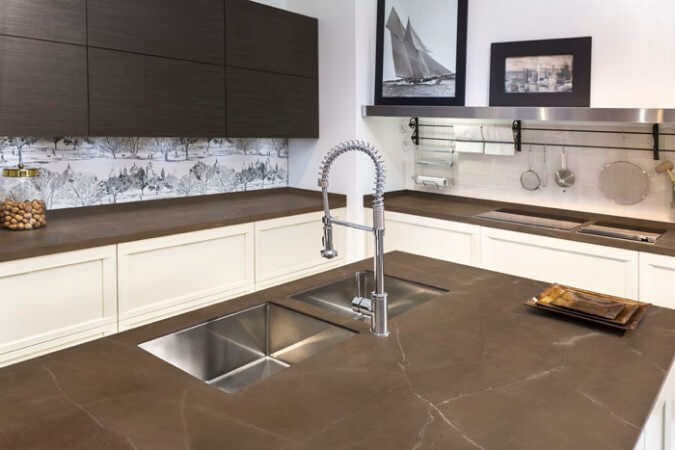 It is difficult to get an exact cost for Neolith without specifying what color, slab size, and thickness you want.
Costs for Neolith vary from $10 to $30 per square foot (material only) a few years ago to $24 to $40 sq. ft. more recently, which means that Neolith prices are increasing slightly.
Also, the following installation variables can have a significant impact on the final price:
Number of cutouts for sinks and a cooktop

Edge treatment

Finish type

Number of seams

Complexity of the installation
You may be able to cut the cost of your new Neolith countertops by choosing a thin 6mm slab (normally for flooring or wall cladding) and installing it over the top of an existing countertop.
This is something you'd need to discuss with an experienced Neolith installer as the thicker 12mm slabs are recommended for kitchen countertops.
You'll save a nice chunk of money on the overall project cost. However, thinner slabs are more susceptible to damage (cracking and chipping).
Neolith Countertop Installation
As noted in the pros and cons above, Neolith and all ultra-compact surfaces are particularly vulnerable to damage prior to installation.
Once sintered stone countertops are installed, they are very stable and durable. However, this countertop material is thin which makes it challenging to transport, cut, or move around without cracking or splintering the slab or chipping the edges.
Some argue that because Neolith is so thin and lightweight that it is much easier to cut and install which is undoubtedly rational, however, that is not how it plays out in reality.
It's so hard and thin that it is a bit brittle when unsupported and that's why it presents some unique installation issues.
Now granite can crack during installation too, but Neolith and ultra-compact surfaces have a much bigger problem with it.
Because of this, it is not a favorite with countertop fabricators. Many fabricators will simply refuse to install it or any other ultra-compact surface brand.
Also, Neolith is not widely available so you may have to be more persistent in your project planning when getting a Neolith countertop installed.
On the plus side, the thin Neolith slab can be installed right over the top of other types of countertops. This can save you a little money not having to tear out your old countertops.
Where To Buy Neolith
Neolith distributors or fabricators are not nearly as plentiful as those for granite or quartz. So, you may have some difficulty finding a supplier depending on where you live.
If you live in a larger city you can call around to various stone warehouses or countertop fabricators and, chances are, find a local Neolith dealer.
Use this Where to buy Neolith search tool to find distributors near you. 
Neolith vs. Quartz Countertops
While quartz countertops are made in a similar fashion, the Neolith sintered stone countertop has advantages over quartz. Neolith and all ultra-compact surfaces were designed to improve upon the weaknesses of quartz.
Neolith vs. Granite Countertops
Granite countertops are like the "gold standard" that all other countertop materials are measured by.
Even though granite is not perfect or without its own problems, most man-made countertops are trying to create a surface that performs as good or better than granite or has some unique feature or look that granite doesn't.
When comparing Neolith countertops vs. granite, we see that Neolith holds up well.
Conclusion
Some say Neolith countertops are revolutionary and they certainly do have several advantages over other types of countertops.

However, it has some drawbacks as well and just goes to show you how hard it is to make a perfect kitchen countertop material. Alas, none are faultless.   
Neolith is very durable, heat-resistant, stain-resistant and scratch-resistant except when using ceramic knives on the surface or abrasives on the "polished" finish. It does not crack easily, but dropping heavy objects on the surface could cause a crack or chip.
Neolith countertop colors are limited at this time, but modern and attractive with several finish types and edge style options. The large-format slabs allow for fewer seams and a more cohesive pattern overall.
It's easy to clean without special cleaners but, you cannot use abrasive cleaners on the polished finish. All other finish types are okay for this.
A skilled fabricator with experience installing Neolith countertops is a must since sintered stone is more fragile when cutting and installing than other materials.
All considered, the Neolith ultra-compact surface definitely gives granite and quartz a run for their money and can be a solid choice for your kitchen countertops once successfully installed.
All images courtesy Neolith.com.