Which Granite looks like White Carrara Marble?
It seems that no other natural stone provokes the "I must have it!" feeling like white Carrara marble. It's gorgeous.


But acidic foods and drinks etch marble countertops leaving dull spots all over creating extra maintenance. Not good for a kitchen countertop.
Luckily, if you want marble countertops but not the maintenance problems, you have alternatives.
Casa Blanca granite, Glacier White granite, and Bianco Romano granite all look wonderfully like white Carrara marble. Additional options include various white quartz and quartzite colors I share below.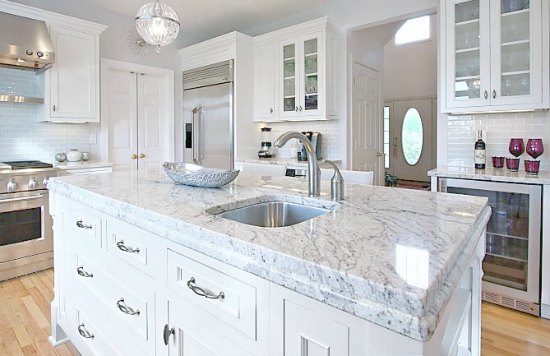 Bianco Romano Granite Countertop
First, you may wonder if marble is really that much trouble since you see marble kitchen countertops splashed all over the magazines and online.
Many designers don't know better or will use it regardless of maintenance issues just because it looks so spectacular. But kitchen countertops need to be functional and the extra maintenance of marble is irritating to most homeowners.
Keep in mind.....
white Carrara is pretty distinctive. Expecting an exact match is a stretch. Also, not all Carrara marbles look alike. Some are very white with little veining. Others more gray with scads of veins. Which you prefer will color your choice of the alternatives.

Let's explore the candidates...
Granite That Looks Like Marble
Casa Blanca
granite is one to check out. Many slabs have a veining effect like marble.
Glacier White
granite is on the list. It can be a light gray-white with striations that look like marble. Or it can be a darker gray with a mottled and typically "granite" pattern.
Glacier white granite is a good one to take a peak at in your local stone warehouse. It may be off the mark, but you never know.
Bianco Romano
granite is certainly a contender. Usually, it has beautiful veining.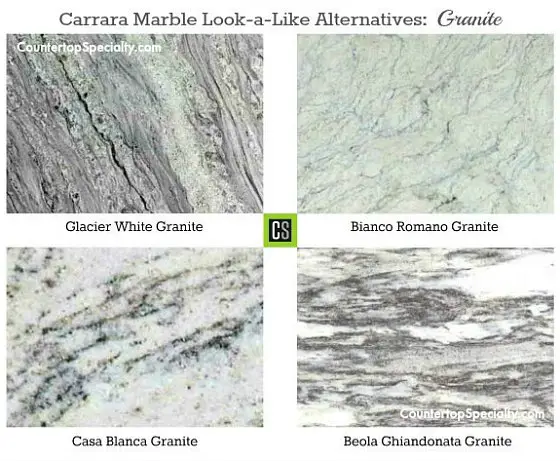 Beola Ghiandonata
can look much more like marble than granite. It's typically more gray so that may not suit you, but it has a linear striation pattern like white Carrara marble.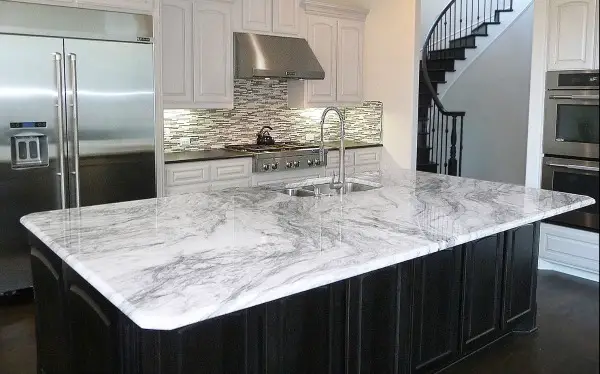 Glacier White Granite:
DFW Granite
TIP: Test for Stains and Etching
Be a savvy stone shopper and always
perform the lemon juice test
on the
exact
slab you are considering. This test will tell you how absorbent (prone to staining) the stone is and if it is sensitive to acids like marble.
While we're on the topic.....
Avoid Kashmir White granite
. The pleasing pattern and color of this granite make it popular, but it is usually very porous and easily stained. Sealing often does
not
help.
Quartzite That Looks Like Marble
Quartzite countertops
have become very popular in recent years as whites and grays are on trend.
Quartzite is a hard stone with performance properties similar to
granite countertops
but can be mistaken for marble.
White Fantasy
is a quartzite popular for its marble look-a-like color and pattern. The veining does tend to be dense and the color is usually a touch on the gray side.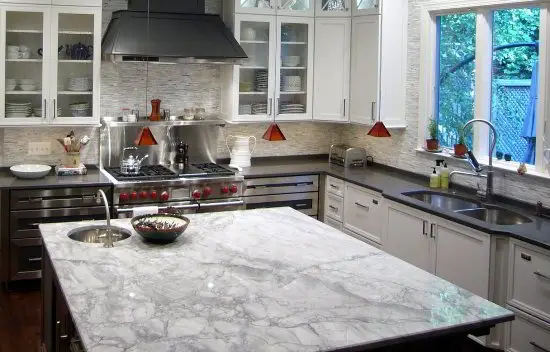 White Princess
is another quartzite that brings marble to mind. In truth, White Fantasy and White Princess quartzite often look very similar.
Said another way... you may find nearly identical slabs one named "Fantasy" the other "Princess" or "Super White". Or distinctly different quartzite slabs both named White Fantasy.
You may even see it called "granite" instead of quartzite. This is not true, so don't let it confuse you.
TIP: Never Mind the Name
Naming preference will vary so no need to get hung up on a particular name (".... oh, no I want White Fantasy, not White Princess..."). It will only make the search more confusing.
We see this with granite, marble, and all natural stones. Names of specific varieties are not always strictly applied and you may find wide variation in the look of any stone with the same name or stones that look identical but with different names.
Looking for a specific color name is a good place to start, but ultimately the name doesn't matter.
You want to hunt stone warehouses for a slab with the color, tone and pattern you like regardless of the name.
A few other quartzite colors
that look like Carrara marble to consider are Super White, Luce di Luna and White Macaubas as seen below...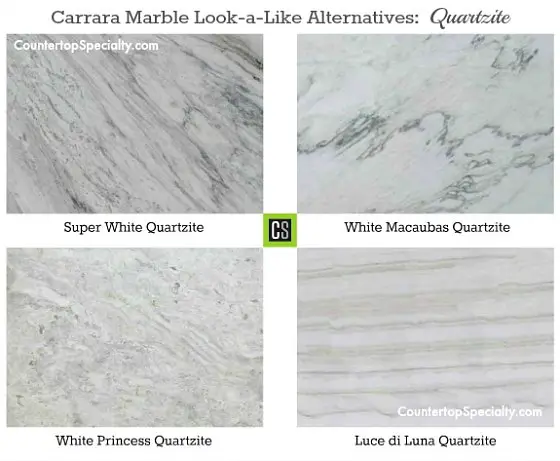 Quartzite can make an excellent, low-maintenance kitchen countertop much like granite... if you choose the right slab that is, so be warned!
TIP: Test Quartzite for Etching
It is thought that some quartzite may etch, but this is not likely accurate.
More likely is that a marble slab was mislabeled as "quartzite" since they can look very similar.
Naming stone is not a strict science in the industry so it's always best to test and avoid any problems.
If indeed you do get etching on quartzite, you'll need professional help to repolish it since it is very hard. But again, this is probably how you'll discover that you have marble and not quartzite. Marble is soft and DIY solutions for etching are available.
To pick the perfect quartzite slab
perform the lemon juice test as noted above to weed out those that etch.
Quartz That Looks Like Marble
Not to be confused with the natural stone "quartzite" above,
quartz countertops
are an engineered stone with properties similar to granite.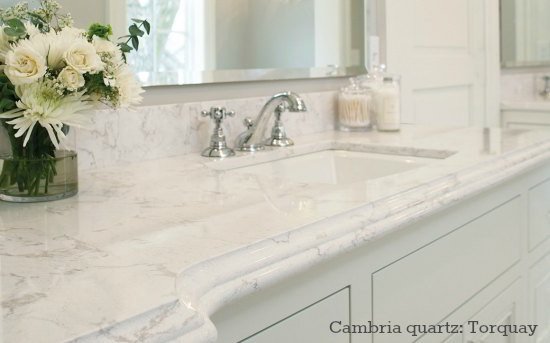 Color choices from the major quartz counter top manufacturers (Silestone, Caesarstone, Cambria, Zodiaq) have progressed far beyond the plain speckled patterns of old.
New and intriguing patterns are popping up all the time including several with a similar look to Carrara Marble.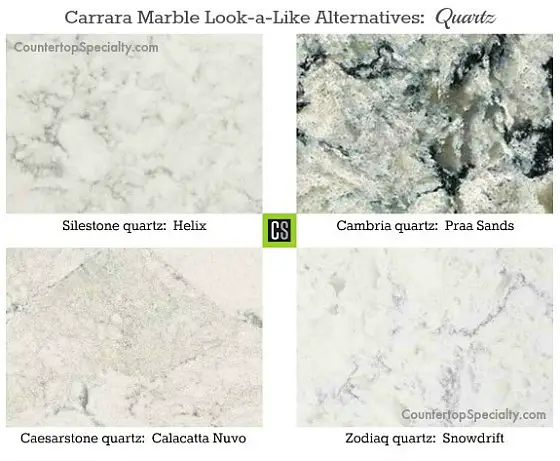 Still Must Have Carrara Marble?
If absolutely nothing will do but white marble, then...
You have two options..... 1. Have it honed and seal it often.
The color / pattern won't show through as much as a polished surface, and a honed finish is more prone to staining, but etch marks are less visible.
2. Install it polished and learn to restore etch marks.
A polished finish is very stain-resistant, but etch marks are more visible. On the plus side, etching is far easier to repair using this simple
DIY marble etch remover and polisher
.
Either way, marble countertops will always be more maintenance-intensive than granite, quartzite, or quartz even if you are maniacally diligent with care and cleaning.
It's a matter of expectations
. If you know what you are in for with a marble kitchen countertop, then do it.... but I don't recommend it.
You may think you can handle it, but later get sick and tired of the extra care.
Again,
marble countertops are only a problem in the kitchen due to all the acidic foods and drinks. So, stone pros and designers are right to warn you and suggest you
consider marble vs. granite
or other countertop materials. Elsewhere in the house... marble is no problem.
It's much less stressful to have a kitchen countertop that is beautiful and yet so tough you'd have to really try to damage it... worry-free cooking.
This is easy to accomplish by choosing one of the Carrara marble alternative countertop materials presented above. Many beautiful colors available.
Then satisfy your Carrara craving by putting it in a bathroom!
Images:
Carrara
,
Bianco
,
Fantasy
,
Torquay