Lava Stone Countertops Pros & Cons
A Buyer's Guide
Lava stone countertops are not yet well-known. However, their lovely glazed finishes, custom colors, and hand-made design make lava stone an attractive and intriguing bathroom or kitchen countertop alternative to granite or quartz.

Image provided courtesy of Made a Mano
What is a Lava Stone Countertop?

Lava stone countertops are a natural stone material. Blocks of volcanic lava (solidified magma) are quarried by hand from the Nugere crater at the center of the Auvergne Volcano in France, from Mount Vesuvius near Naples, Italy, and Mount Etna in Sicily. 
Countertop slabs are cut from the lava blocks, coated with an enamel glaze of any color, and placed into a kiln to bake at 1300 degrees Celsius. Hands-on work by highly skilled artisans and craftsmen produces the finished countertop.
The smooth enamel may develop a distinctive crackled finish called "crazing" as the slabs cool. This unique look sets lava stone countertops apart from all others. Although, a smooth finish is possible as well.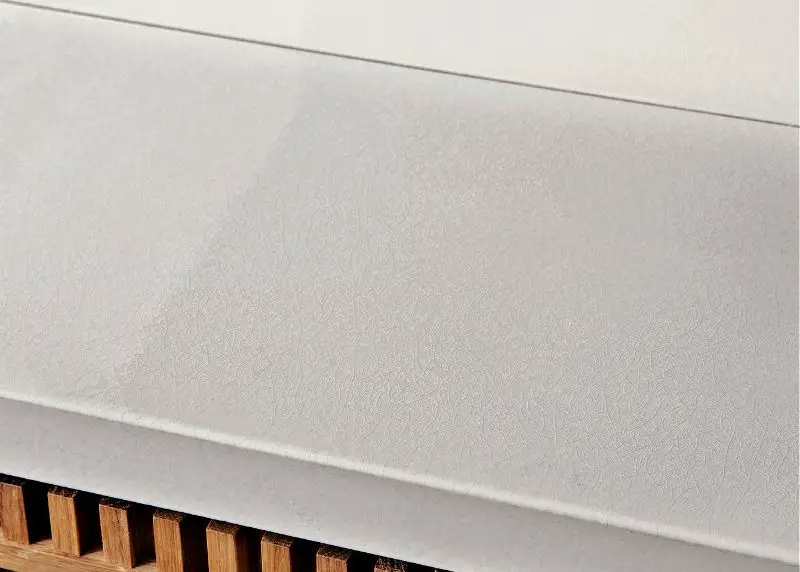 "Crazing" - Signature crackled finish of Lava Stone - Image courtesy of Made a Mano ApS
Glazing offers endless potential for custom and creative design while improving the durability of this natural stone countertop. 
Lava countertops are available in different colors, finishes, glazes, patterns, and designs. Each design is attractive, adding a beautiful appeal to your home.
Sinks can also be carved out of volvic lava to match your countertops. The most common style is a farmhouse sink, but any style is possible.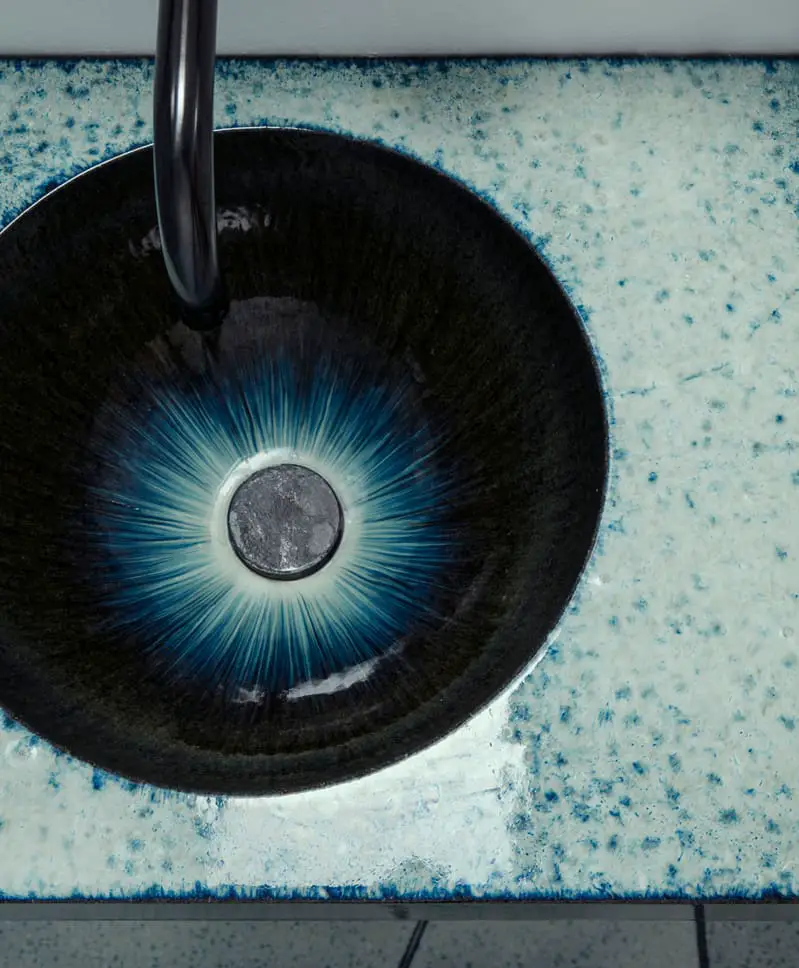 Lavastone sink and bathroom vanity. Image provided courtesy of Made a Mano ApS
Of course, a standard sink of your choosing can be installed as an under-mount or top-mount, the same as any other countertop. 
Although using lava stone for countertops is somewhat new, volvic lava stone has been used for centuries for pavers, wall-cladding, and other architectural purposes.
Tiles of lava stone in all shapes and sizes are used for flooring and backsplashes.
What is Pyrolave?

Pyrolave is a company in France that is a leading manufacturer and supplier of lava stone countertops worldwide. Pyrolave countertops have the same qualities, colors, and prices provided here about lava stone.

Pros and Cons of Lava Stone Countertops

This custom countertop material certainly presents bold and unique design elements but pay attention to the pros and cons.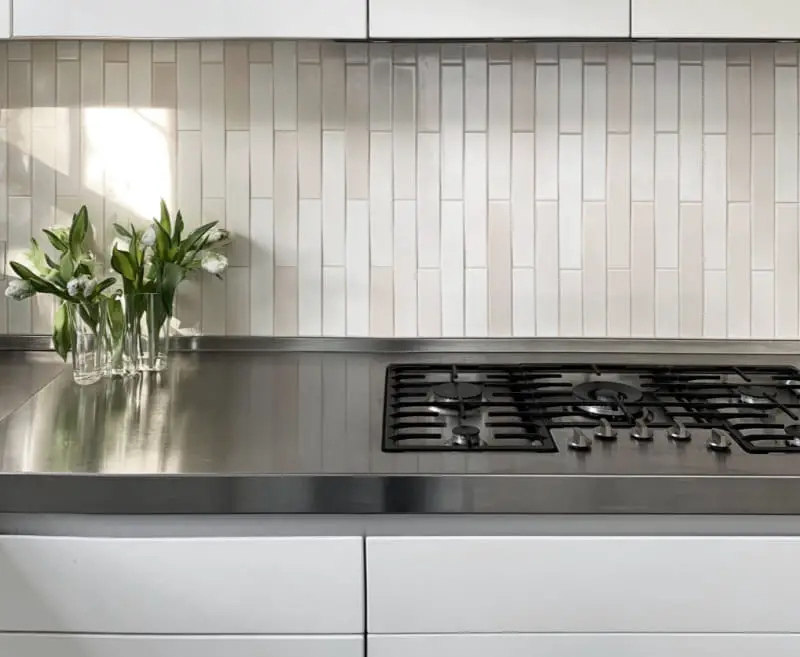 Image provided courtesy of Made a Mano ApS
What Are The Benefits of Lava Stone?

Impervious to Heat: The volcanic rock can withstand high temperatures and does not crack even when placing hot pans directly on the surface. You cannot do the same with most other types of countertops. 
Stain-Resistant: Lava rock countertops are non-porous and do not get stained quickly. No special sealers, or maintenance procedures are required.
Resistant to Acids: Typical acidic foods, drinks, and products found in the home will not etch or damage the surface. Caustic ingredients or strong acids found in some chemicals can potentially damage, though.
Install Inside or Outside: Lava stone performs well for indoor or outdoor kitchen countertops. The colors are stable and do not fade in UV light. Damage from freeze and thaw cycles is rare as well. 
Eco-Friendly Option: It's mined in an eco-friendly and sustainable manner with minimal wastage or environmental drawbacks. Strict environmental regulations limit the amount of volcanic rock extracted annually. 
Colorful and Easy to Customize: Extensive color choices, custom colors, finishes, edge design, and options like integrated drainboards and sinks are available.
Unique in Appearance: Each countertop has a unique appearance and distinct crackle pattern that cannot be replicated.
Seamless Design: These countertops can have a seamless look, even for large kitchen countertops. 
Disadvantages of Lava Stone Countertops

Despite the growing enthusiasm, glowing reviews, and benefits, alas, no countertop is perfect. Here are the drawbacks:
Extremely Expensive: Lava countertop cost is exceptionally high at $250 - $300 per square foot. Most lava counters are produced by the French company Pyrolave. Thus, all countertops are imported. The supply is limited by environmental regulations on the extraction of slabs, and manufacturing utilizes significant manual labor. All factors drive prices to extreme levels. 
Durability unproven: Volcanic lava stone countertops are relatively new; their longevity and durability are not yet proven. In comparison, other countertops like granite counters or engineered quartz have a known level of durability.
Cannot be Refinished: If you get tired of the lava stone countertop's style, color, or design, it will have to be removed entirely. No repair options exist to recolor, refinish, or repair any significant damage to the enameled surface.
However, it could be covered with an epoxy coating or painted to create a new look.
Design & Colors of Lava Stone Countertops
One of the best aspects of this countertop material is the wide range of color choices. Different sized slabs, several edge styles, thicknesses, and finishes are also available.

Lava Stone Countertop Colors

Lava stone is especially popular with those that like deep vibrant colors. Every color under the sun is possible: reds, yellow, orange, blues, greens, purple, pink, gray, black, and white lava stone countertops. Any hue or shade you desire is available or can be custom-made.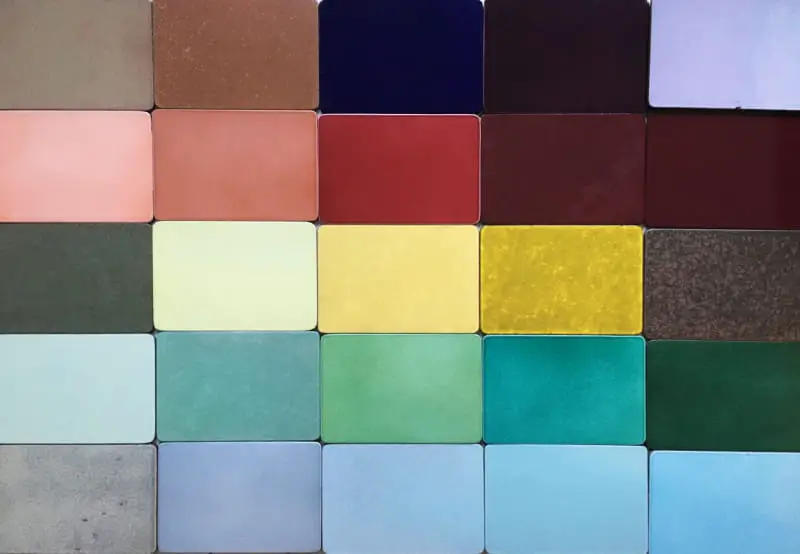 Bright & bold colors. Image provided courtesy of Made a Mano ApS
Many choose to add lava stone to a kitchen island for a punch of color. Of course, sticking with popular kitchen design trends, white lava stone looks gorgeous as well. 
However, some color choices are limited based on the kind of finish you opt to get. And colors are all solid without any pattern except for the signature crazing. 
Variations in the color shade and depth occur, especially around the edges. Also, small dark dots, pinholes, mineral spots, and other minor surface imperfections are sometimes seen. This is normal and just part of the singular look of volcanic stone countertops.
Or it can be left unglazed to show its natural gray-black color which looks similar to a dark slate countertop.
Slab Size

Slabs of lava rock can be cut in various formats and sizes up to about 8.5 ft. x 4.25 ft. (260 cm x 130 cm). In some cases, slabs may be available up to 10 ft. (300 cm) like Dekton sintered stone.
Slab and edge thickness comes in 3 sizes, similar to other types of countertops. 
½" (1.5 cm) 
¾" (2 cm)
1 ¼" (3 cm)
Edge Styles

Edge profiles for lava stone countertops are without complex options and more limited than granite or marble edges, but you can still pick from several pleasing and popular styles. 
Radius 
Half-round
Chamfer
Inverted Chamfer
Birds Beak
Bar Top (Ogee)
Chipped (Chiseled)
Custom color/design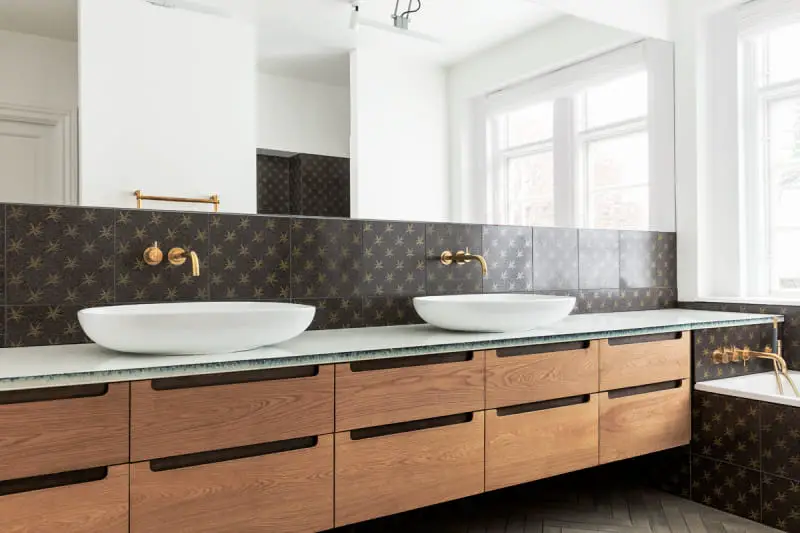 Chic bathroom design with Lava counters. Image provided courtesy of Made a Mano ApS
Finishes

Glossy: This is the classic enameled lava stone countertop finish. You can find countertops in almost every color ranging from bright, vivid hues like turquoise, pink, purple, and yellow to darker subtle earth tones, along with white. 
Matte: This type is also available in many colors, but the range is narrower with more subdued colors for a more neutral style. 
Crystalline: An extra glassy layer is added to the traditional glossy enameled finish. All colors are possible, and it creates a brighter color with a slightly transparent look that enhances the crackled effect of the enamel. 
Transparent: A crystalline glaze is applied to the surface without enamel. The effect is a shiny gray color that enhances and allows the natural pattern of the lava stone to show through, and it is not as shiny or bright as "metallic" below. 
Metallic: As the name suggests, this finish looks like a metal countertop with a slight sheen. It can have either a solid gray color or a rustic mottled gray or copper-brown weathered look.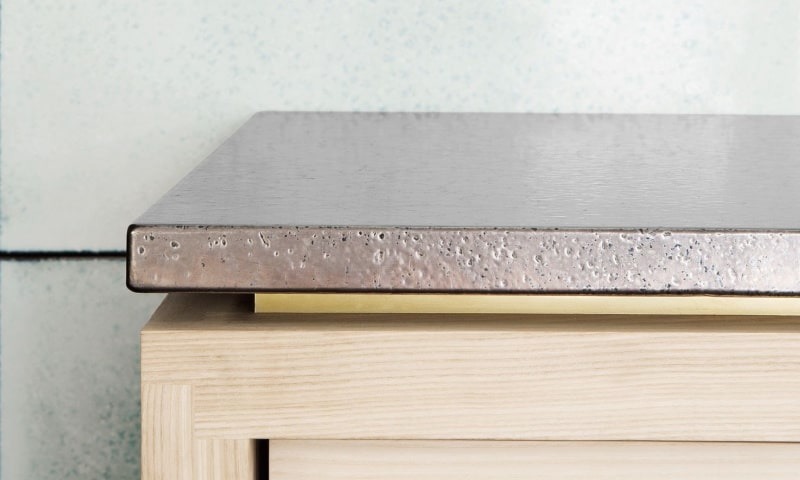 Metallic finish. Image provided courtesy of Made a Mano ApS
This type is much less common and may have to be specially ordered and imported directly from the manufacturer.
Other options include built-in drainboards next to the sink, integrated lava stone sinks, and uncommon curves or shapes. Such customizations are generally only possible with Corian solid-surface or concrete countertops.
Apart from this, you can also get lava countertops in custom colors. These made-to-order countertops may put an even bigger dent in your wallet, but the results are often worth the extra cost.
Cost of Lava Stone Countertops

Kitchen countertops can be cheap or expensive. But most fall into the middle range. If you've ever wondered which is the most expensive, you've found it. 
Lava stone is the most expensive countertop material. A lava stone countertop costs more than even the most expensive marble or exotic granite. 
Expect to pay from $250 to $350 per square foot.
Its high price is a shock to the kitchen remodeling budget for most consumers. Lava stone countertop prices are so high for a few reasons:
Pyrolave, Made a Mano, and a couple of others are the only manufacturers of lava stone. 
Environmental regulations in the area where the lava stone is extracted are strictly enforced, limiting supply. 
Manufacturing is done in large part by hand. 
Importing the stone also adds to the cost of shipping, import taxes, or duties. 
Luckily, as more suppliers and manufacturers focus on this material, the price will decrease.
Also, you have plenty of alternatives available. Granite, quartz, and marble are still the most popular materials and are readily available with known maintenance needs and repair options.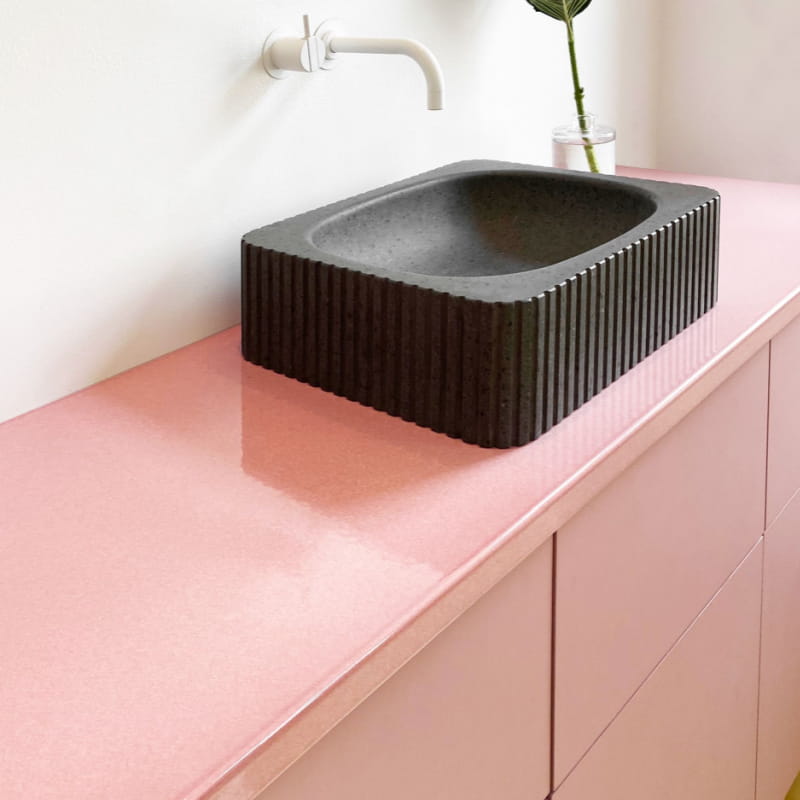 An exquisite pink! Image provided courtesy of Made a Mano ApS
How To Clean Lava Stone Countertops

It's best to use a quality Stone Cleaning Spray (pH neutral, optical brighteners, dries streak-free) or hard surface cleaner like Better Life to clean lava stone.
Avoid using soap as a regular cleaner. It is counterproductive. It won't harm the surface, but using soap as a "regular" cleaner will leave a soap scum buildup that dulls the shine and finish. This soap film will make the counters look dingy and harder to clean.
A warm water and soap mixture is commonly recommended as a cleaner for most countertop materials because it is (usually) non-damaging.
And, of course, you'll use soap around sinks. Just don't clean the entire surface with it.
Never use anything abrasive on the surface (i.e., scrapers, scourers, wire wool, abrasive scrub pads commercial, powder cleaners).

Additionally, always use cutting boards to prevent knife marks on the kitchen countertops.
Maintenance of Lava Stone Countertops

One of the best things about lava countertops is that they do not require special maintenance beyond regular cleaning. 
Unlike other countertop options, these countertops do not need sealing, waxing, or polishing.
It is tough to stain and is resistant to acidic foods, drinks, and most cleaners. 
However, abrasive cleaners and scouring pads can dull or scratch the finish.
Keep in mind that, unlike other materials, enameled lava stone is still relatively new as a countertop material. 
Although lava stone has been used for centuries for architectural purposes in France, its durability as a kitchen countertop has not been extensively studied or proven via wide use, as is the case with other materials. 
Pyrolave has performed extensive testing, and there's no evidence to suggest that glazed lava stone countertops won't stand up to daily use and abuse and perform well even as an outdoor countertop.
Repair of Lava Stone Countertops

Repairs are not a frequent or common issue. As previously stated, the material is highly durable and hardy and can even resist heat with ease. However, should your kitchen or bathroom countertops ever get damaged, restoration to new condition is difficult or even unlikely.

Repairing Glazed Lava

Larger chips (5 mm+) - by epoxy resin filler colored to match enamel & finished down using thinners - any supplier
Cracks & large chunks or breakages - irreparable
Additionally, since they're often made from seamless stone slabs, repairing lava stone countertops is not simple. You will need to make use of professional quality services.
Installation of Lava Stone Countertops

Installation of lava stone countertops is not an easy task, and professional installation is recommended to avoid remodeling project mistakes. Given this aspect, it can often push up the initial price point of the volcanic countertop. 
For this reason, Pyrolave (the primary manufacturer) markets and sells only to countertop fabricators, kitchen dealers, designers, and architects.
Also, outside of Europe, it may be exceptionally difficult to find a qualified installer.

Where to Buy Lava Stone Countertops?

Buying a lava stone slab is tricky depending on your country. All lava stone countertops come from Europe. Specifically France and Italy.
But the companies listed below do have offices or representatives in other parts of the world. 
Buying Lava Stone Countertops USA

Pryolave does have a representative in the USA that can help answer any questions and coordinate your countertop project.
Pyrolave USA
Jean Pauwels
213 Fayetteville Street
Raleigh, NC 27601
919-788-8953
FAQ: Lava Stone Countertops

What color is lava stone?

Raw natural lava stone color is a light to medium gray with a loose speckled pattern. However, the glazing process creates any custom color you can imagine, from pastels to deeply saturated red, green, blue, black, white, gray, yellow, purple, orange. Or leave it natural gray.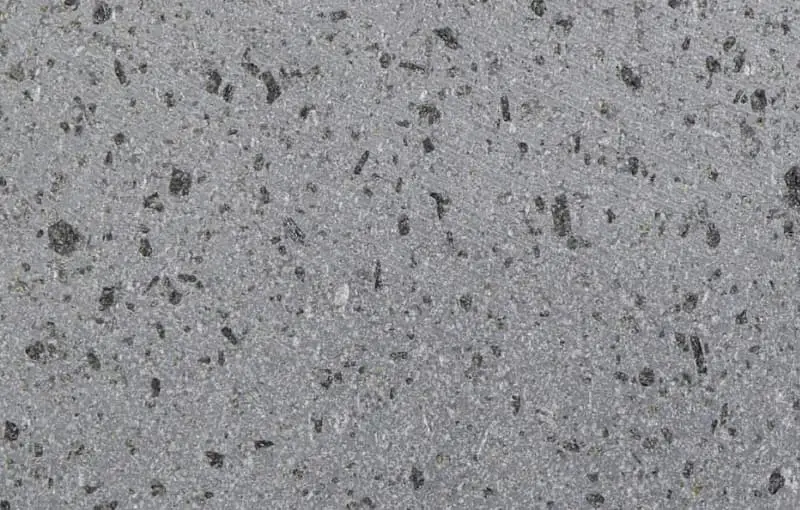 Natural raw gray lava stone color - Image provided courtesy of Made a Mano ApS
Is lava stone expensive?

Yes, lava stone countertops are extremely expensive and cost more than any other type of countertop on average. Starting at $250 per square foot, only the rarest and exotic granite or marble may be more expensive.

Is Pyrolave expensive?

Yes, Pyrolave is very expensive. Pyrolave countertops prices run $250 - $300 per square foot. Pyrolave makes countertops from lava stone, the most expensive countertop material available.