Average Cost For Marble Countertops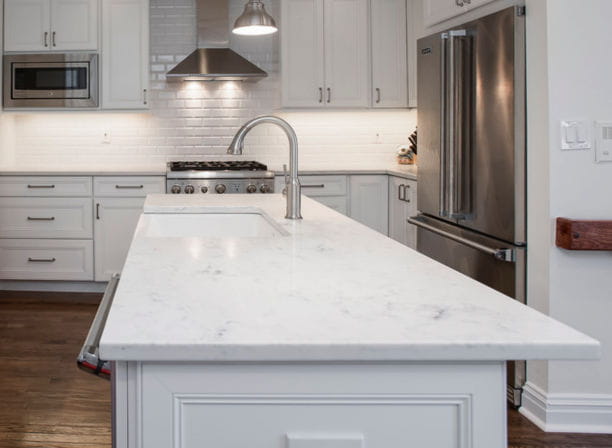 Often seen as the epitome of luxury and elegance, marble countertops are at the top of most homeowners' wish list when remodeling kitchens and bathrooms.
Of course, the budget is always a concern so the cost of marble countertops is a key consideration vs. granite, quartz, quartzite, and other popular types of countertops.
Marble Countertops Costs
So, how much are marble countertops per square foot?
Well, there isn't one answer. Marble countertop costs will range from $40 to $200 per square foot. The average cost of marble countertops installed is $65 to $95 per square foot.
Costs will vary depending on the type or color of marble chosen along with many installation variables detailed below.
Prices vary from color to color, of course, but also within the same color family (i.e. Carrara marble) based on the background color (is it more gray or white) and the veining (is it scattered and dense or defined and dramatic).
Naturally, the more rare and beautiful the slab the more costly it will be.
Marble countertops are gorgeous
but can get pretty expensive for certain colors as we'll see in a second.
Also, prices for similar-quality slabs can be significantly more or less from different suppliers so it pays to shop around a bit.
Carrara Marble Countertop Costs
Even though Carrara marble is the most popular there's an abundant supply and it is relatively inexpensive running $40 - $80 psf depending on color shade and quality.
Carrara marble named for the Italian city of Carrara where the stone is quarried has a wide range of colors and veining.
Yes, it is all basically "white" marble with blue-gray veining but can range from a darker dusty-gray background with dense undefined veining to nearly white with clean blue veining.
In general, Carrara marble has more of a gray background than Calacatta or Statuario.
Calacatta Marble Price Per Square Foot
Calacatta marble is in far less supply than Carrara and the price reflects that.
Calacatta marble prices range from $175 to $200 psf.
Calacatta is a bright white marble with lots of contrast between the background and the bold and sometimes very wide gray veins formed in dramatic patterns. The veins can sometimes have interesting gold tones. It also comes from Carrara, Italy, and is the most expensive marble.
Cost of Statuario Marble Countertops
Statuario is also rare and will usually be priced similarly to Calacatta at $150 - $200 psf but can go up to $250.
Statuario has a similar look to Calacatta marble with a bright white background and large gray veins that may have a tinge of gold as well but typically not with as much variation as Calacatta.
Danby Marble Countertops Prices
Danby marble is from Vermont, USA, and generally costs around $75 - $90 per square foot.
This marble can have a bright white background with light veining or a mottled gray. Vein structure also varies quite a bit from a brushed or striated pattern to heavy marbling.
Factors That Affect Marble Countertop Prices
How much are marble countertops installed?
To answer that you have to provide answers to all the variables of your particular installation.
To do this it's best to
find a reputable countertop fabricator
to help you through the process and get specific quotes.
Other variables that influence the final price are:


Slab thickness: A 2 cm slab is cheaper than a 3 cm slab and a 5 cm slab is very expensive.


Cutouts: the number of holes cut for sinks, faucets, soap dispensers, and cooktops, will increase the price


Edge style: Complex or compound edges like an ogee are more expensive than simple edge styles like a squared or bullnose


Number of seams: Larger kitchens that require multiple slabs will have more seams and/or unusual kitchen shapes may require more seams which adds to the cost


Labor: Cost for labor will vary depending on how difficult or complex the particular installation is considering delivery of slabs (i.e. upstairs or difficult access), length, and type of edges to polish


Buying the slab is just the start, but it will still be the largest expenditure of the project. The cost of the marble slab per square foot will be around
70% - 80%
of the total installed cost of marble countertops with the remaining costs coming
from the items above.
Marble Tile vs. Slab Countertops
Naturally, a marble tile countertop will cost a lot less than a marble slab countertop. Mainly this is because the amount of marble used to make tiles is far less than needed for a slab.
You can buy marble tiles for around $8 - $15 each. But, of course, the tiles must be cut for sinks and cooktops, set in place, grouted, edges created, etc.


Expect to pay around $20 - $40 psf for marble tile countertops
That's for a standard installation. If you want to get fancy with the pattern or create a marble mosaic, then prices can increase to $50+ psf.
So, a marble tile countertop can cost 25% - 50% less, but a tile countertop is not as durable and you have the same maintenance issues as with a marble slab plus the grout to maintain.
Marble Countertop Costs vs. Granite, Quartz & Quartzite
Which is more expensive granite, quartz, quartzite, or marble?
Do you like riddles? Each is more expensive than all the others.
How could that be?
The price of any natural stone slab will vary based on the supply and demand for any particular color of stone. And quartz countertop slabs aren't all the same price either.
So, comparing which type of countertop is cheaper or more expensive than the other will depend on the specific colors of granite or quartz and marble you are comparing.
Is Marble Cheaper Than Granite?
For the average installation…. No… marble is more expensive than
granite countertops
.
On average, granite countertop costs run about $45 - $65 per square foot installed and range from $35 - $125 per square foot (although rare varieties can cost up to $200 psf).
The average marble countertops cost $65 - $95 per square foot but range from $40 - $200. So, both have a similar range, but, generally, the cost of marble countertops is more than granite.
Is Marble or Quartz More Expensive?
At the high-end, marble countertop prices far exceed quartz countertop costs.
Quartz countertops
top out at around $125 psf where marble slabs can shoot up to $200 per square foot installed.
However, comparing average installation costs, quartz ($65 - $75 psf) and marble ($65 - $95 psf) cost about the same price.
Is Marble or Quartzite More Expensive?
Currently, quartzite is more expensive than marble. Expect to pay between $70 - $200 for quartzite with an average installation costing $80 - $100 psf.
The cost of marble can be just as much depending on which marble slab color you choose, but on average, marble is cheaper than quartzite.
There are a couple of reasons for this…
Quartzite countertops
(which are different from "quartz" countertops) have shot up the popularity charts in recent years following the kitchen design trend toward whites and grays. The quartzite color palette is more limited than other stones leaning heavily toward white and gray patterns.
Often quartzite colors look like white marble so homeowners opt for quartzite kitchen countertops instead of marble since quartzite will etch (dull spots from acidic foods) like marble does making quartz easier to maintain.
The supply of quartzite is far less than granite or marble.
Point #2 above leads us to a good question every homeowner should ask when considering marble kitchen countertops.
Is Marble a Good Choice for Kitchen Countertops?
Staining is not really a problem, but etching and scratching are and this could be an added cost.
So, just read up on
marble repair and maintenance
so you fully understand what you're in for if you choose marble kitchen countertops.
It's best to know up front. You may love
living with marble countertops
even with the extra care and caution required.
Conclusion
So, how much are marble countertops? The average installation runs around $65 - $95 per square foot but can range from $40 - $200 psf for the many reasons detailed above.
The particular marble color, how rare or common, and the quality of the slab along with a variety of installation items like sink cutouts and edge styles will affect the total cost of marble countertops.
Getting quotes from trusted marble countertop fabricators
and shopping around stone suppliers is a must to get a quality installation and the only way for you to pinpoint the marble countertops costs for your particular project.