Cultured Marble Countertops & Showers Review 2023
Cultured marble may not get the hoopla of other shower or countertop materials. Yet, it has proven its worth for decades now with unique design features, durability, ease of cleaning, and repair. It may be perfect for your project.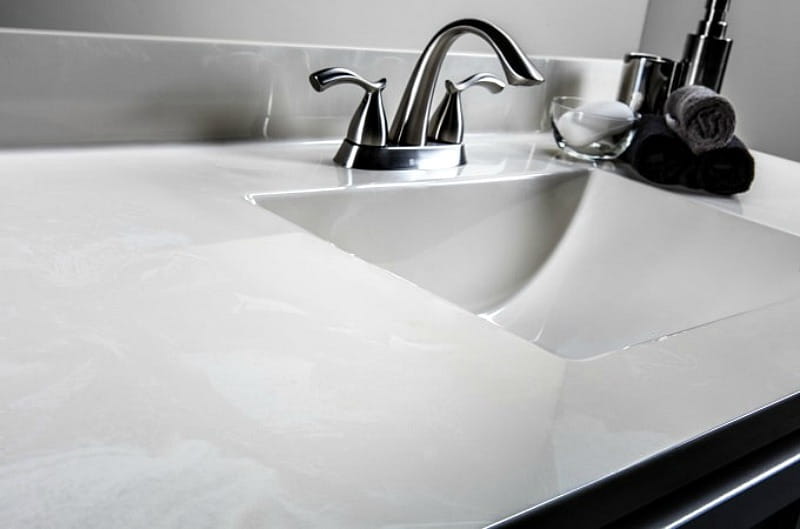 Image source: Wolf Home Products
So, what is it? What are the pros and cons, and how does it compare to other materials? You'll find answers to these and all your other questions in our comprehensive cultured marble review below.

On This Page
1. What Is Cultured Marble?
2. How is Cultured Marble Made?
3. Pros & Cons of Cultured Marble
4. Cultured Marble For Showers, Shower Pans & Tubs
5. Cultured Marble Countertops & Vanity Tops
6. Exploring Cultured Marble Colors & Design Options
7. Cleaning and Care for Cultured Marble
8. Cultured Marble Costs
9. Cultured Marble vs. Other Countertop Materials
10. Cultured Marble Installation Options Or Issues
11. Cultured Marble Manufacturers Near Me
12. Buy Cultured Marble Near Me
What Is Cultured Marble?
Cultured marble is a man-made material used for countertops, vanity tops, sinks, backsplashes, bathtubs, shower walls and pans that were extremely popular in homes built from the 1960s into the 1980s but is still widely used today, particularly in new home construction.
Cultured marble is faux marble. It is not a type of real marble. It was one of the first types of "engineered stone" countertops and, at the time, was seen as a big upgrade from laminate countertops. 
Today, many types of man-made countertops are on the market, such as quartz countertops, porcelain countertops, Dekton, Neolith sintered stone, solid-surface, and others. For this reason, you don't hear too much buzz about cultured marble anymore.
Cultured marble is very similar to but not the same as Corian countertops, which most consumers are familiar with. 
The name does confuse consumers. Although it is made with marble as one of its ingredients, it is not real marble or even similar except for some colors and patterns made to resemble natural marble. That was the original idea… to create a durable surface that looked like actual marble slabs.
Related Content About Cultured Marble: 
How is Cultured Marble Made?
Cultured marble is made by blending crushed marble (or engineered calcium carbonate) with polyester resin and pigments along with a catalyst. The mix is poured into shaped molds that produce countertops with integrated sinks and backsplashes, bathtubs, shower pans, and walls, or any shape desired.

Video: How Cultured Marble is Made

The color and pattern of the finished product are determined by the specific formulation, pigments used, and the manner in which the mix is poured into the molds during the casting process.  
The molds are also coated with a transparent gel coat that creates a durable, non-porous, and shiny surface finish, although a matte finish is also possible. 
Once the mix is in the mold, the catalyst initiates a chemical reaction that binds and hardens all the ingredients. The solidified material is popped out of the mold, trimmed, and polished to a shine ready for installation. 
A major benefit of this casting process is that it produces a seamless surface that can be made to order with specific dimensions, colors, and patterns. Most cultured marble colors are in the neutral range of white and beige, but any color is possible. 
Different formulations can also produce "cultured granite" and "cultured onyx," which, as you might guess, are made to resemble granite or onyx.
Pros & Cons of Cultured Marble
Cultured marble has many benefits and advantages which is why it has remained in demand for over 60 years. 
However, learning all about the disadvantages of cultured marble is equally essential to decide if it is the right choice for your project.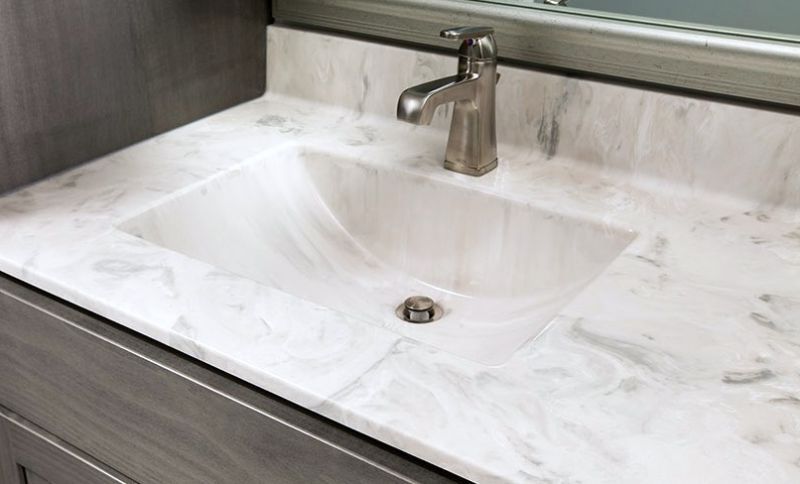 Image source: Custom Marble
Note: We cover in full detail all the cultured marble pros & cons listed below in expanded sections further along in the article. 
Pros: Advantages of Cultured Marble
Can customize colors, patterns, edges, and virtually any detail
Cons: Disadvantages of Cultured Marble
The above pros & cons list should give you a clear idea of the advantages and disadvantages of cultured marble. 
But now well dig into the nitty-gritty details of cultured marble showers, bathtubs, countertops, and vanity tops looking at cultured marble costs, colors, cleaning, refinishing, polish, sinks, edges, design, installation, manufacturers, and where to buy.
Cultured Marble for Showers, Shower Pans & Tubs
Are you tired of scrubbing your shower tiles and grout? Then consider a cultured marble shower stall. 
Cultured marble may not be as sexy as a natural Carrara marble, but it offers many benefits for your shower and shower base.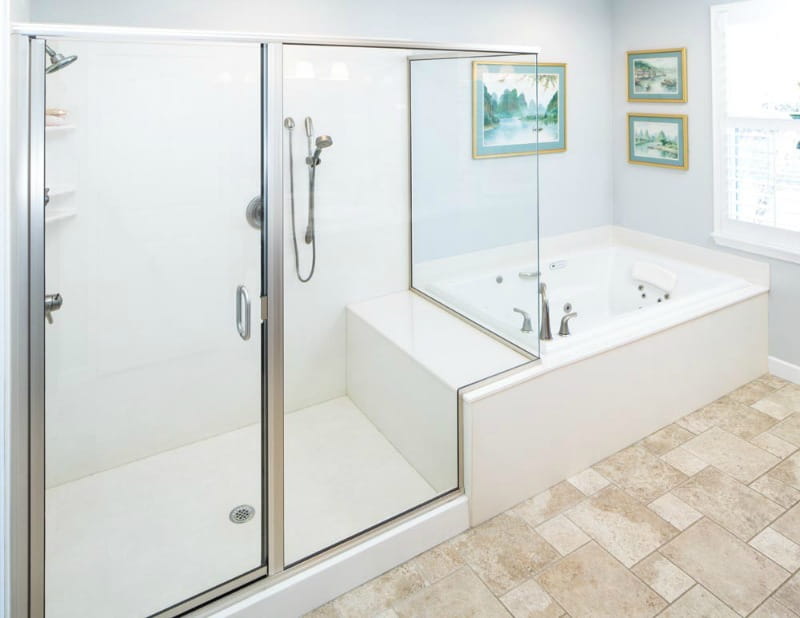 Image source: Custom Marble Inc.
Cultured Marble Showers Pros and Cons
The pros and cons of a cultured marble shower are essentially the same as those listed above for any cultured marble surface. But here's why you may consider it for your shower and tub surround over other materials or tile:
Shower Wall & Shower Pan Sizes
Cultured Marble Tubs
Bathtubs are commonly made from cultured marble, and like sinks and showers, they can be customized with various features, soap dishes, shelves, ledges, and jacuzzi jets!
Cultured marble tubs tend to be higher quality and more expensive than a traditional ceramic or porcelain tub and are available in many different shapes and sizes. 
Sheets for shower walls are also used to create cultured marble tub surrounds. Tub surrounds can be installed around any type of bathtub (i.e. it doesn't have to be a cultured marble bathtub).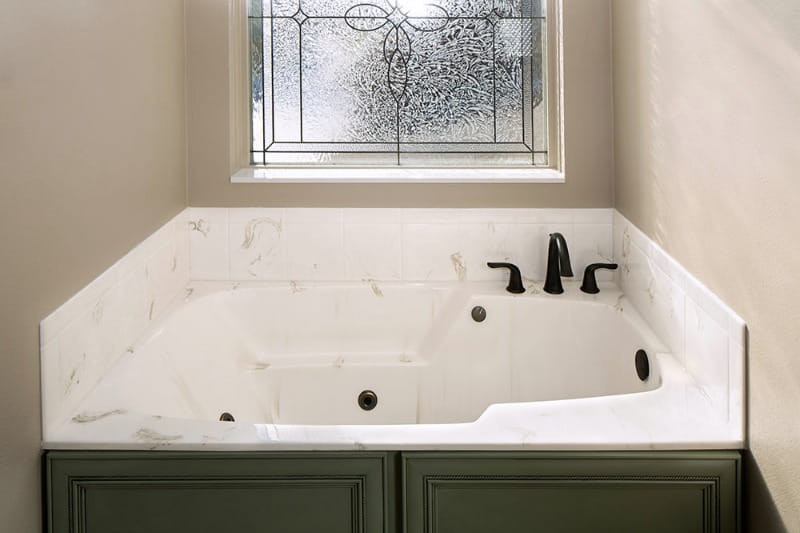 Image source: Custom Marble Inc.
Cultured Marble Countertops and Vanity Tops
The appeal of natural granite countertops and marble countertops lies in their beauty. However, the high cost of these materials may not be justified for your project. 
Cultured marble countertops are an attractive alternative giving you the best of both worlds - a surface that embodies the beauty of natural marble (or granite or onyx) but saves you money at the same time.
Plus, it's tough enough to stand up to heavy use, easy to maintain, repairable, and the non-porous finish makes cultured marble an extremely sanitary kitchen countertop.
Looks great, costs less...
Likewise, buying cultured marble for a bathroom countertop or vanity top can give you that expensive look and finish without making a big dent in your wallet. 
In fact, the most common use for cultured marble is for bathroom countertops and vanity tops. 
Don't forget that sinks of any size and shape can be seamlessly integrated along with a cultured marble backsplash. And custom colors are available. The flexible nature of this material means that you're able to get a cultured marble vanity top for any style, design, and aesthetic.
Many modern colors and patterns

Durable and low-maintenance

Easy-to-clean

Repairable

Seamless

Integrated sinks and backsplashes

Inexpensive and excellent value surface
If you want a great look but don't want to invest heavily in your bathroom remodeling or kitchen countertops, then cultured marble countertops may be a perfect choice.
Exploring Cultured Marble Colors & Design Options
As a man-made material, cultured stone offers myriad colors and patterns along with a variety of edge styles, finishes, sink shapes, and design choices. You can buy pre-made vanity tops or mix and match options to order for a customer cultured marble countertop.

Cultured Marble Colors
Cultured marble is commonly available in heaps of different color options to fit any modern design theme. Colors can be solid or with various types of heavy or light mottled patterns or veining. 
The most recognizable cultured marble pattern features swirls and undulating veins of color. 
You'll find classic and popular cultured marble colors, plus some wild ones such as: 
Whites in numerous different shades 


Earth tones such as Mexican Sand or Chocolate 


A range of grays and blacks like Charcoal 



Unique and striking green, blue, and red hues such as Seafoam, Cobalt, and Raspberry for a bold or retro look.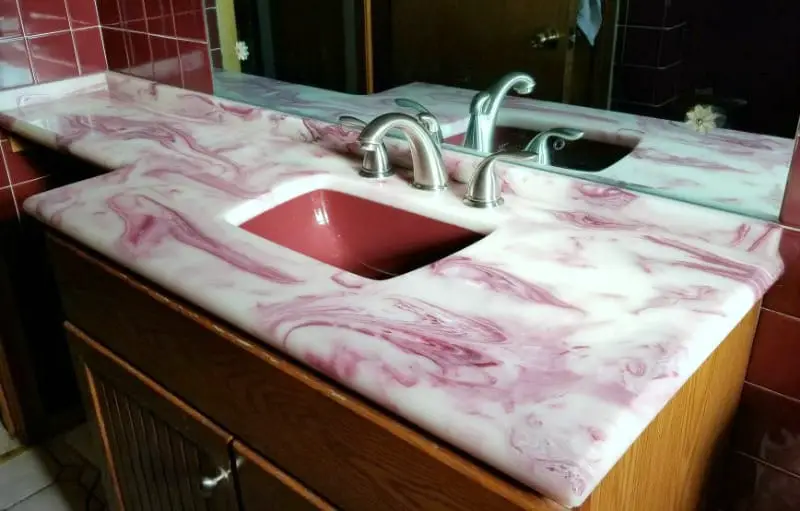 Image source: North Coast Marble
You have many manufacturers to choose from, with some boasting over 50 different cultured marble colors.

Matte vs. Gloss Finish
The final cultured marble product is glazed with a clear, protective gel coat which is most commonly polished to a shine but of any of the following types of surface finishes are available:
Generally, it looks best on lighter colors and for a more rustic or modern industrial design style. 
A matte finish also hides scratches a bit better than a gloss finish.
Cultured Marble Sink Shapes
An assortment of integrated sink styles is readily available with a cultured marble countertop or vanity. One advantage of a molded countertop material is that any design or shape can be created. 
Other options include a soap dish or a recessed rim encircling the sink to catch splashes and keep water in the sink rather than on the countertop surface.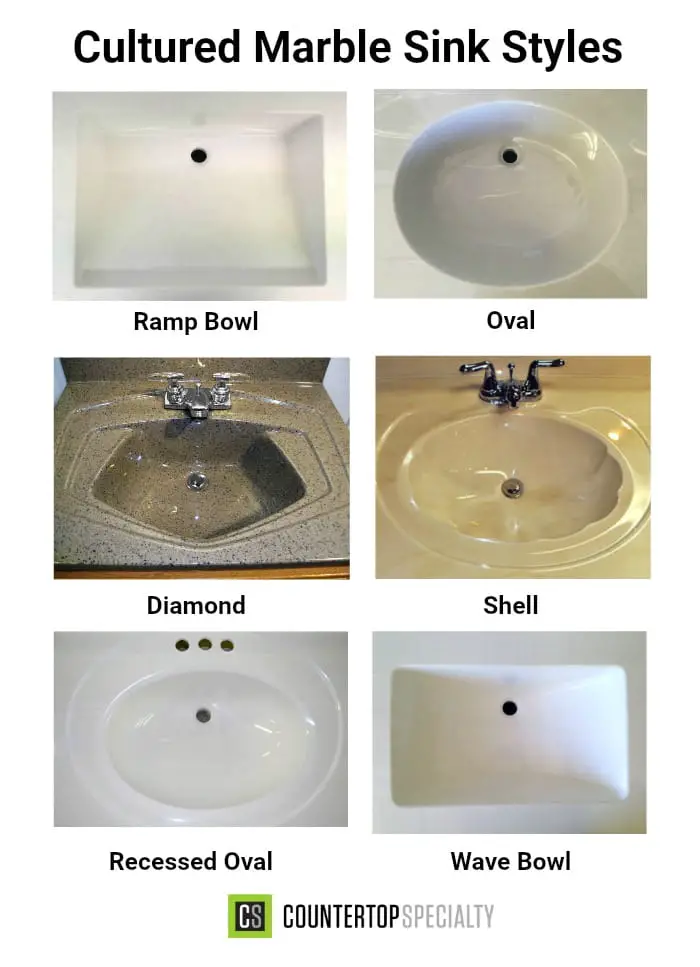 Common cultured marble sink shapes are:
Oval

Recessed Oval

Wave

Clam Shell

Jumbo

Diamond

Square

Rectangle

Bar Sink

Under-mount
Most cultured marble sinks are integrated or molded as one piece with the countertop, but using a separate sink of your choice is possible.
Separate sinks can be top-mount, vessel, or under-mount, just like any other countertop material.
Edge Styles
Like sinks, you have several edge style options. Note that edges are created as part of the mold, but specific designs can be ordered. 
Edge thickness is either ¾ inch or 1 ½ inch. A laminated edge (adding a strip to the underside) can create an even thicker edge but the thin edge is most common. 
So, no worries… when shopping around for cultured marble countertops, you won't want for design options.  
Premade cultured marble vanity tops come in a wide variety of colors, sink shapes, edge treatments, and sizes. These range from very small single sinks with hardly any countertop space to long countertops with double sinks and lots of space. 
Standard vanity top depth is 22 inches (but some at 19 inches for smaller spaces) with lengths running in standard cabinet sizes from 25 inches to 85 inches. 
Available options: 
Offset sink to one side

Integrated sink & backsplash

Drop-in or top mount sink

Corner sinks

Corner countertops

Curved front edge

Banjo Top (cutback that forms a shelf to the side like over the toilet)

Aprons (extends down vertically from the edge)
Cleaning and Care for Cultured Marble
With proper maintenance, and understanding how to clean cultured marble correctly, it can look great for years. But the trick, as with any material, is first to learn the proper cleaners you should use to condition and maintain the finish. 
Second, learn what causes damage and avoid that!   
Proper cultured marble cleaning requirements: 
Tips to avoid damage: 
Cultured Marble Restoration
When well-cared for and correctly maintained, cultured marble will look good for a long time.
However, the top gel coat can be chemically damaged by harsh cleaners, dulled by abrasives, may crack or pit (especially sink drains), turn yellow with age and neglect, or get scratched or burned.
Curling iron burns in cultured marble seem to be a common issue.
Repairing a cultured marble countertop, tub, or shower with just about any type of damage is possible as long as the gel-coat remains intact (it's only a thin layer). Which is why using only non-abrasive cleaners and non-abrasive pads or brushes is key.
You may wish to consult a professional, however, DIY cultured marble repair is relatively simple for most types of damage. It may involve a bit of a process, but doesn't require any special skills or tools.
Cultured Marble Costs
The cost of cultured marble is much less than most other shower tile or countertop materials. We'll detail the cost below for buying cultured marble for showers, countertops, or a vanity top. 
Please note that all costs mentioned herein are a general estimate. They can differ based on the manufacturer you are working with, location, and several other factors.
Cultured Marble Shower Prices
The price of a cultured marble shower depends on what sort of cultured marble, thickness, and manufacturer is selected. 
Also, note that shower panel walls and shower pans are priced separately.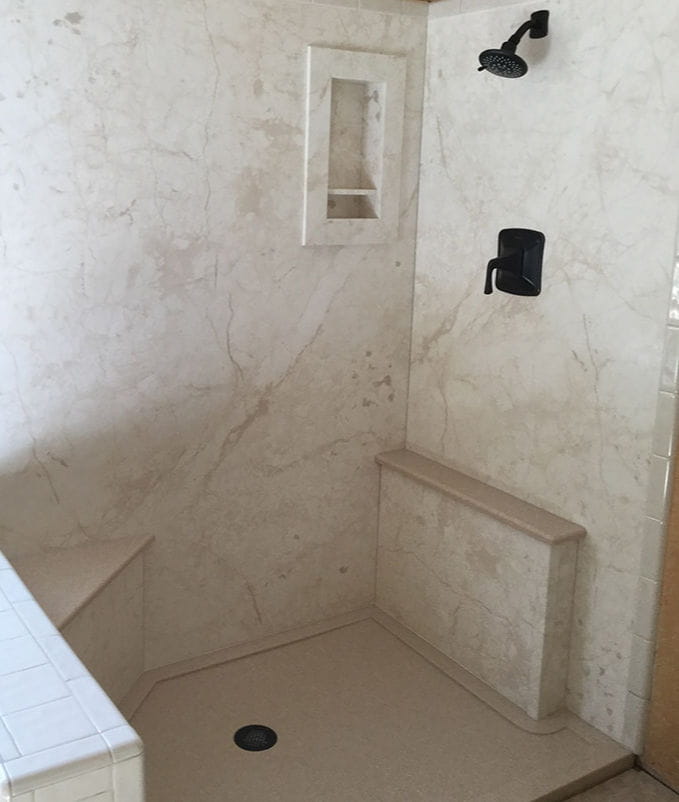 Image source: Innovative Building Solutions
Shower walls are cut to size from larger cultured marble sheets. Cultured marble shower pans are prefabricated to specific shapes and sizes (although custom orders are possible). 
Shower walls cost = $8 and $24 per square foot 

Shower pans cost = $300 – $600

 

Total cost installed = $800 - $2700
Of course, the total cost depends on the size of the shower and will also increase due to various details of your specific project like custom designs or upgraded features. 
Upgrades that can increase the cost: 
Soap holders

Shelves

Seats and benches

Custom shower pan shapes

Custom drain placement
You can save quite a bit going with a basic shower design and adding a shower shelf that hangs from the showerhead, etc. But even the most luxurious and lavish cultured marble shower with all the features will still be less expensive than a marble tile shower.
Cultured Marble Tub Costs
Although cultured marble is usually less expensive than other building materials for showers and countertops, a cultured marble bathtub tends to be more expensive than other options such as a porcelain or fiberglass tub. 
Here's how much an average cultured marble bathtub costs installed: 
Price of the bathtub = $600 - $1200

Cost of installation = $500 - $900

Total cost installed = $1100 - $2100
Cultured Marble Vanity Top Costs
The price for a cultured marble vanity top is based upon the square footage of countertop material plus the various options, sink types, and edge styles. 
Vanity top only prices = $75 to $620 

Installation cost = $75 to $300 

Total installed cost = $150 to $920
Installation costs vary with the size and complexity of the install, but labor is not that expensive since nearly every cultured marble vanity top has an integrated sink and backsplash. Thus, it is installed on the cabinet as a single unit - straightforward - and just needs to hook up the plumbing.
Example: 
For 12 sq. ft. (6 ft. vanity with two sinks) without any special options or difficult installation issues. 
$380 - $595 for the vanity top

$150 - $225 for installation

$530 - $820 (or $44 - $68 sq. ft.) total installed cost.
DIY installation is certainly possible for a reasonably handy homeowner saving the labor cost. Bathroom countertop costs are much more expensive for the most popular materials like marble, granite, and quartz. But tile can be cheaper in some cases.
Cheapest cultured marble vanity tops:
Amazon deals are the best on cultured marble vanity tops. Many choices for both single and double sinks. Ship direct and install it yourself or hire a handyman.
Wayfair cultured marble vanities can be cheaper in some cases and they have a great selection including full vanity cabinet and countertop.
Kitchen Countertop Costs
In truth, a cultured marble kitchen countertop is somewhat rare. As noted above, bathroom countertops made from cultured marble are the mainstay of this material. 
Why? It's easy for manufacturers to make bathroom vanity tops in a common range of sizes, with integrated sinks, etc. These are quick and easy to install, offering nice design features and durability at low cost. 
Kitchen countertop materials are made or cut to order, which can definitely be done with cultured marble, but that is not the sweet spot for cultured marble. 
Solid-surface countertop materials like Corian are incredibly similar to cultured marble, but manufacturing is geared toward kitchen countertops. 
Your typical countertop fabricator that installs granite, marble, quartz, or Corian countertops does not carry or install cultured marble. 
If you'd like a cultured marble countertop, then contact a cultured marble manufacturer to place a custom order and they can help arrange installation. 
The one advantage here is that cultured marble countertops can be customized more extensively than pretty much any other countertop material.
Cultured Marble vs. Other Countertop Materials
Hopefully, this comprehensive information in this article answers all your questions about cultured marble. 
However, you may be wondering how cultured marble stacks up compared to other types of countertops and materials. 
We'll cover the highlights below, however see our dedicated pages linked in each section below for complete comparisons. 
Cultured Marble vs. Marble
You may believe that cultured marble is a type of real marble, but that's not true, as explained above. 
Cultured marble is man-made with ground-up real marble dust. Although it is made to look like marble, these materials are noticeably different when comparing cost, value, and style, but share some similarities with cleaning, care, and repair.  
Again see our Cultured Marble vs. Marble article for in-depth details on all the above plus engineered marble, and cultured onyx.  

Cultured Marble vs. Corian Solid-Surface
Corian and solid-surface materials are the most closely related to cultured marble of all countertop materials with very similar properties all-around.
Corian colors, finishes, overall look and feel are comparable. However, the patterns are often dissimilar. 


Corian countertop prices are virtually identical to cultured marble, but Corian does have a broader range of costs and can be more expensive.


Cleaning and care for Corian vs cultured marble are nearly identical since both are manufactured with basically the same synthetic resins, stone particles, and materials. 


For daily Corian cleaning, the Stone Care Marble Cleaning Spray again is our favorite choice. It's en excellent cleaner for both natural stone and man-made surfaces. But Prello and the Magic Cleaner are made for Corian.



Use a polish like

Gel-Gloss

to maintain the gloss finish on Corian and cultured marble.


Repairing procedures for cultured marble and Corian and solid-surface is more or less the same (see the Cultured Marble Repair section above).



However, you can be a bit more aggressive with Corian since this solid-surface material is consistent full-thickness, whereas cultured marble has a core with a gel-coat protective film on top.  
The Cultured Marble vs Corian page has comprehensive coverage of all the above points and more.

Cultured Marble vs. Quartz Countertops
Both cultured marble and quartz countertops are "engineered" or man-made surfaces. However, they are made, look, and perform differently. 
Neither require sealing. However, both quartz and cultured marble can still stain or be damaged by certain cleaners and chemicals. 



Cultured marble is easier to repair. Scratches, stains, pits, chips, cracks, burns, and chemical damage to cultured marble can be removed or repaired so long as some of the gel coat remains.
Not so easy for quartz countertops. Pits, chips, and cracks are repairable, but burns and quartz countertop stains can be permanent.

Cultured Marble vs. Granite
When comparing cultured marble to granite, we see they do not have much in common except price, surprisingly, and that DIY repair of most damage is possible with both materials. 

Cultured marble and granite do not look alike. Although, they do make "cultured granite" vanities that look similar to some granites. 



Cultured marble colors are mostly earth tones with faint swirls but vibrant solid colors too. Granite comes in thousands of colors with a grainy appearance, veins, and fissures. 


Granite countertop prices are in the same range as a cultured marble vanity on average. But granite prices can go much higher for certain colors or be pretty economical for granite tile. 


Cleaning, care, and repair issues of granite vs. cultured marble are on opposite ends of the spectrum. Granite is more durable than cultured marble and will last longer in great shape with relatively minimal maintenance.


Granite often needs sealing. Cultured marble does not, but the gel-coat finish does need maintenance. 



DIY homeowner repair is possible on both granite and cultured marble in most cases, but again procedures are different. 
Granite is the "gold standard" so it's good to learn the detailed differences of Cultured Marble vs Granite.

Cultured Marble Installation Options & Issues
Installation is really simple and particularly easy if wall surfaces are square and flat. The wall color behind a cultured marble sheet should be flat white. 
Colored walls may show through light-colored cultured marble sheets. Dry fit each sheet to ensure it is cut to the correct size. 
Rub alcohol on the back of the piece to remove dust before applying clear 100% silicone caulk adhesive. I prefer using a no-drip caulk gun. You get much greater control than a squeeze tube.
Cultured marble vanity tops and countertops are made for homeowner installation, whereas other materials require professional installation. 
Many pre-made countertop and vanity sizes are available, or you can order a custom size with custom features.
Any cultured marble problems or issues you encounter are primarily related to quality control of manufacturing. Consistency of colors and patterns may vary, and if/when the best quality ingredients are not used, your product may not be as durable.
Cultured Marble Manufacturers Near Me
Here are a few well-known and reliable manufacturers of cultured marble products along with cultured marble fabricators serving your area:
Wolf Home Products

Carstin Brands

Architectural Concepts

International Marble Industries

North Coast Cultured Products

Fabricators Unlimited

Cultured Marble Products

Francisco's Cultured Marble & Granite

Sun Valley Marble, Inc

Gulf States Marble, Inc

Southern Cultured Marble
Buy Cultured Marble Near Me
Apart from the cultured marble manufacturers mentioned above, you can also buy cultured marble directly from national retailers.