How To Repair Cultured Marble
The Right Way

Cultured marble repair may involve a simple cleaning procedure or a multi-step refinishing process depending on the severity of the damage.

Cultured marble is a synthetic combination of marble dust, polyester resin, and pigments topped by a clear gel coat. It is not real marble.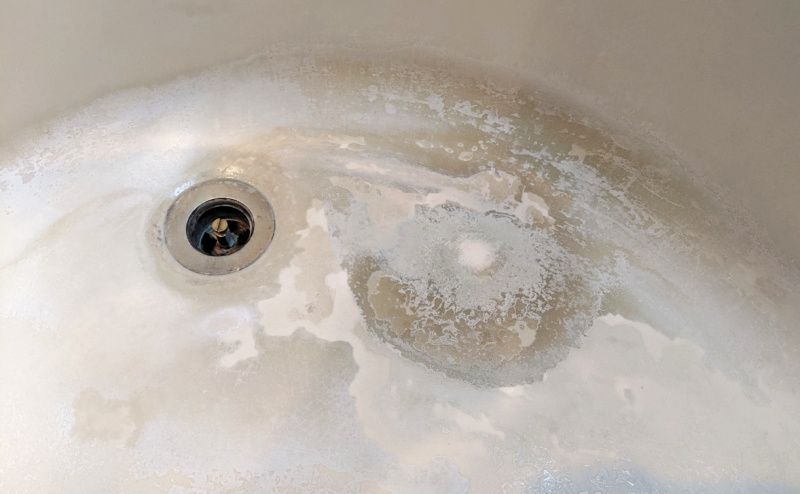 Damage around cultured marble bathtub drain
Over the years, cultured marble countertops, sinks, tubs, and showers can suffer damage such as pits, scratches, cracks, burns, stains, or yellowing which ruin the beauty and the usability of the surface or make it look dull.

CountertopSpecialty.com is reader-supported. I recommend only products I know and trust. When you purchase via links on this site I may earn a small commission at no cost to you. Learn more.
Can Cultured Marble Be Repaired?

Yes. Damage to cultured marble can be repaired to a nearly-new condition as long as the transparent gel coat layer on top is still intact. 

You can make DIY repairs, refinish, and polish the clear coating for pits, light burns, scratches, yellowing, and general dullness. 

However, once the protective coating is ruined, repairs become complicated.

The layer of color and pattern below the gel coat must be restored and matched. This repair is complex. Then you must apply a new gel coat patch or layer.

Thus, deep burns, deep scratches, cracks in the sink or bathtub drain, excessive wear, or anything that destroys the gel coat generally require professional repair and refinishing.

Related content on repairing cultured marble: 
Can Cultured Marble Be Polished?

You can polish cultured marble and make it shine again as long as the clear, protective gel coat is still intact. The coating is what makes it shiny. A cultured marble countertop, vanity, or shower may get dull over time from wear, harsh cleaners, or not correctly maintaining the gel coat.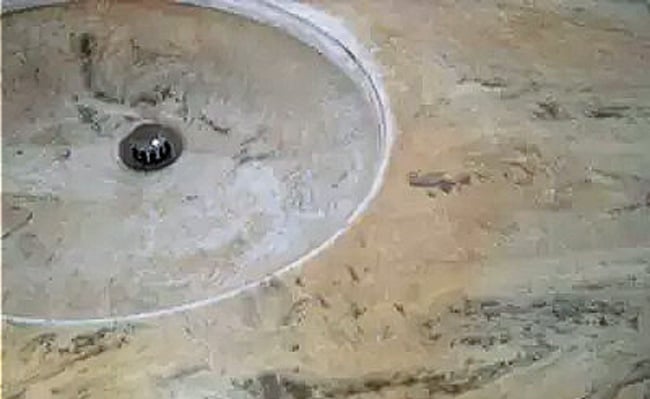 Refinishing a cultured marble vanity top and sink
Procedures for restoring the shine vary depending on how dull or damaged the finish is currently.
For slight dullness, apply a Topical Marble Polish or Gel Gloss cultured marble polish and buff to a shine with a microfiber cloth. 


For moderate dullness, apply an automotive "rubbing" compound by hand and buff to an even finish.


 Next, apply an automotive "polishing" compound and buff it to a shiny finish. 



Alternatively, use

these sanding and polishing pads

 which are great for restoring the shine to worn cultured marble finishes. 


For severe dullness, Try following the instructions below for removing deep scratches or this guide on How To Remove Burns in Cultured Marble. 
If the above methods do not make the cultured marble shine again, it's almost certainly because the protective gel coat layer has been worn away or too severely damaged from stains, burns, or deep scratches.

Or your cultured marble vanity is a newer variety made with a matte finish.

Keep reading below to learn how you can repair cultured marble chips, scratches, burns, stains, and yellowing.

But if the gel coat is gone or just too damaged, you'll need to hire a cultured marble refinishing professional to fix any problems, prep the base layer, and apply a new gel coat.

Cultured marble refinishing kits are primarily aimed at covering over or painting cultured marble vs. restoring the color, pattern, and look of the original countertop, cultured marble bathtub, or shower walls.
Repairing Scratches in Cultured Marble 

Most scratches are light finish scratches that come from sliding items on the surface under everyday use and are buffed out with the right product.

Don't use knives or tools on the surface, and avoid dropping heavy or sharp objects that could dent, gouge, or cause deep scratches. Don't use abrasive cleaners.
Removing Scratches on a High Gloss or Matte Finish

To remove fine scratches and restore the high-gloss shine on your cultured marble, try the following: 
High Gloss Finish: Invest in a power polishing-buffing tool to apply the Gel Gloss Product made specifically for polishing cultured marble.


Always use light pressure and check your progress often. 


Or use a quality automotive polishing compound.

Note: a "rubbing" compound is more abrasive, so don't start with that. If the Gel Gloss or "polishing" compound doesn't remove the scratch, then go back and buff with this "rubbing" compound followed by buffing with the "polishing" compound or Gel Gloss product.

Matte Finish: Use 1000+ fine-grade wet/dry sandpaper to buff out the scratches, marks, or stains. The above method for a "gloss" finish can work as well so long as you don't polish to a shine. Matte finish is not shiny.


Another good option is to use the Micro-Mesh Polishing Pads. These provide a step-by-step system to remove the scratch and restore the finish to either a matte or glossy shine.
Repairing Deep Scratches

It may be best to hire a professional repair technician for these more complex issues or other issues with your cultured marble shower or countertop. 
However, you have some DIY options that can work very well but require a process. 
Step 1:
Sand the scratch with 1000 to 1200-grit wet/dry sandpaper. Use light pressure and be very careful not to sand off all the gel coat. 
The gel coat is only 20 - 50 mils thick. One "mil" equals .001 inch, so it is super thin. If you sand through the gel coat, you may start sanding into the color layer. 

The color and pattern do not go all the way through a cultured marble sheet or countertop, so you risk creating a more problematic blemish that will require professional refinishing. 

Depending on the depth of the scratch, you may need to use 600-grit or even 300-grit sandpaper, but best to start with the super-fine 1200-grit paper first.
Step 2:

Next, apply the automotive "rubbing" compound by hand over the repair. 
Apply the compound using a power buffer with a quality pad for larger areas. Do not use much pressure to avoid thinning the gel coat.
Step 3: 
Buff with an automotive "polishing" compound by hand or with a power buffer and light pressure.
Step 4: 
Finally, apply a coating of Gel Gloss for cultured marble or automotive wax. 
Can Cracked Cultured Marble Be Repaired? 

Cracks in cultured marble can often be repaired. Fill small cracks with the Pit & Chip Repair Clear Gel. Large or deep cracks that run through the clear coating and into the core of the cultured marble sink or countertop, make DIY repair exceptionally challenging. I recommend hiring a pro for repairing large cracks.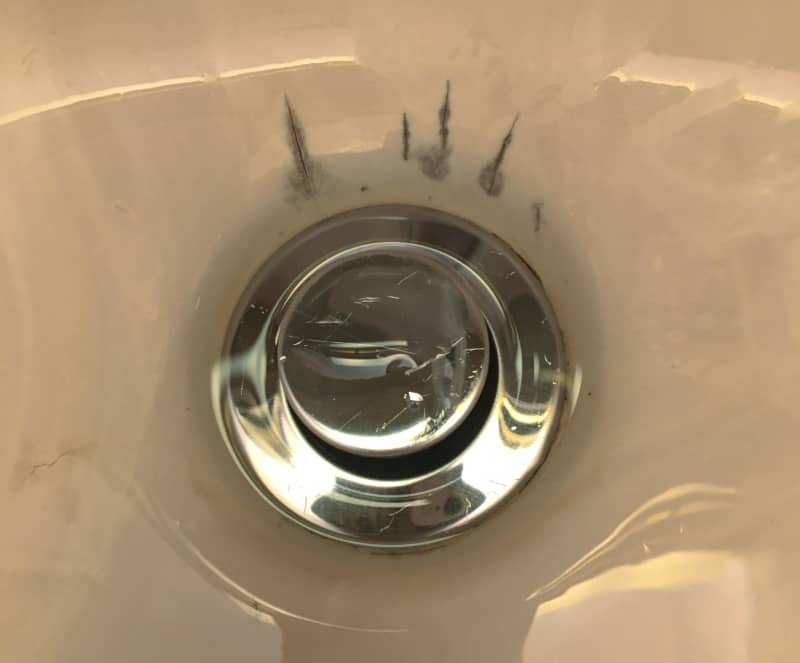 Cracks in cultured marble sink
The core is the mix of marble or limestone dust, hardened resins, and dyes for the base color. The characteristic swirl pattern is applied on top of this core. 
Again, you can fill small cracks with the clear gel acrylic recommended above. Although, this repair may remain slightly visible. 

The best option is to hire a professional cultured marble repair company for a complete repair. 

A pro will likely grind down the core until the cracks are removed. Then rebuild the core in that area using special products to match the color, pattern, and finish of the original. 
Why does cultured marble crack?

Cultured marble cracks usually occur in the sink due to "thermal shock" from hot water. 
This occurs when a cold surface is suddenly or repeatedly exposed to hot water. It seems crazy since hot water is often used in a cultured marble sink, tub, or shower. 

You can certainly use hot water. Typically, a crack will not develop with only one instance of hot water exposure. 

Cracks develop when a sink bowl or shower pan has experienced repeated exposure to very hot water (for instance, a man running hot water in a cultured marble bathroom sink to shave every morning). 

An impact from dropping something heavy on a countertop edge or corner could also cause a crack or chip. A professional (vs. diy kit) is the best option to repair such severe damage. 

However, you can quickly repair or fill a small pit or chip with DIY products (see Pit section below). 
Fixing Pits & Chips

Shallow pits can often be sanded out and repaired just like a scratch. However, you need to fill deeper pits or chips in vanity tops or edges.
The easiest method to fill pits is to use a clear Pit & Chip Repair Kit, which allows the color and pattern to show through for a nearly invisible repair. 

For deep pits or chips that go all the way through the clear coat and color layer, you'll want to fill these with a color-matched epoxy. This repair will be visible. 

Or hire a professional to try and match the color and pattern better. 

Burn Mark Removal

Cultured marble is burned rather easily as it is basically a hard plastic. Curling irons are a common culprit on a bathroom vanity along with cigarettes. 
Burns can be removed in most cases with a bit of elbow grease. 

Follow these step-by-step instructions for removing burns in cultured marble. 

Sometimes it's an easy fix. More severe burns require an involved process that is still suitable for a DIY project if the top layer gel-coat is still intact. 

If the burn has destroyed the top coating, then professional repair is required. However, the above page link provides complete details.

Removing Stains & Yellowing

Since the factory-applied fiberglass gel coat is non-porous, it is exceptionally stain-resistant. Typically stains do not occur unless that coating is worn or damaged in some way.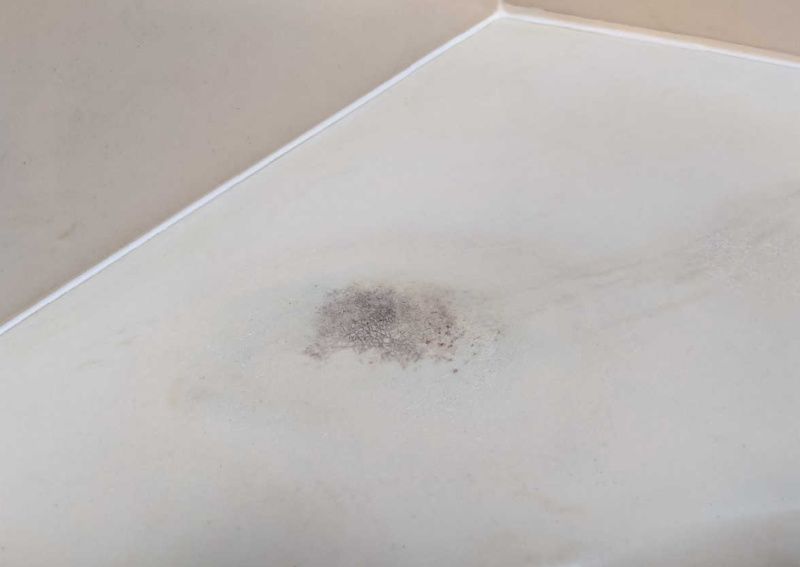 Stain on cultured marble bathtub surround
But if you do stain your cultured marble counter, you may have luck removing it by the following method: 
First, use a quality marble cleaner and a non-abrasive pad. Soap should not be used as a regular all-the-time cleaner as it will build up a dull grimy film no matter how much you rinse.


If that doesn't work, try cleaning with denatured alcohol. 


Lastly, cover the stain with a cloth or paper towel soaked in hydrogen peroxide and let it sit for a few hours, but check it regularly for possible damage to the finish. 
Hydrogen peroxide (like vinegar which is often recommended to clean cultured marble) is acidic, and sometimes acids or high-alkaline cleaners can damage the cultured marble surface. 
Always test any product or chemical you intend to use on a more hidden area to ensure it won't damage or discolor your cultured marble or cultured granite. 
For removing hairspray, nail polish, or ink, try the first two steps above (marble cleaner or alcohol). 

If neither works, try wetting a cloth with acetone and rubbing but only after carefully testing in a hidden area. Be sure to rinse and clean thoroughly with soapy water to eliminate all acetone residue.

Remove Yellow Discoloration

To repair cultured marble that has yellowed over time, you can try scrubbing it with a non-abrasive pad and a diluted bleach solution.
See our How To Clean Cultured Marble That Has Yellowed guide for complete instructions. You must use bleach carefully. The above page has all the details.
FAQ: Cultured Marble Repair & Refinishing

Does cultured marble scratch easily? 

Yes. Cultured marble is made with resins and ground limestone covered with a clear protective coating. Essentially it is hard plastic, so it does scratch easily. You can buff out light scratches from sliding objects with polishing compounds, but deep scratches or cuts require a more extensive repair and possibly professional help.
Can cultured marble be sanded?

Yes, you can sand cultured marble with extremely fine sandpaper (1200-grit) to repair scratches, remove stains or burns, and refinish the surface. Be cautious not to sand through the clear topcoat. This protective coating must remain intact in order to polish the finish back to its original shine. Follow instructions provided above.

Can cultured marble be reglazed?

Yes, it is possible to reglaze cultured marble with a new transparent protective gel coat layer. This procedure is needed only if the original topcoat was severely damaged or removed as part of an extensive refinishing process. 
I recommend hiring a pro, but you may get equally good results by applying this clear epoxy coating.
Can you change the color of cultured marble?

You cannot change the original pattern and color of cultured marble, which is baked into the core and covered with clear acrylic. However, you can change the color of cultured marble by painting it or applying an epoxy coating to cover the entire original surface. 
Can cultured marble be painted?

Yes, cultured marble countertops can be painted to change the color and pattern. You must use special paint for cultured marble for a durable and stylish finish. But you can do it yourself.
You can repair cultured marble in most cases by following the DIY procedures outlined above to fix the specific type of damage. Once repaired, apply a polish periodically to maintain the shine and color.