Cultured Marble vs Corian vs Quartz
vs Granite in 2023
You may have heard of cultured marble, but it's not surprising if you don't know much about it even though it does have extensive use and appeal and could be exactly what you want for your kitchen or bathroom countertops.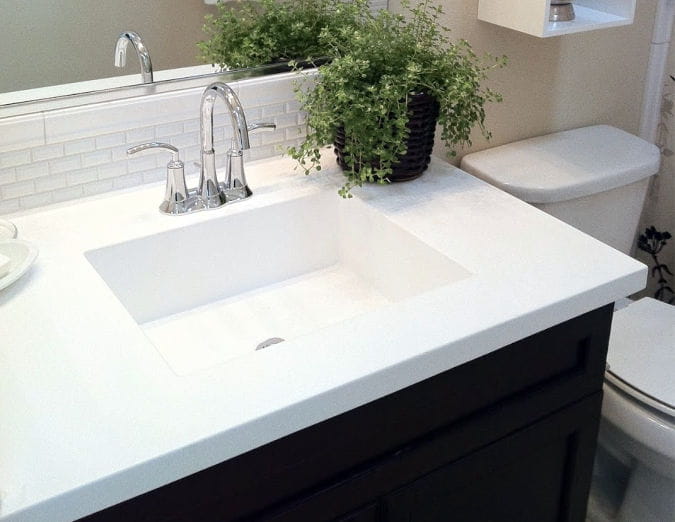 Image source: California Crafted Marble | Cultured Marble Vanity Top
So let's compare cultured marble vs Corian vs quartz vs granite and solid-surface to see which of these popular countertop materials is right for your home remodeling project.

You may also like our Cultured Marble vs Marble comparison.
CountertopSpecialty.com is reader-supported. We recommend only products we know and trust. When you purchase via links on our site we may earn a small commission at no cost to you. Learn more.
Cultured Marble vs Corian
Corian countertops are the most closely related of all countertop materials to cultured marble.
Both are made by mixing natural stone (marble, limestone) dust or aggregate and/or natural minerals with polymer resins to form a seamless solid-surface countertop.
Cultured marble was the original version of an "engineered countertop" followed shortly after by Corian, and then quartz countertops. These days several additional types of man-made countertops are available.
Laminate countertops are actually the first "man-made" countertop material, but for whatever reason are not considered in the "engineered" category.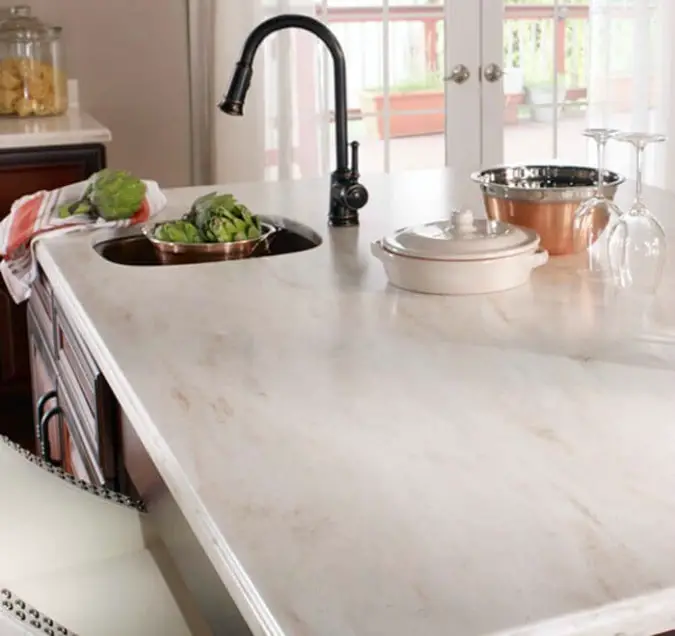 Image Source: Corian | Corian countertop color Witch Hazel
Corian and other solid-surface countertop brands have largely surpassed cultured marble in popularity as the look is a bit more modern. However, cultured marble vanities and countertops remain in demand.
Colors: Cultured Marble vs Corian
Corian and cultured marble can be identical in overall look & feel, finishes, and colors. However, the majority of patterns are different. Corian offers a bit more variety and has a more modern and refined appearance. 
Cultured marble and

Corian colors

share a similar palette with well over 100 colors from white, beige, and brown to gray and black, blue, green, yellow, and red. 


Corian solid-surface offers more pattern options than cultured marble.


Corian patterns are plentiful, but the vast majority are grainy, speckled, or pebbled patterns reminiscent of granite. A few designs are nearly identical to common cultured marble patterns, though, with marbleized swirls and veins.



Corian surface finishes come in matte, semi-gloss, and gloss, which are the same for cultured marble.
Cost: Corian vs Cultured Marble
Corian countertop prices have a wider range than costs for cultured marble, but the average Corian cost is essentially identical. 

Corian countertops installations run from $35 to $100 per square foot. 


Average Corian countertop costs are $45 - $65 per square foot. 


Cultured marble countertops go for $44 - $68 per square foot.
The reason Corian countertops could cost as much as $80, $90, or $100/ psf is that Corian is commonly installed as kitchen countertops that typically are more complex. 
Also, costs increase when the countertops are heavily customized with various shapes, sizes, unique edge styles, etc.
Care & Cleaning: Cultured Marble vs Corian
It's not surprising that cleaning and maintenance requirements of cultured marble vs Corian are nearly identical since both are manufactured with basically the same materials and resins. 
Use this Gel-Gloss Polish to maintain the gloss finish of both cultured marble and Corian. It is made just for these types of surfaces.
Avoid contact with drain cleaners, oven cleaners, paint strippers, acetone and nail polish remover, and acidic or caustic cleaners. 
Both are non-porous and do not need sealing. However, surface stains are still possible.
Learn more about how to clean cultured marble correctly in our comprehensive guide.
Repair & Refinishing: Cultured Marble vs Corian
Note that Corian is one solid, consistent material through the full thickness, whereas cultured marble has a solid core with a protective gel coat applied over the top. 
This does impart a slightly different look to each countertop material. But mostly, it is significant when it comes to repairing. 
Scratches and burns can be removed by sanding away the blemish. However, you must be much more careful when repairing cultured marble to not sand through the gel coat. 
Corian countertops can be sanded more aggressively since the color, pattern, and texture run through the entire thickness of the slab. However, sanding a "gloss" Corian finish will dull the finish and require more work to get the shine back. 
Stains, pits, and cracks can also be removed, filled, or repaired on both materials using the same methods.  
Now, it's essential to understanda few terms that often get mixed up when comparing Corian and cultured marble… "solid-surface" and "acrylic."
Cultured Marble vs Solid-Surface
The comparison between solid-surface materials and cultured marble is the same as cultured marble vs. Corian. 
Corian IS a solid-surface material. 
Solid-surface is a class or type of countertop material (as are "quartz countertops" or "laminate countertops" for example) that is made in a certain way with specific performance characteristics. 
Corian is the biggest and most well-known brand, so it often seems like Corian is a unique material unto itself, but many other companies make solid-surface countertops. 
To be fair, Corian did invent the solid-surface countertop formula, but once their patent expired, other brands jumped in to make a nearly identical material.  
So, all the pros & cons and differences noted in this article about Corian versus cultured marble equally apply to cultured marble vs solid-surface. 
And how about acrylic countertops...
Cultured Marble vs Acrylic
Likewise, comparing cultured marble vs. acrylic surfaces is precisely the same as comparing cultured marble vs. Corian and vs. solid-surface. 
An "acrylic" countertop IS a solid-surface countertop. 
Corian is a solid-surface countertop made from acrylic as are nearly all other solid-surface brands such as these: 
Corian (Dupont)

Wilsonart

Swanstone

Formica

Samsung Staron

HI-MACS

Meganite

LivingStone
It's all the same material. Contrasting cultured marble vs. Swanstone, or Wilsonart, or any other solid-surface brand is the same as comparing it to Corian as detailed above. So, anytime you read "Corian" you can insert "solid-surface" or "acrylic," etc. 
A few solid-surface brands make polyester solid-surface countertops instead of using acrylic, but the majority use acrylic for better performance and for creating a seamless look.

Cultured Marble vs. Quartz Countertops
Both cultured marble and quartz countertops are "engineered countertops" or manufactured surfaces like Corian and solid-surface too. However, they are made, look, and perform differently. 
Colors: Cultured Marble vs. Quartz
Cultured marble and quartz countertops can look almost the same in some cases, but quartz has a much wider range and variety of colors and patterns.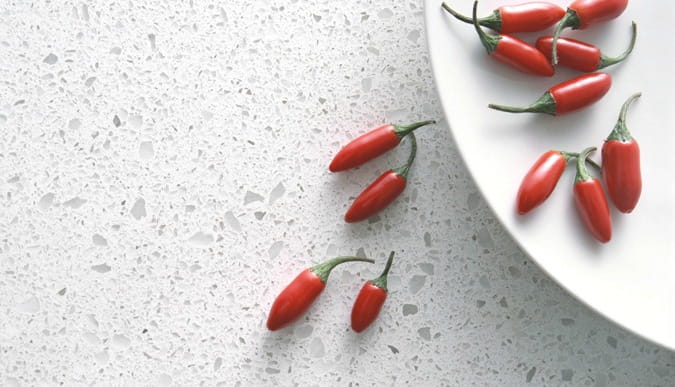 Image Source: Caesarstone | Caesarstone quartz color Nougat
Cultured marble mainly has marble-like veined and mottled patterns in soft whites and earth tones. Although blacks, blues, greens, unique bright colors, and solids are also available. 



Quartz color palette favors whites, tans, and grays, but any color is also possible. Quartz patterns mainly mimic the look of natural stone and, in particular, granite, but many also look like marble or concrete. 
Cultured marble is a solid-surface without seams (up to a 12 ft. run), so most cultured marble countertops will not have seams.
 
Quartz countertops are made in slabs about the same size as granite slabs (approximately 60" x 120"), and generally, countertops will have seams.
 

However, it's worth noting that quartz is used far more often for kitchen countertops where longer runs are needed, and seams are unavoidable. Cultured marble is primarily used for bathroom vanity tops and showers.  
Cost: Quartz vs. Cultured Marble
On average, the cost of quartz countertops is significantly more than cultured marble.  
Quartz countertops costs go from 

$45 to $125

 per square foot installed. 
The average quartz countertop installation costs 

$65 - $85/sq. ft.

 which is well above the average price of a cultured marble vanity ($44 - $68 psf) and can be nearly double.
Care & Cleaning: Cultured Marble vs. Quartz
Maintenance requirements for quartz and cultured marble are remarkably comparable. Mainly this is because both are made with resins that are sensitive to certain types of damage.

Both materials are non-porous and do not need sealing.
 
However, dyes and some food items will still stain both quartz and cultured marble.


Both will be damaged by certain strong chemicals. Bleach, acetone and solvents, drain cleaners, oven cleaners, and acids are all possible culprits.


Quartz is highly scratch-resistant. Cultured marble is not and can be scratched. 


Cultured marble also burns easily. Quartz resists heat much better but can still be burned or scorched by hot pans.
 
Both surfaces can pit, or chip, or crack from impacts. 
Even though quartz countertops and cultured marble can suffer the same type of damage, quartz is more durable and will hold up better over the years.
Repair & Refinishing: Cultured Marble vs. Quartz
Cultured marble comes out the winner when comparing "repairability" versus quartz.  

Scratches, stains, pits, chips, cracks, burns, and chemical damage to cultured marble can be removed or repaired so long as some of the gel coat remains. 
Not true for quartz countertops. Pits, chips, and cracks can be repaired, and surface food stains can be removed, but burns and quartz stains from chemical discoloration are usually permanent.
Popularity of Man-Made Countertop Materials
It's interesting to note in the evolution of countertop materials that cultured marble was once a premium surface. 
Cultured marble was then supplanted by Corian and solid-surface as a more advanced and desirable surface. 
For a long time, Corian was considered a luxury countertop material, then along came quartz. Corian is still an excellent surface that fits somewhere in between laminate and granite on the luxury scale. 
Related Content:
Quartz countertops have gained a dominant position as the most popular man-made surface. Of course, natural stones like granite and marble are massively popular as well, and the debate rages about which is more popular granite or quartz. 
Today only natural stone (granite, marble, etc.) and man-made stone countertops like quartz countertops are considered truly "luxury" materials, but that doesn't mean that a cultured marble vanity or countertop isn't perfect for your needs.

Cultured Marble vs Granite
Many would argue that granite is the best performing countertop material all considered. And granite tile is hard to beat for floors, showers, and walls too.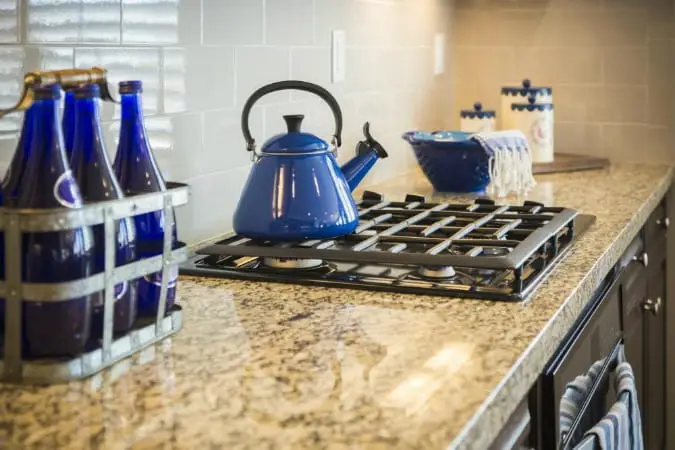 Santa Cecilia Granite Countertop
However, cultured marble does have some advantages, so it depends on the needs of your project. 
Colors: Cultured Marble vs Granite
Granite countertops look decidedly different than cultured marble. They share some of the same overall colors but not patterns.

Cultured marble primarily leans toward a light color palette with subtle, mottled, or feathery veined patterns. It's a softer look.
Granite typically has a distinct and grainy or pebbled pattern that may be very consistent or with dramatic contrast, variations, undulations, or movement along with fissures and veins.
Cultured marble has maybe 100 colors and patterns across all manufacturers, and most are in the white, beige, and gray range. However, any color is possible, including deep vibrant hues or completely solid colors.  
Note: Some manufacturers do make "cultured granite" as well that does have speckled or grainy patterns made to resemble granite. Cultured marble and cultured onyx are much more prevalent, though. 
Cost: Granite vs. Cultured Marble
Surprisingly granite and cultured marble are similarly priced at least when comparing the more common and inexpensive granite colors. 
Thus, many granite installations can be as cheap as cultured marble. But on average granite is more expensive.
Granite countertops cost range from $35 to $125 per square foot installed and can go as high as $200. 
The average granite countertop installation costs $45 - $65/sq. ft. which is the same price range as a cultured marble vanity ($44 - $68 psf).
Care & Cleaning: Cultured Marble vs Granite
Granite does have its share of maintenance issues, but overall, durability long-term is really where granite outshines cultured marble. 

Granite is porous, and most countertop and tile installations will need sealing to prevent staining. However, darker granite colors are often exceptionally stain-resistant and do not require sealing. 
Cultured marble is non-porous, does not need sealing, and is exceptionally stain-resistant, but can be stained by hair dyes and the like. 
Cultured marble needs regular application of

Gel-Gloss Polish

or automotive wax to maintain its shine and luster. Granite does not. 
Repair & Refinishing: Cultured Marble vs Granite
Most damage to granite and cultured marble can be repaired. DIY procedures work for both, and both can be professionally repaired and restored to a nearly-new condition in most cases. 
However, granite will stand up to heavy use without showing much wear for many years… decades even. 

With diligent, proper care (using the right cleaner, buffing with Gel Gloss, guarding against scratches, burns, stains) cultured marble can remain in good condition for a long time, but it is just not as robust as granite.
Cultured Marble vs Laminate
Laminate countertops were the original manufactured countertop coming to market in the early 1900s. So, laminate may seem very old-school, but this countertop material has continually improved, has many fans, and still enjoys high demand.
Although cultured marble and laminate are made and look quite different, they do share many of the same performance characteristics. 
But without doubt, laminate countertops provide the most bang for your buck of all countertop materials.
Pros & Cons of Cultured Marble vs Laminate
Laminate has far more colors and patterns than cultured marble.


Cultured marble has a high gloss finish where laminate typically has a matte or satin finish.


Cleaning requirements are similar. Use pH neutral, non-abrasive cleaners (although laminate can stand up to some abrasion). 


Better Life Cleaner is a top choice for use on both surfaces. 


Both are highly resistant to stains but not stain-proof (no surface is really).


Both can be scratched, chipped, and burned rather easily.


Damage to laminate is generally not repairable. However, cultured marble can usually be repaired to like-new condition.



Cost of laminate is far cheaper at

$5 - $40/sq. ft.

installed vs.

$44 - $68

for cultured marble.


Cultured marble countertops are seamless. Laminate will have seams.



Laminate countertops can be installed in any size range - large kitchens or for small bathroom countertops - where cultured marble has more fixed sizes and is used mainly for bathroom vanities.
Conclusion
Comparing cultured marble vs Corian, solid-surface, and acrylic reveals that these types of countertops are the most closely-related across the board - look and feel, cleaning, care, cost, and repair. 
Cultured marble vs. quartz countertops is a different story. Quartz is far more expensive and with more sophisticated colors. Cleaning requirements are about the same, though.
Quartz is generally more durable, but any damage may be permanent, and cultured marble is often easier to repair. 
Surprisingly, the costs of cultured marble vs granite are close for the average countertop installation. But that is where the similarity ends.
Granite wins out over cultured marble (and most other kitchen countertop materials) for long-term durability, ease of care, cleaning and repair, range of colors, style, and real estate resale value.  
Comparing cultured marble vs laminate countertops is a tough call that will likely come down to personal taste in colors and design, but also budget as laminate is the cheaper countertop material. 
Related content on cultured marble: