DuPont Zodiaq Quartz Countertops
Buyer's Guide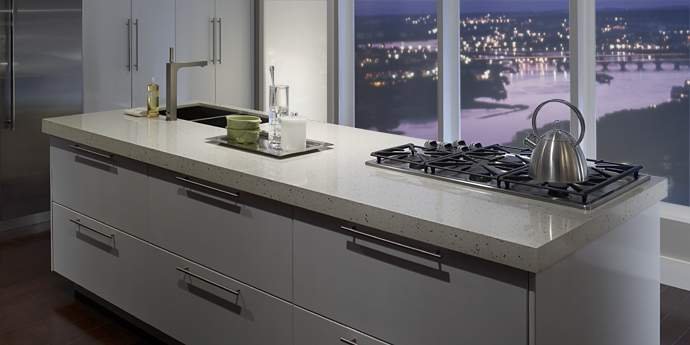 What is a Zodiaq countertop? Zodiaq is the brand name of quartz countertops made by DuPont. DuPont also makes Corian which is the most well-known brand of the "solid surface" type of countertop.
In the following guide, we'll explore the pros and cons, colors, cleaning, and cost of Zodiac quartz for bathroom and kitchen countertops.
Quartz countertops are a man-made stone surface combining natural quartz (an element found in granite) with binding resins and colored dyes.
This process forms a very hard and durable surface that is similar to granite in look, feel and performance. 
DuPont Zodiaq is but one of many different brands and companies that make quartz countertops, however, all are essentially the same countertop material manufactured in the same manner.
Individual brands put their own spin on the formula adding different elements like glass and metal to create unique looks and colors, but all still follow the process for creating engineered stone developed by Brentonstone® in 1963 and licensed to all quartz manufacturers.

DuPont recently rebranded Zodiaq to "Corian Quartz" which is confusing because Corian solid-surface countertops are a completely different type of countertop material vs. quartz.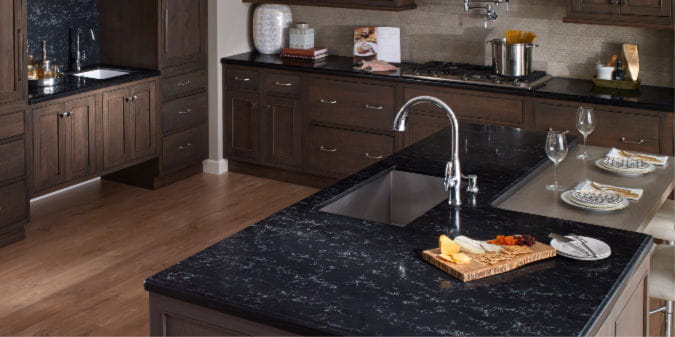 "Corian" is virtually synonymous with "solid surface" and people inside and out of the industry often say "Corian" to mean solid-surface in the same way we say "Kleenex" for facial tissue.
So the Corian brand now applies to both DuPont quartz and solid surface countertop materials.
Silestone, Caesarstone and Cambria are other brand names marketed by different companies with Silestone by far the leader in the market with the most distributors, more efficient production, and more colors to choose from.
Deciding which product or company to buy from will likely come down to color choices and availability from you local fabricator or distributor. Depending on your area, it may be more difficult to find a certified Dupont Zodiaq installer than say a Silestone installer.
With many reasons to choose quartz countertops, Zodiac counters are a great fit for anywhere in your home: kitchen countertops, kitchen island, bathroom vanity, wet bar or wine cellar and even for a backsplash.
However, quartz countertops cannot be used for an outdoor kitchen as the dyes in the resin will fade and turn yellow with exposure to sunlight.
Zodiaq Quartz Countertop Colors
50+ Zodiaq quartz colors are currently available including whites, tans, ocean blues, rusty reds, sea greens and blacks.
Patterns are similar to Silestone and Cambria in that most Zodiac counters have consistent patterns across the entire surface. These may be grainy or pebbled patterns of various size or more mottled and veined patterns.
Comparing these to the infinite variety of granite patterns, quartz countertops can seem a bit limited, but they are making more and the current lineup offers a bunch of design options.
New additions include several quartz colors that look like marble such as Zodiaq Calacatta Natura, Coarse Carrara, and Blue Carrara (seen below).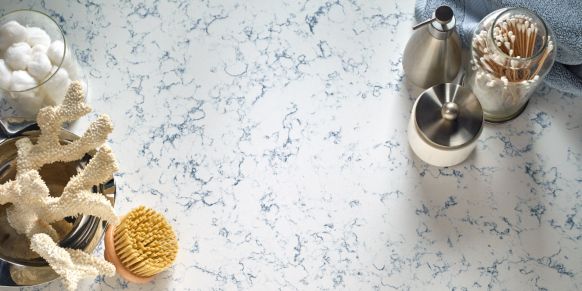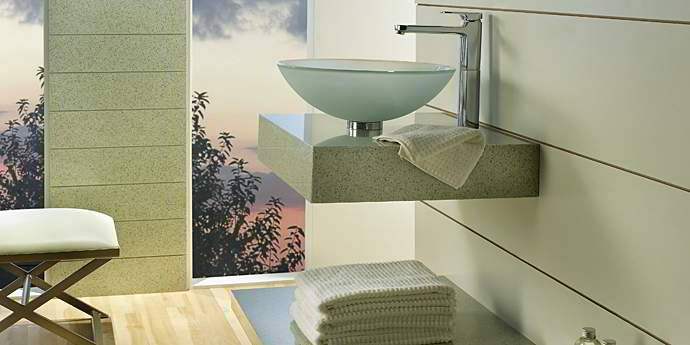 The main difference vs. granite is that you won't find as many patterns with "movement" like if you like that.
However, many people prefer the same pattern over the entire countertop surface without the random anomalies sometimes found in granite.
And one advantage is that Zodiac counter top slabs can be easily matched up without a shift in the pattern or color that can happen with granite at the seams. This makes for a less-visible seam. 
Dupont Zodiaq Care & Maintenance
Resistant Not Invincible. Zodiaq countertops are extremely resistant to chemicals, heat, and scratching (just like granite), but they are not heat and scratch-proof and can be damaged by intense heat which may burn the resin.
Certain chemicals can also cause quartz countertop stains by discoloring the resins (often permanently) used to make Zodiac counter tops. 
It's impossible to list all that will or won't damage quartz, but many are common household cleaners. See our tips below. 
Many believe that quartz countertops are basically indestructible and nearly maintenance-free, but that is not really accurate.
A Quartz countertop is an excellent and durable surface, but no surface is perfect. All countertop materials are susceptible to damage in one way or another.
This may sound like all you're able to do is "look" at your beautiful countertops but, don't worry.
The truth is that you would have to try very hard and be very neglectful to do any real damage to quartz countertops, but it is possible, so....
Here's how to clean Zodiaq countertops...
Always use cutting boards for food prep, trivets under hot pots and pans and wipe up spills before they dry.
Daily cleaning is a snap. Hot water and a sponge are sufficient for keeping things tidy followed by an appropriate cleaner on a daily or as-needed basis. 
It's best to use a quality natural stone cleaner. Since the major component of Zodiac counters is quartz (a natural stone element), it makes sense to treat it like granite and avoid potential damage from use of the wrong cleaner.
Do not use abrasive powders such as Comet or abrasive scratch pads.
Do not use bleach or other common household cleaners which may be too caustic and discolor a quartz countertop. 
Do not use any solvents like acetone.
For more Do's & Don'ts and general bath & kitchen countertop maintenance, go to Care & Cleaning.
Zodiaq Cost
The installation costs of Dupont Zodiaq counters run very similar to granite. Prices can vary quite a bit depending on specific color, edge style, surface finish options, the number of sink, faucet and cooktop cutouts, etc.
Expect prices between $65 - $75 psf on average

for Zodiac countertops, but costs can range from $45 - $120 per square foot.
Also, prices and averages can vary based on the region of the country.
Zodiaq vs. Granite

It's All Marketing. All quartz manufacturers highlight the benefits of quartz vs. granite which is the standard all countertop materials are measured. 
Zodiaq and quartz counters in general do offer many great features. The main point is that quartz is non-porous and doesn't need sealing. Granite typically will need a sealer.
However, this doesn't mean that quartz cannot be stained. As noted above it can and such stains can often be permanent. Stains in granite can usually be removed.
So, there are trade-offs as with any countertop material. 
All considered... There isn't any significant difference regarding performance, function, cleaning or price between granite and Zodiaq or other brands of quartz countertops.

Once this is understood, the decision between granite and Zodiaq countertops comes down to color, pattern, and perceived value for most buyers.
Value & Options. As mentioned Zodiaq quartz countertops have a limited color palette compared to granite, but a broad palette is available to suit most design themes.
Granite enjoys a greater "prestige," if you will, due to it's natural uniqueness and, therefore, a greater perceived value.
A healthy debate continues on this point as quartz countertops are immensely popular, but granite still sets the bar and tends to yield the highest ROI when selling a home. In truth, quartz is only behind by a nose on this point, if at all so it shouldn't be a major point of decision. 
Zodiaq quartz is a fantastic choice for bath and kitchen countertops with qualities as good as granite. So if you find that perfect color and pattern from Dupont Zodiaq, then you can bet you'll be very satisfied.
For more on quartz vs. granite vs. corian go to: counter tops materials comparison page.
All images courtesy DuPont Zodiaq / Corian Quartz