Remove Water Stains on Carrara Marble
QUESTION:
We are getting water stains that we cannot clean off.
How do you remove water stains from Carrara marble?
ANSWER:
Water stains cannot be "cleaned" off. Water stains are removed by repolishing the damaged area. The exact method of repolishing depends on the severity of the stains and the type of surface finish as explained below.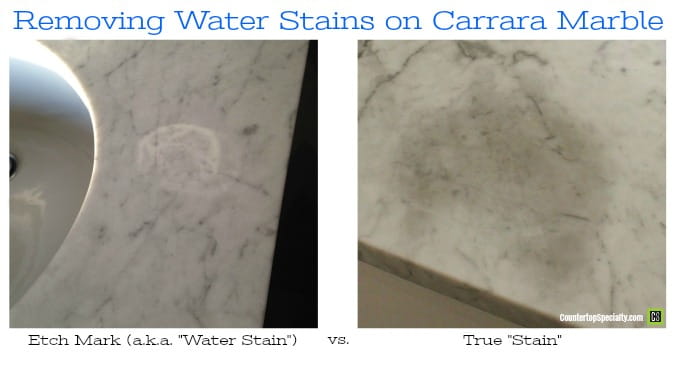 So, the "water stains" you are seeing on your Carrara marble are not from water and they are not true "stains".
Let's first correctly identify and clarify the problem and then we'll discuss the solutions.
Jump to Solutions section
"Water stains" are a common issue with marble countertops but pure water will not stain or damage marble.
Etching is the cause
of these seemingly transparent or chalky dull spots (as seen in the photo at the top of the page).
It happens on all marble
including Carrara marble, as well as, travertine, limestone, and onyx. All these stones are related and have similar characteristics.
Marble is made of calcium carbonate and reacts chemically with acidic things like coffee, juice, soda, wine, fruit, dressings, sauces, alcoholic drinks, and the list goes on.
So, it's a known marble maintenance issue and a real nuisance for cleaning marble kitchen countertops since it's impossible to prevent etching in the kitchen. Just too many acidic foods to avoid contact.
Note:
etching also occurs when cleaning marble with the wrong type of products. That's why you should only use
safe products for cleaning marble
.
Etching is like a chemical burn
. This caustic reaction "etches" or corrodes the surface eating away the polished or honed surface layer causing the appearance of the clear but dull spots.
People often call these "water stains" because they seem to be caused by water and look clear. Water can, in some rare cases, cause etching when the city water or well water is acidic but water is not the cause in 99% of cases.
Etching is most noticeable on polished marble. Honed marble has a matte surface that will still react and etch, but the result (dull spot) is not as visible since the surface is already somewhat dull… not reflective like polished marble.
Water Stains vs. True Stains
It's confusing that the word "stain" is used for a few different types of spots or cleaning issues on marble.
Here's how it breaks down....
As explained above "water stains" are a misnomer. These spots and rings are etch marks. Not
stains and not caused by water.
True marble stains
are a totally different animal and this is a HUGE point of confusion not only for homeowners but for many in the stone industry, if you can believe it!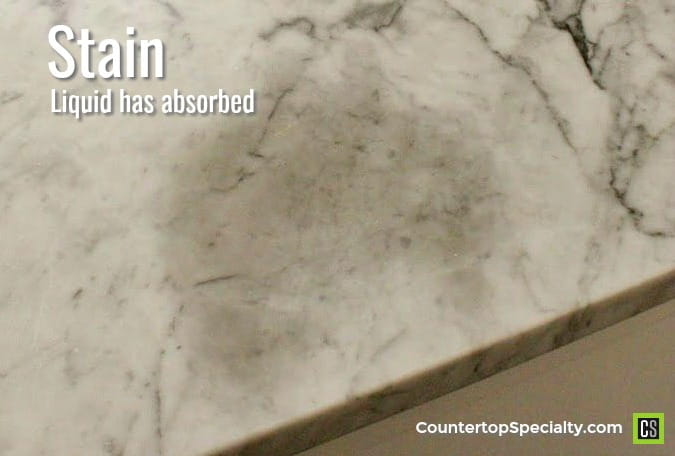 Stains are dark spots where a liquid has absorbed. Etch marks are light or chalky spots where chemical corrosion of the marble has occurred.
You'll often read or hear that "marble stains easy...". This is NOT true. Marble etches easily and people get the two different types of spots confused.
This
Marble Stain Removal Poultice
will remove "true" dark-spot stains. Or follow the DIY instructions in our
Removing Granite & Marble Stains e-book
.
And
hard water stains
are in a third category. These can have a similar chalky look like etch marks but are not stains or spots at all. Nothing has absorbed and the surface is not damaged.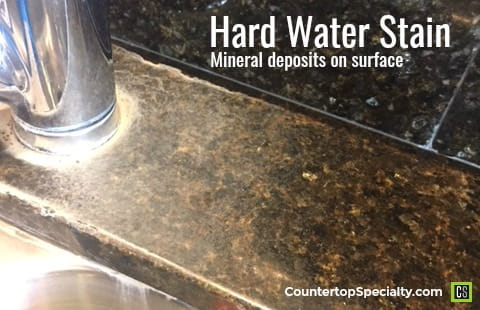 Hard water stains are simply calcium deposits (left by evaporated water) stuck to the countertop surface.... on top of the countertop or tile. These occur mainly around the sink and in showers.
This
Hard Water / Soap Film Remover
will safely clean hard water deposits on marble.
Now... back to etch mark "water stains" that can't be cleaned off...
How To Remove Water Stains on Marble
What we are really discussing, then, is
how to remove etch marks
since water doesn't actually cause these dull spots and they are not actually "stains" but rather "etch" marks.
The repair for water stains is a matter of restoring the surface finish vs. "removing" the spot. Nothing is on the marble. The surface has been damaged so it must be refinished.
On polished marble countertops and floors
, you can repair these spots using this
ETCH REMOVER / Marble Polishing product
made specifically for this purpose.
Very easy-to-use DIY product and will restore the shine and color almost instantly. A must-have product for marble owners.
For honed marble surfaces
restoring etch marks is different than on a polished marble. Unfortunately, there's no product to use, but the DIY fix is cheap and relatively easy.
Complete instructions provided in the
Restoring Marble Etching e-book
.
If etch marks are rough to the touch you may need to hire a professional to refinish the surface. This is a more severe etching that requires different treatment but rarely occurs.
Applying a sealer
does NOT prevent physical damage to natural stone like scratching or etching. This is a common misconception. Sealing helps prevent staining only.