Cleaning Hard Water Stains On Marble and Granite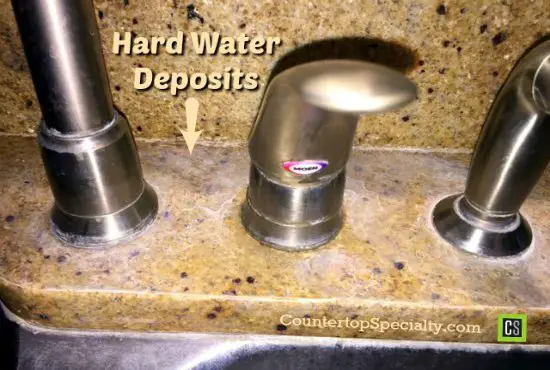 QUESTION:
Please advise tips to remove hard water stains on marble and granite countertops as I am facing a severe problem. I am unable to use any chemicals and acids in the market as they may harm the stone.
ANSWER:
True... Most common cleaners (and particularly those for removing hard water stains like CLR or Lime-Away) are too acidic or caustic and will damage the finish of marble and natural stone. A specially formulated cleaner is required.
This
Soap Scum / Hard Water Remover for natural stone
is what you need to safely remove hard water deposits on marble, granite and all natural stone.
It's the best product
we've ever found for removing hard water deposits on marble and granite countertops. Formulated specifically for natural stone, very effective, and totally safe... will not damage marble, travertine, granite, or any natural stone.
It's excellent for
removing soap scum in showers
and baths too. Use as your "regular" shower and bath cleaner and you'll never have a problem with soap scum or hard water stains.
Both hard water deposits and soap scum are tough to remove. General cleaners don't work, which is why a product specifically formulated for this problem is needed.
It's easiest to clean
the hard water stains and/or soap scum if you spray on and let sit for 5-10 minutes and then scrub with a soft-bristle brush or nylon pad. Repeat the process until completely clean.
But first
, you should remove any large crusty hard water build-up using a plastic scraper to get the bulk of it off.
Once
clean use the spray as your "regular" cleaner for the area where you get the hard water stains.
Regular cleaning
with this product will eliminate or at least minimize any crusty build-up and keep your countertop looking shiny and clean.
Same for the tub and shower to keep soap scum at bay.
Nearly all common cleaners are too harsh
(too acidic) for use on stone.
You may see ammonia suggested sometimes for hard water (and other marble cleaning issues), however, using ammonia will
definitely
damage marble immediately and if used regularly can damage granite countertops too.
This is true for other "natural" or generic cleaners like hydrogen peroxide.
Vinegar damage
and
bleach spots
are common too since these products are just too acidic or caustic.
So, avoid using these along with name-brand cleaners that are also too harsh like
Lysol
,
CLR
and
Lime-Away
.
All of these will corrode the finish and leave dull chalky spots on the surface of marble, travertine, and limestone, which etch immediately upon contact with acids.
All the
products we recommend
are safe for use on all stone including marble without any damage. For more
marble cleaning tips (click here).
Hard water stains and deposits can be a maddening problem and if you have granite or marble countertops you need to be very particular about the product you choose to use.
Many people just start experimenting and end up with bad etch marks or corrosion of the stone finish. Now that you know what you can safely use you can easily remove hard water deposits and effectively manage this issue.