Corian Counter Tops
Guide To Solid Surface Countertops

Corian counter tops are the most popular brand of solid surface countertops. Corian is made by DuPont, which also makes engineered stone counter tops under the brand name Zodiac.
Other brands include Avonite, Gibraltar and Earthstone.
Corian countertops are made by blending acrylic polymers (basically plastic) and stone-derived materials.
This mix is then poured into molds to create half-inch-thick sheets. This method allows for integrated sinks, which no other material offers.
It's a durable kitchen countertop surface that has some unique qualities, pros and cons when compared to granite or a quartz countertop like Silestone.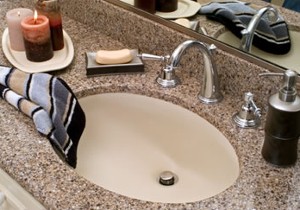 Color choices in the past were limited to some pretty boring earth tones, but many new designs and exciting Corian counter top colors are now becoming available.
Cleaning Corian countertops is easy. You can even use abrasive cleaners, unlike with quartz countertops, granite or marble.
Heat... Also unlike granite or quartz, Corian is not very resistant to heat and you cannot put hot pots or pans on the surface.
Placing pots and pans directly on your kitchen counter top, hot or not, is generally not a good idea with any countertop material.
Even with quartz or granite counters it is possible that grit trapped under the pot may damage the surface and/or the surface could undergo "thermal shock" and crack. It's rare, but possible.
However, Corian countertops cannot withstand heat at all and will essentially melt if pots and pans that are too hot are set directly on the surface, so always use a trivet.
Scratch, Dent & Stain... Solid surface countertops don't stain that easy, but its soft surface, which helps keep you from breaking dishes, makes it easy to scratch or dent.
If you do scratch or stain your tops you can usually sand it out, but a dent is probably permanent. So, Corian vs. Silestone or granite on this count doesn't fair so well. Quartz and granite countertops are very difficult to scratch, do not dent and are also stain-resistant.

Sanding out a scratch or blemish is a feature of Corian that is certainly beneficial, but somewhat overrated in the sense that after sanding you will have a depression that may be visible and noticeable to the touch.
But it's nice to know that a simple procedure can fix a scratch.
Otherwise, care and maintenance of your Corian countertops is essentially the same as granite or quartz countertops. So, for more Do's & Don'ts and general countertop maintenance, go to Care & Cleaning.
back to countertop HOME... from Corian Counter Tops
Like CountertopSpecialty.com?