Sealing IceStone Countertops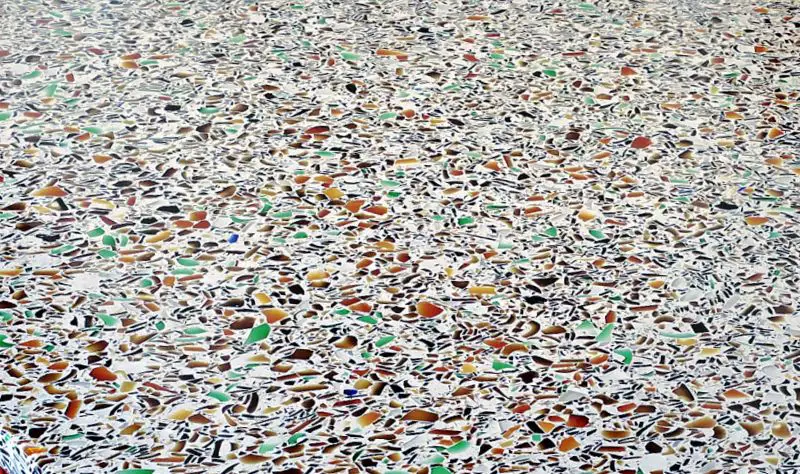 Recycled Glass Countertop Surface
QUESTION:
We are considering putting IceStone, the recycled glass/concrete countertop product in our new kitchen but aren't sure about sealing or how durable it is.
Can you review the porosity and stain resistance of IceStone vs. quartz or a granite countertop?
Does the concrete made of glass and cement contain calcite?
Any other care/maintenance differences between these countertop materials for a kitchen that we should know about? Thanks.
ANSWER:
IceStone recycled glass countertops will require sealing and a bit more maintenance and care than granite, quartz countertops, and even marble.
Many granites need sealing, but some do not. Those varieties that don't need sealing are so dense, they are practically stain-proof.
You can choose one of these excellent granite surfaces simply by
water testing
samples.
Many types of granite counter top slabs will need sealing, though generally not as often as commonly recommended.
Granite will not etch with acids, and can take high heat, will not scratch or dent.
Quartz is almost as durable as granite. It is stain-, acid-, and scratch-resistant. It is also heat-resistant up to a point but not at the same level as granite. And quartz resins are sometimes dulled by abrasives or discolored by chemicals.
But still, both quartz and granite are more durable than IceStone.
How is IceStone made?
IceStone is made by mixing recycled or crushed glass into a cement-based binder and formed into countertop slabs.
It is similar to
Vetrazzo and other brands of man-made crushed or recycled glass countertops.
Since IceStone is
cement-based recycled glass countertop
it must be maintained like a concrete surface, which is more maintenance-intensive than granite or quartz.
For instance,
concrete counters require sealing
(once a year is recommended by the manufacturer).
It's also recommended to
wax concrete countertops
every 1-3 months.
Treating IceStone similarly can help reduce stains and etching.
IceStone will etch
upon contact with acids and strong alkaline cleaning products.
It can also stain, but like marble or granite, you can most often remove the stain.
I can appreciate you wanting to go green, but personally, I would not recommend IceStone for the kitchen mainly because of the etching issue.
This is the same reason I don't recommend marble in the kitchen.
The best, most durable
and easiest surface to maintain is a granite countertop (that assumes you install a good granite -- some are so porous they shouldn't be used).
Quartz countertops (Silestone, Cambria, Caesarstone) are a close second, but they have potential problems not found with granite.
Engineered quartz surfaces
can be permanently damaged, stained, or discolored by certain cleaners and chemicals whereas granite can always be repaired.
Granite is not "green" of course, but it is a better surface all-around than IceStone.
Again, some granites will be more porous than IceStone, but you can easily find several granite countertop varieties that are far more stain-resistant than IceStone.
Have fun with your project.