Ultimate

Outdoor Kitchen Design & Planning Guide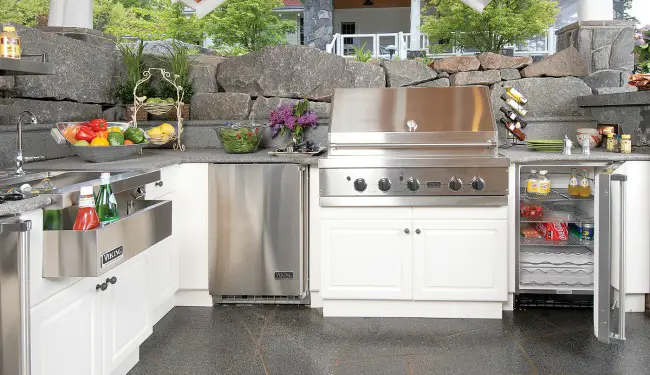 I'm sure you've got BIG plans and ideas for a new outdoor kitchen. After all, summertime has always been about backyard barbecues, pool parties and sunset cocktails in the warm evening so, why not upgrade your outdoor living space for some primo entertaining and relaxing...
Everyone else is! Outdoor kitchens are the second most popular remodeling project after indoor kitchens.
Outdoor Kitchen Design Considerations
Building an outdoor kitchen can be a DIY project or a complex remodel requiring professionals depending on how elaborate your plans are.
From a simple, efficient BBQ station to a gourmet set-up complete with refrigerator, sink, mini-bar, lights, music... so much to contemplate when you really just want to relax and enjoy good food and friends, right!
You'll get many years of fun and enjoyment from your new outdoor kitchen, although before that happens, you have endless possibilities to ponder and many decisions to make.
To truly bring your kitchen outdoors your setup will include a built-in BBQ, custom countertops, sink, refrigerator, outdoor kitchen cabinets and cozy outdoor furniture or bar stools for yourself and all your guests to kick back.
Note that you'll want to thoroughly plan, map out, and draw up your outdoor kitchen design including measurements for everything you plan to install plus food prep spaces, etc. More on that below. And things like you don't want your grill (hot) right next to your fridge (cold). 
Choosing an Outdoor Kitchen Countertop
We start with the countertop since this surface will get the most use and abuse, consume a good chunk of the budget, and significantly influence the overall look and style of the entire installation.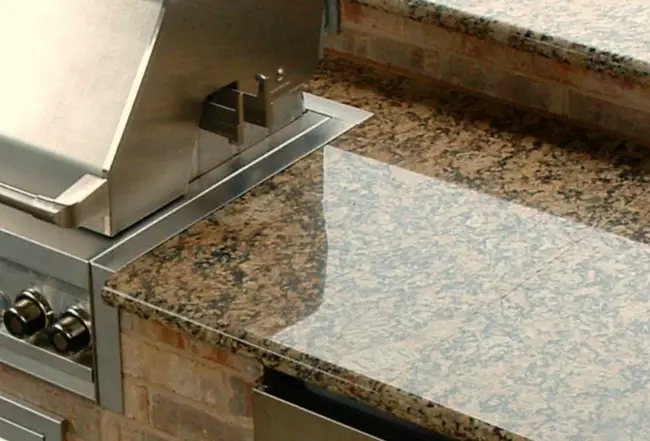 Choosing the right outdoor countertop will ensure years of enjoyment, admiration, and minimal maintenance.

Of course, the most important factor is exposure to all the elements. You'll want a countertop that is easy to use and clean and will last and last without looking shabby.
If you live in a hot and sunny climate, then providing for shade is a no-brainer, but especially important over the countertops. You could fry an egg on granite, or ceramic tile or pretty much any type of countertop if exposed to direct sunlight for several hours.
Darker colors will be hotter and lighter colors cooler to the touch. Some surfaces will show wear and tear more than others (marble, travertine), while others will yellow (quartz, dyed concrete) from exposure to the UV rays of the sun, or crack during freeze-thaw cycles (ceramic).  
Of course, maintenance of outdoor kitchen countertops should factor into your decision. 
Choosing a Barbecue Grill
The grills on the market today offer such a broad range of bells and whistles that you need to spend some time deciding what you must have... and what you're not willing to pay for.
BBQ Grills come in a wide range of sizes with cooking areas from 24 to 48 inches wide and 15 to 25 inches deep. Both freestanding and built-in models are available.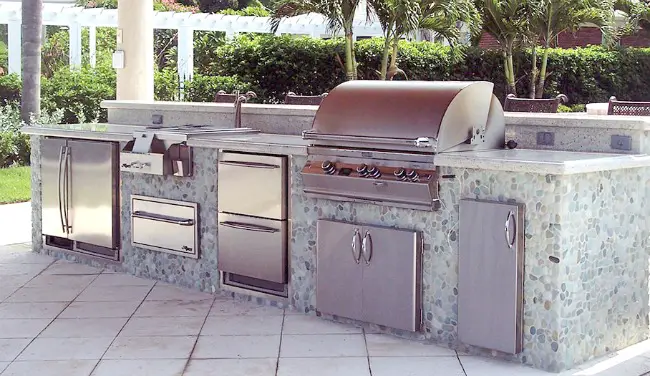 photo: Just Grillin' Florida
For the traditionalist, charcoal grills go for about $100 to $600 with some including shelves and storage.

Gas grills offer more cooking power and greater temperature control with more features such as separate burners and rotisseries. They cost more too at $300 to $8000!

The grill is the cornerstone of your design and will influence the construction and configuration of the remaining utilities, prep areas, storage, and dining space. 
Additionally, you'll need to consider barbecue grill safety and installation issues like using an insulation jacket so the bbq grill can be installed into an island made of combustible materials. 
So take your time picking out the one that will best suit your needs and plans.
Options for Outdoor Kitchen Appliances & Luxuries
Kalamazoo is a well-respected brand for outdoor kitchen appliances. They have a high capacity ice maker that is great for parties. U-line, Viking, Lynx, and DCS are good too. You may be installing a simple outdoor kitchen or getting real fancy with items such as: 
Refrigerator
Sideburners
Ventilation hood
Warming drawer
Beverage chiller
Drawers & cabinet doors
Dishwasher
That last one sounds awesome but it is not that common. A couple dishwashers are rated for outdoor use, but a dishwasher is likely to be the most problematic appliance. Durability can be an issue so think twice before installing one. 
Outdoor Kitchen Storage Ideas
Build in as much space for storage as possible around all the outdoor kitchen appliances. 
Under the grill or burners, it's nice to have a drawer or two or three to store/warm hamburger and hot dog buns, foods waiting to be grilled, utensils or spices. 
Cupboard space is good for storing pots and pans, cutting boards, a trash receptacle, cleaning products, fire extinguisher, etc. If you want to get real fancy, you can install specially constructed pull outs for trash, ice, paper towels. 
Here again, be sure to group appliances and storage areas wisely by separating hot from cold. Items that benefit or don't pose any danger from heat go near the grill (warming trays, pots and pans). Items that should avoid heat are installed near the fridge or at least away from the grill (prepped foods, trash, cleaning supplies).
Additional Luxuries
Seemingly there's no end to the possible luxuries to really ramp up the level of backyard relaxation:
Pergola for shade
Space for mixing/serving drinks
Stereo system
Ceiling fans
Water misters to keep cool
Gas patio heater
Fireplace/fire pit
Specialty lighting
Television
And anything else you can think of... with the surge in demand for outdoor entertaining, any gadget normally found inside your kitchen or home is now made for outdoor use as well.
Planning the Nuts & Bolts of Your Outdoor Kitchen
Above you learned about making all the fun choices regarding your super-fabulous outdoor kitchen: countertops, barbeque, appliances, furniture, and additional luxuries.
Now we'll cover the often overlooked design details and measurements needed to help you create the perfect space for everyday entertaining.
Location & Convenience 
Of course, the main reason for building kitchens outdoors is to relieve you of all the shuttling back and forth from your kitchen inside. Nonetheless, locating your outdoor kitchen as close as possible to the indoor kitchen is still beneficial. But also picking a location close to the house makes hooking up utilities much easier and less expensive. 
So keep in mind things like:
Electricity
Water / Sewer
Natural Gas
The closer your backyard kitchen is to your house, the easier it will be to hook up to these utilities (more on this below).

Sun and rain exposure is an important consideration. Certainly, you'll want some protection from the rain so grilling can continue even if the party must move indoors.

The shelter, whether a large enclosure with a roof, a pergola or an area umbrella should allow for quick venting of smoke off the grill.
In northern areas, you may want to maximize sun exposure, while southern backyard kitchens should provide shade either by location or the addition of a pergola or large umbrella.
Wind is another reason to stay close to the house.
You don't want to be so close that smoke from the grill is easily blown around seating areas, but taking advantage of walls and fences will make grilling more pleasant.
Of course, fencing, trees, shrubs, and planters can be added for greater protection.
Creating Comfortable Space
Easy access to the house and protection from the elements will keep your guests in a good mood as will all the chic and cozy furniture you have picked out. . .
But before you empty your wallet on that imported teak dining set with bar stools…. take a look at the space you have available and decide how it's going to "flow."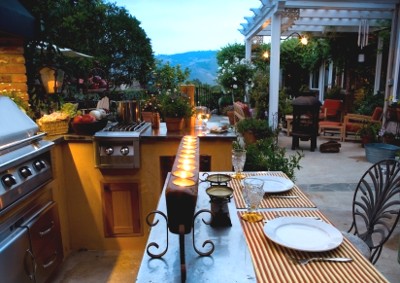 In order for the cook and all your guests to enjoy the outdoor entertaining experience, it's important to make sure your design "measures up" and everyone has enough room to sit and move about.
You'll need:
32-36 inches for the height of your countertop and at least ...
24 inches deep
36 inches of workspace is needed around the grill and burners
18-24 inches of workspace around the sink
36-42 inches clearance around seating areas is necessary to allow for people to get in and out of chairs and walk around
24 inches of counter space/elbow room per bar stool is a good rule with ...
15 inches of horizontal legroom under the bar.
Bar Tops & Overhangs
If your outdoor kitchen plan includes a bar top or an overhanging countertop where people will sit, then you'll need to properly support it with corbels (those triangular or "L" shaped supports. 
The overhang rules:
An overhang should be no more than 1/3rd of the countertop  width
A 3 cm (1 ¼ inch) slab can overhang up to 10 inches without corbels
A 2 cm (¾ inch) slab can overhang up to 6 inches without corbels
A tile countertop can overhang more since it is lighter and will have a plywood or backer board substrate
"L" shaped corbels (no diagonal brace) are less visible and provide more knee room
Cabinet / Base
The base or cabinets come in all shapes and sizes. Many complete pre-fabricated DIY outdoor kitchens or portable modular setups (take it when you move) are available for purchase from various retailers.
Or you can buy just the frames or build your own with with steel or wood but it must be watertight. 
This is done by using water-resistant wood or marine-grade plywood and covering the entire base with a waterproof membrane. "Outdoor" plywood will still rot when exposed to moisture long enough. The only difference is that it's made with a waterproof glue, so you need to properly protect it.  
Even better is to use a cement backer board like Hardie or Durock. Then the tile or stone or brick veneer can be affixed to the cement backer board.
Installing a couple air vents in the cabinet base is a good idea too. The grill and countertop are then installed into and/or on the cabinet base. 
Also, for all but the smallest installations it's highly recommended to build the outdoor kitchen on a solid cement surface. You want it on a cement slab patio or pool deck vs. directly on the ground or pavers on the ground which will sink over time.  
When installing a tile countertop outdoors be sure to use cement backer board or at a minimum marine-grade plywood (1 ⅛ inch) substrate and cover it with a waterproof membrane as well. 
Utilities & Permits
If you're not building a new home, chances are your plan will require installation of water, electric and possibly gas supply to your cooking area.
Water supply to the sink will need to be installed so it can drain in winter to prevent freeze damage and building codes will probably require the sink drain be connected to the main house drain.
For outlets you'll need to hire an electrician to install GFCI outlets above the countertop and for your lighting. If your outdoor kitchen plan calls for cooking with natural gas vs. propane then you'll need a plumber to run an underground gas line.
Permits may be needed. Of course, everything should be mapped out in advance to make sure you are able to get any permits required. 
And although some aspects of building outdoor kitchens can be handled by the competent do-it-yourselfer (particularly if no utilities are involved), the complete project can involve extensive and specialized installations that are best left to professionals. But pretty much whatever you dream up can be built so get cookin'!