Maintaining Antiqued or Leathered Absolute Black Granite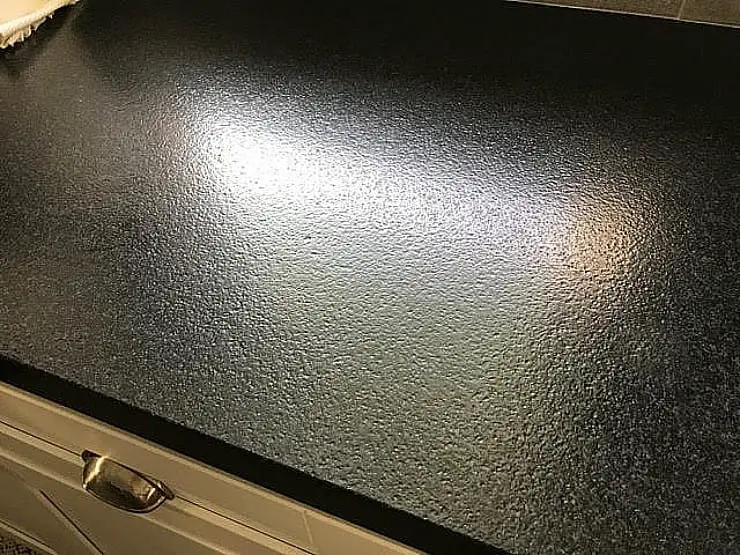 QUESTION:
We recently had leathered absolute black granite installed. The installer applied a granite sealer.
I asked him about some streaks before he left, and he said they would wipe off over time. They didn't, so they came back, applied acetone, and then re-sealed it.
Then a week later I cleaned my glass stove-top with a cleaner made for pots and pans, some got on the granite surrounding the glass stove-top and the granite has now lightened to a pale grey color.
I called the granite dealer and he said we should only use soap and water to clean. I explained that some of the stovetop cleaner got on to the granite.
So my questions are...
1 - Is this normal, that you can only use soap and water on the stovetop? And if any of the stovetop cleaner gets on to the granite that it would "stain" and...
2 - What is he doing wrong? He said he will come back again, apply acetone and re-seal.
ANSWER:
Most likely it is the granite sealer itself that reacted to the cleaner and caused what is called an "etch mark."
Some sealers are reactive to acids
and especially if there is dried sealer right on the surface, which is what the streaks were.
Etching is a problem with marble because marble is reactive to acids, but granite is not sensitive to acids, so it is not the stone itself.
Absolute Black granite
typically does not need sealing since it is so dense and essentially does not stain.
However
, antiqued, leathered, honed or otherwise non-polished finishes can require additional
granite care
as explained below.
What is Leathered Granite?
Leathered granite is any color of granite with a "leathered" finish. The term "leathered" refers to the look of the surface finish. The appearance of leathered granite can vary considerably, but generally, is smooth, not shiny, and with a subtle texture like ridges or dimples.
Granite
can have several different types of finishes such as polished (shiny), honed (matte), brushed, flamed, antiqued, or leathered.
The installer is not doing anything "wrong" per say... except perhaps not being exacting enough in his
application of a granite sealer
and/or testing to see if the surface even needed it.
Just to be clear...
what you have is not a "stain." Stains occur when substances absorb into the stone turning the stone darker in color. You are not likely to ever stain this granite especially if it is sealed properly.
Your spot is a "lighter pale-grey color," so you need to find out what is being
etched.
Diagnosing Leathered Granite Sealer Problem
Again, the pale-gray spot is likely due to a reaction with the sealer. A type of etching or chemical burn.
I suggest that you do a little maintenance and experimenting yourself to
diagnose the spot
by cleaning with acetone and then testing with lemon juice.
Perform
the
lemon juice test
on the cleaned area. Let it sit for a few minutes and wipe clean.
Does it leave a lighter spot?
It shouldn't. Now do the same on an area that was sealed, but not cleaned with acetone/methylene chloride.
Does the lemon juice leave a spot on this area?
If yes, then you have your answer... the sealer is reactive to acids and it is probably not being absorbed or applied properly.
A sealer residue remains on the surface and this residue is reacting with other chemicals. This etching reaction leaves a pale or chalky dull spot on the surface.
It is very important, especially with low-absorbency stones like absolute black granite that you do NOT let any sealer dry on the surface.
You should also test if sealing is needed
(follow lemon juice test but with water) once you have stripped the sealer off.
Black granite usually does not need sealing since it is naturally very dense and stain-proof especially with a polished finish.
However, a honed, brushed, flamed, or leathered granite finish may need sealing as these types are more porous than a polished finish.
Cleaning Leathered Granite Tips
Cleaning leathered granite countertops doesn't require any different procedures or cleaners than cleaning a polished or honed granite countertop.
These are just different types of finishes.


Spray on a quality granite cleaner


Wipe and scrub to remove food residues, grime, and dust


Buff dry and shiny with a clean cloth


A leathered granite finish will generally collect more dirt and dust because of the uneven surface. Therefore it will take more effort to keep clean.
Soap is not recommended
to use as a
regular
cleaner as soap residue builds up over time making the surface look dull and dirty... then you need to strip it off.
It is often recommended for cleaning because everyone has soap, it's cheap, and won't "hurt" your stone.
Just not a smart or effective cleaning method.
We recommend using products formulated specifically for natural stone. You'll find products and brands that we've found perform the best at the
Stone Care Center
.
For regular granite countertop cleaning
, you should use
Granite Countertop & Marble Cleaning spray
.
To remove soap or hard water films
use the
Soap Film & Hard Water Remover
.