Finally!
The Real Story
About How To Clean Marble
---
Cleaning Marble Secrets:
The Ultimate DIY Guide to Complete Marble Maintenance (eBook)
Frustrated with your marble countertops or tile? Confused about sealing marble, stains, dull spots, marble repair and polishing? Here's your solution...

This is the "all-inclusive" A to Z comprehensive DIY guide on how to clean marble... The Right Way.
Learn proper marble care, avoid damage and keep your marble beautiful with detailed answers, photos, and step-by-step instructions for proven solutions to all marble maintenance issues. 
Recommended for all owners of marble, travertine, limestone and onyx, house-cleaners, the frustrated and the desperate... The only reference you'll ever need. (184 pages)
After payment the download link will be sent to your PayPal email address.

Click the yellow button above to download this e-Book to your computer now. Learn the correct marble care methods, get the proven solutions & answers you want and start solving your problem immediately!
Marble Cleaning Answers & Solutions

Confused by all the conflicting information about how to clean marble found on the internet, from marble salespeople and even your installer?
I don't blame you... common myths about how to clean marble get passed around so much you'd swear they must be true.... except they often aren't.
Even reputable consumer magazines and books sometimes get mixed up about marble maintenance. In their defense, marble maintenance is unique. Common methods do not apply and you can quickly make a mess of it if you don't know what you're doing.
At Countertop Specialty we've spent many years working with marble accumulating the tips, tricks and secrets... hands-on experience... about how to clean marble effectively. We know what works and what doesn't, what should be done, what shouldn't... when, where, why and how to clean marble, travertine and limestone.
In reality, marble care and repair is easy.... once you get the facts and learn how to clean marble correctly.
And NOW you can....
"Cleaning Marble Secrets" was designed with you in mind... you'll quickly find the answers you need with complete step-by-step instructions for the simple, low-cost and proven solutions and do-it-yourself procedures that get real results.
You'll get all the information you need to safely protect, clean, restore and keep your marble pristine forever.
It's a definitive "How To" guide to marble maintenance and.... your peace of mind.
Testimonials
Hear what other consumers say about the solutions provided in the "Cleaning Marble Secrets" guide:
"I had dripped hair dye on my brand new travertine floors!!! Yikes! But your advise worked really well. Thank you so much!" -- Gina
"I've been searching the internet for information about our problem for weeks and your solution is the first real & informative information I've found in the whole time I've been looking. Thank you again!" -- Best wishes, Naomi
"I used your method and it worked like a charm. No stain and the marble looks like new. Thank you, thank you."  -- Sheila, Granbury, TX

When it comes to protecting your investment and cleaning marble the right way, proper knowledge is your most important tool. Without it, you will make costly and irritating mistakes.
This guide encompasses all phases of marble care that should be addressed over the many years of use and enjoyment of your marble, so you can effectively handle any problem or concern that you have right now or any that may arise in the future.
In case you are wondering... this comprehensive guide applies to cleaning travertine, limestone, and onyx too. For maintenance purposes, all three types of stone are the same as marble.
Here's a List of What You'll Learn

Why Marble Is Unique & Why You Need To Know
Travertine, Limestone & Onyx too 
Marble Finishes & Maintenance Considerations
All About Sealers

What Sealers Do
How Sealers Work
Types Of Sealers
Effects of Sealers on Resined Marble
When To Use a Sealer
Applying a Sealer

Sealer Myths
Sealing Test: Step by Step
When To Re-Seal
A Common Sealer Mistake To Avoid
How To Apply Marble Sealer: Step by Step
Sealing Issues

Removing Dried or Improperly Applied Sealer
Coatings & Waxes
Coatings Vs. Sealers
Removing Coatings & Wax From Marble
Special Considerations

Which Household Products Harm Marble?
Green Marble Is Unique
Marble In The Kitchen?
Etching, Dull Spots, Rings

How Etching Happens
The Mysterious "Glass-Ring"
Etching vs. Staining
Myths About Etching
How To Remove Etch Marks
Preventing Etch Marks
Removing Stains

How To Clean Marble Stains Safely
Identifying The "Stain"
How To Make & Apply A Poultice: Step by Step
Results & What To Do Next
Types Of Stains You'll Learn to Remove

oil
coffee
condiments
wine
soda
hair dye
ink, paint
mildew, mold
urine
plant runoff

rust and many more...
Cleaning Hard Water Deposits & Soap Film

Removing Hard Water Deposits
Efflorescence
Cleaning Soap Scum
Burns & Scratches

Advice On Scratches
How To Remove Scratches On Honed Marble
Repairing Polished Marble Scratches
Removing Burn Marks
How To Repair Fire & Smoke Damage
Products, Cleaning & Maintenance Tips

Regular Maintenance Do's & Don'ts
Routine Cleaning Schedule
Choosing & Using The Right Cleaning Products
and many more tips, tricks and secrets....
It's All Included

Nothing is left out. You'll know what to do... when to do it... and how to clean marble... the right way.
"Cleaning Marble Secrets" will teach you to be the expert and give you the absolute confidence to effortlessly maintain your marble, travertine and limestone in it's original, beautiful condition.
In addition, you'll get extra pages that condense the complete explanations of the most common procedures into step-by-step, bullet-point guides. Print these out, laminate them and keep them handy for quick reference or provide them to cleaning personnel.
Now... I know what you are thinking....
"Owning this guide would be great, but really I only have this one problem and don't need to know everything about marble maintenance."
Well, that may be true today... but if experience is any guide, I'll bet that over the years of ownership you'll have more concerns to resolve, questions to answer and problems to solve precisely because you didn't have proper or thorough knowledge about how to clean marble. At that point you'll be back at square-one wondering what you did wrong and how to fix it.
You've invested a lot of money in your marble. Complete and proper knowledge is what you need to avoid problems, keep your marble beautiful and maintain the value of your investment.
"Cleaning Marble Secrets" provides those fixes, but even better it will give you the tools and know-how needed to prevent the marble mistakes most people make saving you potentially $100's to $1000's of dollars and countless headaches.
"Hi there just wanted to let you know that your advice worked, hooray! Thank you my friend." -- Karen,  Hampshire, UK 

It's much easier and far less expensive to get the whole picture up front in order to keep your marble beautiful without a hassle.
The guide covers travertine tile, limestone and onxy too.
Click the Button & Solve Your Marble Care Problems Today!

Cleaning Marble Secrets: 
The Ultimate DIY Guide to Complete Marble Maintenance (eBook)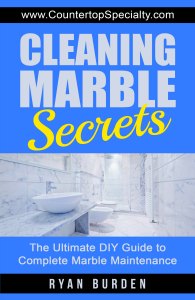 $39.99

After payment the download link will be sent to your PayPal email address.

Avoid Damage & Keep Your Marble Beautiful... The Right Way! 
Your satisfaction is guaranteed with our 30-day, no-hassle refund policy. If your question is not answered or you don't find the information you need about how to clean marble, then just send an email to: 

[email protected]
We'll quickly refund the full purchase price at your request.
At CountertopSpecialty.com we always aim to over-deliver, so in addition to all the great information, tips, techniques and complete instructions outlined above...
You'll Also Get 3 Excellent BONUS eBooks!

These three ebooks will empower you to make the best decisions when shopping for marble and granite or hiring stone contractors.
BONUS #1: How To Buy The Best Marble & Granite
This ebook will take you beginning to end, step-by-step through the process of choosing the right stone for your project based on a number of variables and factors that most consumers are completely unaware of.
BONUS #2: How To Perform The Lemon Juice & Water Drop Tests
This guide details the simple tests that you can and should perform when buying natural stone for any project and for determining maintenance needs for any stone installation.
BONUS #3: How To Hire A Marble Restoration Contractor
If you have severe or extensive damage or you just want to give your marble a face lift, you may need restoration. This thorough ebook will teach you all about the restoration process and guide you step-by-step how to avoid the hacks and pick the right person for the job.
I'm very confident that you will be completely satisfied and find our marble maintenance manual immensely helpful. It really is over-stuffed with information.
"This worked! I tried at least 7 different methods first. Thank you, thank you, thank you." -- Jackie

And Remember... you have a 30-day, money-back guarantee if you feel we didn't provide the information promised here.
Learn How To Clean Marble... The Right Way!

Click The Yellow Button to download your eBook via PayPal Now. You'll also receive confirmation at your Pay Pal email address.
Cleaning Marble Secrets: 
The Ultimate DIY Guide to Complete Marble Maintenance (eBook)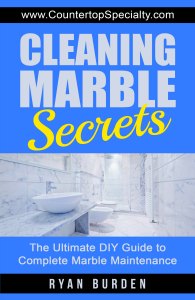 $39.99

After payment the download link will be sent to your PayPal email address.

Your satisfaction is guaranteed with our 30-day, no-hassle refund policy. It's the only marble maintenance guide you'll ever need!
Remember the guide applies equally to travertine, limestone & onyx too. 
And we're always happy to help should you ever have any questions.
Thanks for stopping by and Good Luck!

Countertop Specialty
3824 Cedar Springs Rd., Dallas, TX 75219