Granite Repair Rough Pitted Juparana Fantistico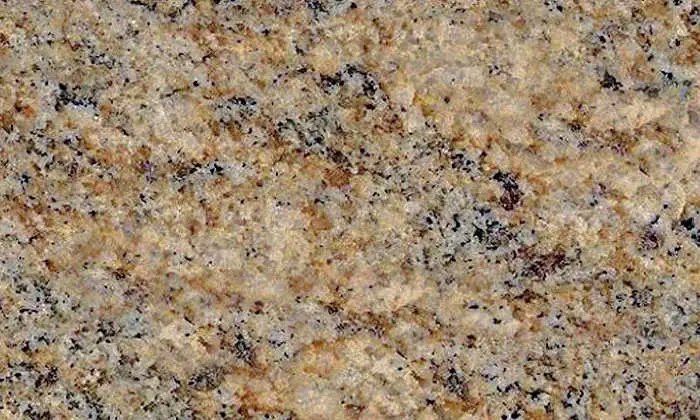 QUESTION:
I just got granite installed in my kitchen. I picked it out in a slab shop - name of the granite is Juparana Fantastico. I didn't realize it has so many pits and is very rough throughout the whole surface. I asked the fabricator to epoxy and fill in the pits, and reseal the granite. However, it's still the same. What can I do? Thanks for your help.
ANSWER:
Well, the slab was finished as it is now before it got to the showroom where you picked it out. And since you chose it, you can't really blame the installers.
Pitting can sometimes happen. When you start cutting large granite blocks into slabs, some of the minerals and crystals that were once surrounded are now exposed on a surface and may pop out.
This is usually not much a problem on most granite and you can easily fill the pits with this
Granite & Marble Repair Kit for chips and pits
. Much better than standard epoxy fillers and cheaper than having a pro do it.
If you have pits all over and the surface is rough or not polished to the shine you expected, then really you just made a bad choice of slabs.
You could have the surface re-polished (some stones will polish to a higher shine than others).
Then applying a granite sealer that forms permanent bonds with the stone like the
Permanent Granite Countertop Sealer
will reduce the absorption of liquids in constantly wet areas like the sink that can weaken the stone and lead to pitting.
Granite Countertop Rough Patches

(Indiana)
QUESTION:
We recently had granite countertops installed in the kitchen. I have noticed a couple of small patches feel rough and unpolished compared to the remainder of the counter top. I am concerned that, if left untreated, the scratched areas will grow and ruin the counter. Is there anything I can do to repair this?
ANSWER:
Well, the rough patches probably won't grow. Granite is very hard and the areas that are polished will likely stay that way so long as you use only
products safe for cleaning granite countertops and marble
.
I hate to inform you
, but most likely you have a bad slab of granite that could not be polished very well.
Some stones
will take a polish and get "shinier" than other stones. While a couple of granite colors (santa cecilia, giallo veneziano) are the most common varieties to have a rough or gitty surface even after polishing.
Now, both colors can be just fine and look great, but some slabs can be bad, so you must be careful picking out your slab.
If you picked the slab
, then you don't have much recourse except to hire a skill stone restoration professional to try a polish the rough areas.
However, if you simply picked a color and the designer or fabricator actually chose the slab to install, then have it replaced.
Good Luck,
Ryan
Granite Surface Feels Slightly Rough
by Betsy
(birmingham al)
QUESTION:
We have new granite countertops, "new venetian gold" and when I gently run my fingers across the surface I can feel areas of the 'raw stone" in places.
Is this normal? does it mean that the sealer is not thick enough? Some people have told me it is normal to feel areas where the 'chips' of the stone will be so close to the surface that you can feel it.
ANSWER:
I'm sorry to say you're not going to like my answer because there isn't much you can do about this unless you were not the one to choose the slab.
I won't say it is common, but new venetian gold and santa cecilia both tend to have this problem of a rough gritty feel to the surface.
If your designer or fabricator picked out this slab then certainly have them tear it out and re-install something different.
If you chose this specific slab (not just the color from a sample) then you're probably stuck.
Why does this occur?
Well, granite (actually gneiss in this case) is a natural product and there can be significant variation or departure for the "norm" in the characteristics and qualities of certain stones/colors/varieties.
Silk and cotton are both cloth, but with quite different qualities. And really I'm sure there are different grades of both silk and cotton.
Same with stone. You got a bad slab. Nothing to do with the sealer and the other explanation that it's "normal to feel areas where the 'chips' of the stone will be so close to the surface that you can feel it" is not in fact "normal".
You may ask the installers to re-polish the surface, but typically a bad slab/stone is bad all the way through.
Good Luck,
Ryan