Marble Kitchen Countertops
QUESTION:
I would love to install White Carrara marble kitchen countertops. It's beautiful! Your website has been extremely helpful, but you say not to install marble counter tops in the kitchen. I definitely want white countertops. What should I do?
Thanks, Kate
ANSWER:
Kate,
I'm glad you find our website helpful. We want to give you the best unbiased info for all your countertop needs.
I can appreciate your tastes. White Carrara is gorgeous! We have it in one of our bathrooms and that's where you should put it too... preferrably not the kid's bath.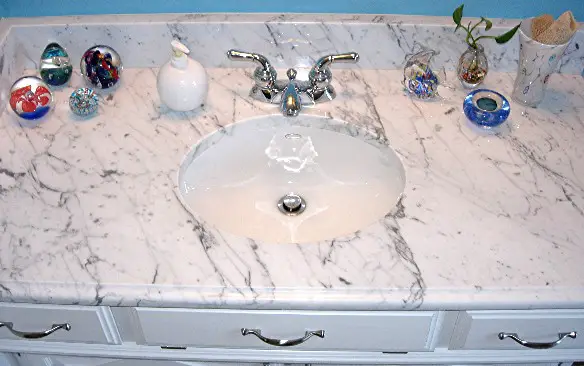 Marble countertops are much more sensitive to staining and etching (marks in the marble polish) than granite. You'd have glass rings etched in the polish within a week and Kool-Aid stains would soon follow. The white would show everything.
Kitchen countertops just get way too much abuse. It would drive you nuts!
The only way I'd ever consider installing marble kitchen countertops is with a honed/matte surface (this would take care of the inevitable glass ring marks that would appear in the marble polish), but you'd still need to seal it constantly to guard against stains and probably wouldn't be successful in the long run. You'd have the marble repair guy on speed dial. Why go through the hassle.
Now if you are a serious baker, then marble is considered the best surface for rolling dough, but even then I would only do a section or an island and not the whole kitchen countertop.
Look at some of the white granites. You will still have to apply a granite sealer once in a while (every 2-5 years) but no big deal. Granite will stand up to your family no problem.
Also, Silestone, Zodiaq, Cambria and other quartz countertops have some nice whites. Follow the links from the "Quartz" page button up on the left. Quartz performs just as well as granite, you just don't have the range of color/pattern choices that you do with granite.
You may consider Corian, but I'd much rather put in granite or quartz... they make far better kitchen countertops.
We've installed marble kitchen countertops before at the insistence of the homeowner, but not until we tried to talk them out of it ten different ways. Think of marble like fine wood furniture... it's beautiful, but you have to baby it. So, save the white carrara for a powder bath.
Hope this helps, good luck and have fun!
Ryan
Like CountertopSpecialty.com?