Granite Counter Top Maintenance Guide
Granite counter top maintenance is easy... and once you understand what you are dealing with... learn the simple secrets to cleaning granite countertops correctly (Do's & Don'ts)... and the truth about granite sealers... you'll keep all your countertops looking fabulous for decades.
Beware of all the conflicting advice about granite countertop care floating around out there. That's the first lesson!

Most errors in advice or solutions are due to over-generalization, a lack of understanding, and/or mis-interpretation of correct methods.
Myths about the need for granite sealers abound as well... often in an attempt to market a certain product's (quartz countertops) "advantage."
So, it's easy to get confused, frustrated and start to worry that you're going to accidentally ruin your countertops or that granite countertop care is a big hassle.
Remember that your countertops and floors are made of STONE! Think Egyptian Pyramids and Roman Colosseum. Stone countertops and floors are very durable, resilient and age beautifully. In fact, they will outlast you and your house!
Yes... stone can be damaged, but... avoiding damage is a cinch, and it can almost always be repaired. You don't need special knowledge or talent or an army of professionals to protect, clean, and keep your granite countertops brilliant and beautiful.

Where to Start

A wealth of information, advice and proven solutions are provided across several pages of this site, so you'll want to invest a little time up front here to read and learn.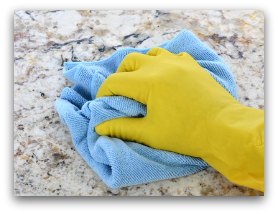 Relax though... it won't take long, and you'll soon be a granite counter top maintenance pro!

Start out by learning the recommended routine for cleaning granite countertops.
Follow up with more specific information regarding granite counter top care: Do's & Don'ts.
FYI... Information provided on the above two pages regarding cleaning granite is also the best advice for other surface types such as solid-surface (Corian countertops) and quartz countertops (Silestone, Zodiac, Caesarstone, Avanta).
Don't make the mistake though of assuming all stone is the same. Significant points of important care & cleaning differences do exist for cleaning marble and cleaning travertine.
These surfaces require a more delicate protocol than granite, Corian and Silestone countertops, which is why marble/travertine are typically not installed as kitchen countertops.
Learning all about sealing granite countertops is key, so don't miss that page. 
Also, answers to many specific granite countertop care questions are given on the pages linked below.... and you can always use the search box at the top to find the exact info you need.

Answers To
Granite Counter Top Maintenance
Questions
Learn even more! Click on the links below to read detailed answers to common (and unusual) marble cleaning questions.
back to Countertop HOME . . . from granite counter top maintenance
Like CountertopSpecialty.com?