Kitchen Backsplash Design & Installation Tips
The fun part about kitchen backsplash design is deciding on colors, picking out tiles, playing with patterns and unique materials.
We covered those topics on the previous kitchen backsplash ideas page.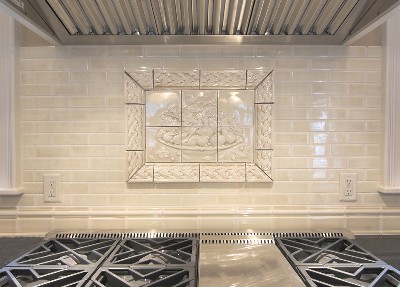 Now you have some exciting kitchen backsplash ideas flying around your head, but you still need to consider a few more details before you finalize your kitchen backsplash design for installation.
Countertops Before Backsplash
You'll want to choose your countertop material prior to designing your backsplash tile for a few reasons.
First, the countertop is generally the centerpiece of the kitchen and should be the first material chosen.
Second, the countertop material is going to cost you more than the kitchen backsplash tile...
unless you are using the countertop material for a backsplash as well... which for most of us makes it (the countertop) a higher priority.
Third, and probably the best reason to pick your countertop first, is that kitchen backsplash ideas are virtually infinite; therefore, it is much easier to match the backsplash to the countertop than the other way around.
Space For Your Kitchen Backsplash
First off, you need to determine the space you have available for your backsplash and whether you can or want to enlarge it.
Measurements for a typical backsplash are--16 to 18 inches--between the countertop and kitchen cabinets. Now the countertops must be installed before adding the backsplash tile, so the countertop will be at a fixed height.
Top cabinets can be moved higher to--20 to 24 inches increasing available space to develop your kitchen backsplash design.
Of course, moving your current kitchen cabinets higher or installing new cabinets means that it will be more difficult to reach the top shelves.
You may also lose space between the top of the cabinets and the ceiling, which is often a nice space for displaying plants, glassware, ceramics or other personal treasures.
Kitchen Size. Before you decide how much space you want to create for your kitchen backsplash design... consider the overall size of your kitchen.
A 24 inch kitchen backsplash may be overwhelming in an intimate space, but if your kitchen is large and open with tall ceilings then the bigger space expands the possibilities and . . . adds to the dramatic appeal of the backsplash design.
Electrical outlets and switches are an important consideration too. In most homes the outlets are right in the middle of the wall and will interfere with your kitchen backslpash design.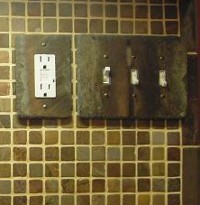 If you're only replacing the countertops and backsplash, then it's probably not worth the trouble to have the outlets moved.
If this is the case, you can faux paint the cover plates to match the backsplash... use stainless steel cover plates if you have appliances to match or... buy cover plates that are a close color match to the backsplash.
If you are doing a big kitchen remodel or building from scratch, then consider placing the outlets under the top cabinets or have an outlet strip installed at the top of the splash.
Another idea . . . is to turn the outlet horizontal and place them just above the countertop surface at the bottom of the backsplash where they are more likely to be hidden from view by all the stuff on your countertops.
Also, consider installing under-cabinet lighting to help showcase your kitchen backsplash design and provide additional workspace light. Anything you do, of course must adhere to building and safety codes.
So figure out all these details first then get back to the fun part playing with your design. Good Luck!
Kitchen Backsplash Design Questions & Answers
Learn even more! Click on the links below to see kitchen backsplash questions submitted by other visitors with complete answers and great info.
Grouting & Sealing Tumbled Travertine Backsplash

QUESTION: We have 4" squares installed diagonally over a border of 3 x 6 subway kichen backsplash tiles and need advise on what to do next. Our …
Grouting and Sealing Glass Backsplash Tiles

QUESTION: what is the best grout and or/sealer to use for glass tiles on a kitchen backsplash? The store where I bought my tiles claim that they …
Backsplash Does Not Match Madura Gold Granite Countertops

QUESTION: Great site!! We just had a Madura Gold granite countertop installed. To the left of our range is a separate piece of about 20 inches of countertop. …
Sealing Tumbled Marble Backsplash

QUESTION: I just put in a tumbled marble backsplash (whitish color) with a bone colored grout. Do I need to seal it... especially the area behind the …
Re-caulking Between Granite Countertop and Backsplash Not rated yet
QUESTION: The bead of silicone between my black granite countertop and backsplash is turning white and rubbery. Water does get on it from the sink. …
Removing Grout Haze From Travertine Backsplash Not rated yet
QUESTION: My contractor installed a honed & filled Travertine kitchen tile backsplash (with a 2"x2" crackle glass accent tile) 2 days ago. The surface …
Installing & Sealing Travertine Kitchen Backsplash Not rated yet
QUESTION: I just purchased travertine tiles (several tiles set/spaced on mesh)and plan to use it for my kitchen backsplash design. The travertine …
back to Kitchen Backsplash Ideas

back to countertop HOME..... from kitchen backsplash design
Like CountertopSpecialty.com?