Concrete Countertops Style & Design Guide
Concrete countertops are much more stylish and versatile than you might imagine. It's not a sidewalk in your kitchen!

With a large variety of possible colors, concrete can be customized to form any shape, size or surface finish allowing for imaginative kitchen designs. It's the main advantage of this surface.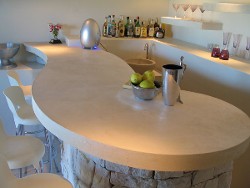 Every fabricator mixes the water, sand and stone with their own recipe using molds that can be uniquely shaped making your kitchen counter tops completely original.
Design
Concrete Stain Colors are added to the mix or staining can be performed after installation to create a broad range of colors compatible with most any design.
Chemical stains, coloring pigments, various aggregates, and epoxy coatings can simulate the look, texture, and feel of quarried stone such as marble, granite, and limestone.
However, since the colors are created as part of the installation, exact matches are not possible. In other words, your finished color may be a bit different than any sample you may have.
Also, the color will lighten in the first few weeks to months after installation as moisture evaporates and the concrete cures. A slight yellowing may occur over time as well.
This is especially true of cement countertops installed for outdoor kitchens. The color will fade and turn yellow with exposure to the elements.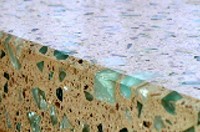 Objects like shells, coins, glass, tiles or anything you like can also be embedded in the surface for a completely customized Terrazzo that adds personality.

Of course, you may want to think twice before embedding items that may create a too trendy or personal look that won't be appealing when you sell your home.
Pros & Cons of Concrete Countertops
Pros
1. Can be formed into non-traditional shapes.
2. Can include integral sinks and drain boards.
3. Can create a personalized design.
4. Resists heat.
Cons
1. Must be sealed on installation (or sometimes prior to installation) to protect from staining and waxed every 3 months to protect the sealant.
2. Countertop color may fade and/or yellow... a problem mainly with epoxy.
3. Concrete countertops aren't as hard as granite and may scratch easier.
4.Quick temperature changes may cause curling or warping to newly installed slabs, but this is a rare issue.
NOTE:
These last two can easily be avoided by using cutting boards and trivets as you should with any countertop surface.
Care & Cleaning
After applying a concrete sealer and waxing, concrete countertop cleaning is no different than cleaning granite. Hot water and a sponge will work just fine for most messes. Use a pH neutral cleaner like one we recommend (click here) for more thorough cleaning, however, don't use abrasive cleaners.
Cost
Despite what you might think, concrete counter tops are quite expensive rivaling some granites and marbles. Not because concrete is valuable, but because the installation is difficult and requires a high level of skill and experience to do well.
Expect to pay $70 - $130 for fabrication and another $50/hour for installation.
A granite counter top is still the best all-around kitchen counter top surface, but if your bath or kitchen design ideas incorporate free-form curves or you want to embed unique or personalized objects, then concrete countertops are the way to go.