Classic Mosaic Tile Pattern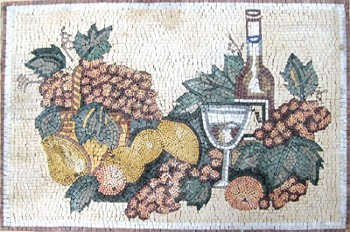 A Mosaic tile pattern or Mural is a fascinating visual element that adds texture, movement and drama to your kitchen, bathroom, floors, walls and tables. Murals and classic mosaics have been created for centuries throughout Rome, Greece, Egypt, Turkey and today murals and mosaic tile designs can be found just about anywhere in the world.
Mosaic is a decorative art that creates patterns and pictures of any scene you like using small pieces of stone, tile, glass, pebbles, metal or really any material. You can even order pre-made mosaic tile sheets for easier and cheaper installation. Murals are hand-painted scenes painted on any surface, but most commonly reserved for the kitchen backsplash in today's homes.
Rules of Design
No real rules govern the shape of a mural or mosaic art pattern.
It can be square, rectangle, diamond or simply flow in undulating waves. Use a defined border around the mural... or not.
Of course, the design should work with the overall theme or essence of the room, but again... it's art, so create whatever scene or pattern appeals to you.
Often you'll see a geometric pattern used in shower stalls, on bathroom walls, kitchen backsplashes and around pools.
Also, a "picture" in frame of a mosaic tile design can be incorporated into any of these areas as well.
For instance, a framed mural, mosaic or other art on a wall above a cook top, sink, bar or on a bathroom wall could be a wise choice. This could also be made right into the overall tile composition. Meaning a "frame" of tile surrounding the mosaic to give the illusion of art hung on the wall.
On floors and tables you'll often see a circular mosaic called a "medallion".

Creating a mosaic can be as simple as picking out a pre-designed pattern on fiberglass netting. If you want an original mosaic then commissioning a mosaic artist is the way to go.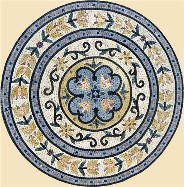 back to BACKSPLASH from Mosaic Tile Pattern

back HOME from Mosaic Tile Pattern