Recommended Granite Sealer Products,
Granite & Marble Cleaners

We Highly Recommend...
Stone Care Products as the finest granite sealer products, granite countertop care and marble maintenance solutions available. Other good products exist and we have recommended and still endorse other products, but we are very impressed with Stone Care new line that offers cutting-edge products which are...
Finally The Truth!
Get Proven Solutions & Answers
"Cleaning Marble Secrets"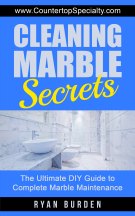 "The Complete
Marble Maintenance Manual"
Click HERE To Download!
Developed by pros for pros.
We strongly urge you and all our customers to use only quality marble and granite sealer products and cleaning solutions specially formulated to be safely used on marble, granite and all natural stone to maintain your surfaces in optimal condition.
Yes, these products are more expensive than your standard household cleaners, but they will maintain the beauty and luster of your natural stone far better than anything bought at your local store.
AND... learning proper marble and granite maintenance and product use will help you avoid 95% of the problems and expensive mistakes that customers daily write in to ask about how to repair.
You can be assured that all of the products we recommend and offer on this page have been tested and proven in the field by pros. Use them... you'll be glad you did!
These recommended granite and marble cleaning products can be used as directed for sealing, cleaning, repairing and restoring all types of natural stone including granite, marble, travertine, limestone, bluestone, sandstone, Saltillo and slate.
A common misconception about granite sealers is that they make a countertop stain-proof. They do not. Sealers will improve the stain resistance of natural stone often to the point where it is nearly impossible to stain the surface; however, impregnating sealers do not provide an absolute stain-proof barrier.
Granite sealers work by clogging the natural pores in all stone and forming molecular bonds, which dramatically reduces the time it takes for a substance to be absorbed into the stone and thus stain it. By wiping up spills as they happen and with attentive regular cleaning staining becomes a rare occurrence for most stone.
Not all stones are alike. Some are more porous than others and will require heavier and more frequent application of a sealer, but you should expect a properly applied initial sealing to last 2-5 years or more in some cases.