How I Built This Site and. . .
Created a Lucrative Online Business!
Hello,
My name is Ryan and I created this website. "Ok... so, what" you say. Well... it's pretty amazing to me since I have NO technical computer skills, knowledge or training. I'm a certified "internet dummy," or at least I was when I started.

I'm still no "webmaster," but I've learned enough to start and build a successful online business earning a healthy full-time income that just keeps growing. And it was much easier than I imagined.
In truth, I wasn't even looking to build on online business.
My wife and I were busy running our business Countertop Specialty installing granite and marble countertops in luxury homes in Texas when about 10 years ago......
Our Online Story Begins
We decided our business should have a website. My first thought was to hire someone. I had no clue how to build a website. I looked around the internet a bit, but it just seemed to confusing. Better stick with a "webmaster."
Well, after several phone calls, conversations with colleagues, research, etc., we found out that hiring a "webmaster" would cost a few thousand dollars with significant ongoing fees and no direct control over the site. Since we were bootstrapping this business with our own money, that scenario didn't appeal to us.
Reluctantly, I started searching the internet for information or a program to help me build a website.
Little did I know... that what would happen over the next few months would dramatically change our business, our personal life and… our INCOME.
The Get Rich Quick Detour
Looking for solutions, I quickly "discovered" all the "opportunities" to make money online. I thought, "Hey, maybe I'm onto something here." But, the sheer volume of strategies, techniques and pitches is mind-numbing.
If you've been thinking about starting an online business and done any research on the topic, you know what I mean.
I signed up for a few "Internet Marketing" newsletters and just got bombarded with "recommendations" for one product after another.
It took me awhile to realize (after buying too many of the latest, HOT programs or SECRET strategy eBooks) that 99% of them aren't really solutions or businesses unto themselves. They are small pieces that require additional techniques, tools, software, strategies and —most importantly— the knowledge of how they fit together to achieve the end result you're looking for.
As you know, I didn't have the knowledge to make computers, websites or online businesses work and I spent weeks wading through this quagmire, researching, comparing, bookmarking pages and really just getting more confused, skeptical, frustrated and thinking about hiring that "webmaster" again.
I Get Lucky!
Then, one day I found Site Build It! (later I realized that I had book marked this site when I first started looking, but I was too busy researching everything else and didn't "get it.")
As I discovered (this time around!), Site Build It appears to be a web hosting company like many others, but dig a bit deeper and it's evident that SBI offers much more than any other company.
In short, Site Build It takes all the software programs, web tools and strategies you see sold individually and combines them with extensive, plain-English tutorials and easy-to-implement action guides to form an all-in-one, comprehensive program.
SBI is really a complete business-building course that can be successfully used by a total novice or an experienced webmaster. It's so simple to use, yet full of powerful tools and smart automation.
What's really cool is that you can build a profitable website for any type of business (local, service, hard goods, info products, network marketing, real estate)... OR interest (parrots, antique plates, travel) OR hobby (fishing, painting, collecting).
The theme of your website... your "business" is based on the knowledge, skills, and experience that you already have.
Virtually any topic will work... and yes... you do have unique knowledge, skills, interests, etc., whether you think so or not.
SBI has specific tools to help you develop your theme and create a profitable website about what you already know.
It's genius!
And that's the beauty of SBI. They are not just selling web hosting, website tools, yet another piece of software or the latest strategy.
The SBI philosophy and purpose is to help ordinary people build a sustainable, long-term business online by providing a comprehensive program built on a simple process that takes advantage of the fundamental reality of the way people use the web and... they stand behind you the whole way.
Site Build It! Saved Me and Inspired Me.
How?
Well, first I was frustrated trying to find a solution that worked for ME. Second, I was sick of all the "get rich quick" pitches and third I didn't want to spend a bunch of money on a webmaster.
Plain and simple, Site Build It! gave me ALL the tools any guru webmaster could want including all the latest online gadgets, technologies and strategies and presented them with clear instructions.
SBI holds your hand, walks you step by step and teaches you from concept to completion, the how, when and why of everything you need to know to build your website, attract traffic and make money using any of the multitude of methods that are simple to implement.
We especially liked that everything is under one roof so we didn't have to figure it all out ourselves and always wonder if we were missing some crucial piece of the puzzle to be successful.
Everything was so clear and easy that complete beginners like we were felt totally comfortable building our own professional website.
Actually, it was more than that. We suddenly saw a whole new opportunity, not only for additional income, but a new lifestyle.
If we chose to, we could work from home, on our own schedule or anywhere in the world for that matter. It was an opportunity to create freedom for ourselves.
Running a bricks n' mortar business is fun and rewarding, but much more demanding and stressful than running an online business and it isn't mobile.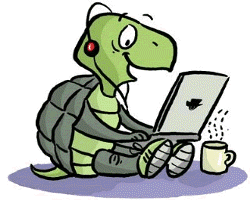 It's not meant to be a "Get Rich Quick" game. The SBI mascot is the tortoise.
Slow and steady wins the race!
Your website is a real business that takes time (not too much) and consistent work to grow. Don't worry, it's fun!
I have followed the process presented by SBI and can honestly say that "IT WORKED!" almost to our amazement. (Even though SBI has all the tools and detailed guidance, at first you are still a bit skeptical.)
It took a few months to earn our first dollar, but little by little our traffic increased along with the income the site generated. After about 2 years we could live off the income from the site. Another 2 years and the site revenue had doubled!
Along the way we continued to add on revenue sources following the SBI method and the result is that for many years now we've enjoyed a very comfortable full-time income.
I've also started a second website based on my true love.... travel.
After you do the first, it's even easier and faster to build a second... and third website... all making money for you. (If you want to that is. Many SBIers do fantastic with just one site.)
So, if you've ever thought about working from home, starting an online business, escaping the 9-5 or just making money from a hobby then you should seriously watch the video below and check out SBI.
I think you'll learn
that you don't have to be a website wiz-kid to make money online and create financial freedom for yourself. It's been very rewarding for us and... really a lot of fun.
I could go on and on about all the tools, guides and software modules that make SBI so powerful and easy-to-use, but the video makes the point much better and again, no sales hype.
I encourage you to watch. It may mean big changes for your future!
Get answers to your questions from another experienced SBI user.
Order Solo Build It! and start your business today!