How Bath & Kitchen Lighting
Affects Countertop Color
The effects of bath & kitchen lighting on your countertop color are often overlooked when shopping for that perfect countertop material that complements your kitchen design, personality, and functional needs.
Typically the color, pattern, style, and quality of the material are your main focuses but don't overlook the types of lighting that will be illuminating your gorgeous countertop.
The warmth, brightness, and direction of your room's light sources can have a huge impact on the color, appearance, and enjoyment of the countertops you choose.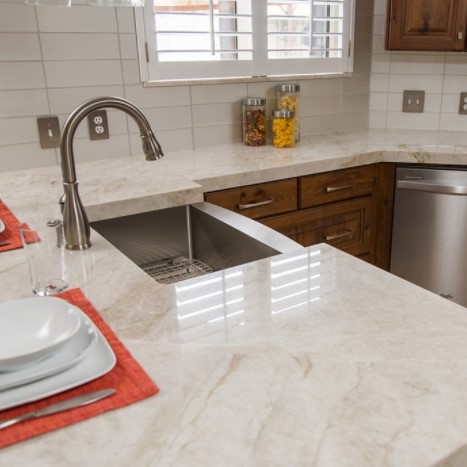 When selecting the perfect surface for your counters, keep in mind the following lighting tips and develop a bath or kitchen lighting plan before you buy.

Pairing Your Countertops with the Perfect Lighting
Keep in mind that the lighting illuminating the countertop slabs at the store can differ greatly from the lighting in your room as well the natural light that comes in through your windows.
To avoid unexpected color issues, it's important to take tile home to make sure they maintain their color and look under your home lighting.
You should also take note of how the tile looks at different times of the day, as the room's light intensity and direction can change drastically. Generally, morning sunlight has a yellowish cast, midday sun is more blue-toned and sunset lighting can give your room a reddish glow.
If your kitchen relies on plenty of natural light to look its best, ensure that your slab samples also look beautiful in each type of light throughout the day.
Choosing Cool vs. Warm Bath & Kitchen Lighting
Certain countertop colors tend to look better under certain kinds of light. In general, bright, cool light bulbs complement lighter, brighter countertop colors, such as the whites and cool grays of Arabescato marble or Nouveau Calacatta quartz.
Warmer and dimmer lights, such as traditional incandescent bulbs, usually work best with warm, richer colors, like those found in New Sunset Gold granite and Fusion quartzite.
If you know what type of bulb the lighting fixtures in your kitchen use, opt for colors that complement the bulbs' hue:
Incandescent:

These bulbs give off an amber-hued light that makes warm colors, such as yellow, orange and red, more vivid. Incandescents tend to subdue cooler colors like blues and greens and will give white and gray countertops a warm cast.

CFL & LED

: Compact fluorescent lights (CFLs) and light-emitting diodes (LEDs) are available in warm, white and cool tones depending on your needs.

Halogen:

These bulbs have a strong, white light that more closely resembles natural light, which will enhance both warm and cool colors.

Fluorescent:

Fluorescent lights will make greens, blues and cool grays more vivid, but can wash out warmer colors and make them appear flat.
Note the fact that darker colors will absorb more light. This means that dark-colored countertops may require brighter kitchen lighting to combat their darkening effect in the room.
On the other hand, a kitchen comprised mostly of white or light colors won't require as much light to illuminate.

Reflective vs. Matte Surfaces
You'll also want to keep in mind whether you'd like your countertops to reflect or absorb light. High-gloss finishes like polished marble and many granite and quartz countertops will reflect direct light sources.
If you want to avoid seeing lights reflected in your countertop surfaces, choose a countertop with a matte finish so the light is more diffused across its surface, allowing the slab's true color to show.
Matte or honed countertops are a growing trend and can be the perfect choice if you prefer to avoid high-shine surfaces. Choosing a countertop with a non-glossy finish, such as Black Mist granite or Grey Soapstone, can help diffuse direct lighting for a softer look.

Under-Cabinet Lighting
When you invest in gorgeous, high-quality countertops, it's no surprise that you want to show them off! One of the best ways to highlight your new countertop surface is by installing accent lighting under your upper cabinets. This can help counteract the dark shadows that are often cast by your cabinets.
If your countertops have a glossy finish, choose under-cabinet lighting fixtures that have lenses over the bulbs to avoid seeing light bulb reflections in your countertops. There are two basic types of under-cabinet lights: puck and linear.
Puck lights are small and circular; install them approximately every 6-10 inches to create illuminated areas along your countertops.
Linear lights are long, narrow strips designed to spread the light evenly across the surface. No matter what style you choose, under-cabinet lighting can help illuminate the true colors in your countertops so you can enjoy them fully.
A beautifully lit countertop surface can transform your kitchen or bath into a space that's both stylish and functional. Whether you're looking for a countertop material that complements your existing kitchen lighting or vice versa, keeping these considerations in mind will ensure you make the perfect choice.
---
Get a Quote!  Countertop Installation, Cabinets or Kitchen Remodel 
Like CountertopSpecialty.com?